Christopher Paolini to release a new book in the world of Eragon after seven years
Chistopher Paolini was only 19 when he published Eragon back in 2005, the first instalment in a high-fantasy series that would go on to sell over 35 million copies around the world. In January 2019, the world of Alagaësia returns, with the release of Paolini's newest book The Fork, the Witch, and the Worm.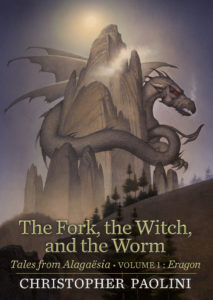 Not just a spin-off, this collection of short stories will feature many of the main cast of characters we have come to know and love, including Eragon and his dragon Saphira - the first story begins a year after they have set out to train a new generation of Dragon Riders. The book will also feature pages of Angela the herbalist's memoir, which were written by Angela Paolini, Christopher's sister, who was the inspiration for the character. There will even be four pieces of original art by Christopher Paolini.
Paolini has hinted that these stories are 'the first taste of many more to come,' - exciting news for readers who grew up with the Inheritance Cycle on their bookshelves.
Eragon, Eldest, Brisingr, and Inheritance, were all #1 New York Times bestsellers. Paolini's longtime editor Michelle Frey says that The Fork, the Witch, and the Worm will not only bring old fans back into the story-telling and adventures of Eragon, but also to introduce new young fans into the world of Dragon Riders and old magic.