Helen Vines
Autobiography or fiction? This question has shadowed the work of enigmatic Australian author Eve Langley since her first novel, The Pea Pickers, was published in 1942. Almost immediately after, Eve was committed to a mental asylum in Auckland where she remained for more than seven years, separated from her three young children. Hailed as a tour de force, The Pea Pickers was based on Eve's real-life experiences in the 1920s and tells the story of two feisty sisters who wander the Australian countryside dressed as men seeking work and adventure.
But woven subtly into this brilliant and funny coming-of-age story is the portrait of a complex family constellation: a masculine mother, an evil father, the narrator's adoring sister, and a perplexing heroine who adopts the name of Steve Hart, one of the Ned Kelly gang who was known to masquerade as a woman. Drawing on contemporary evidence, Eve Langley and The Pea Pickers offers a biography that unravels the life and the fiction, and the result is a fascinating and ultimately poignant tale.
In this extract, author HELEN VINES introduces us to Eve Langley and The Pea Pickers.
---
Eve Langley (1904–1974) is an enigmatic figure in Australian literary history. She first became known to Australian readers with the publication of her debut novel The Pea Pickers (1942), a tale of two adolescent sisters dressing as men and working as itinerant labourers in the 1920s. She won a major literary prize for the manuscript of this book. Based on the real-life adventures of Eve and her younger sister June, this original narrative ignited the curiosity of the literary establishment in Australia. Committed to an asylum in Auckland from 1942 to 1950, Eve re-emerged as a writer more than a decade later with the publication of her second novel, White Topee (1954).
As an important Australian author – The Pea Pickers continues to find an audience and has rarely been out of print – Eve has been the subject of considerable, if belated, biographical analysis. Her character has been dissected over the years and conclusions reached about the state of her mental health, her sexual preferences and her gender identity. Her two published novels – and ten unpublished works – have invited interpretations that blur the boundaries between her life and her work.
This book seeks to unravel the myths that have emerged since Eve's death in 1974 and replace them with a narrative based on historically verifiable source.Eve's birth certificate is a publicly available document, but in her fiction – and in official documents – there are many false trails about her origins, leading to dispute over the most basic of facts. As just one example, her date of birth has been given in some standard reference works as 1908, rather than 1904 – an error originally established by Eve herself.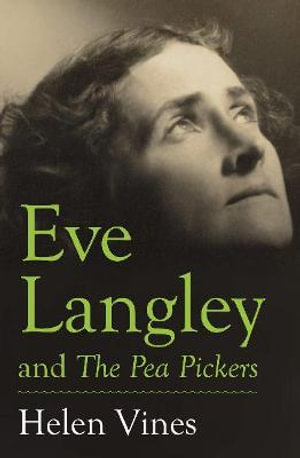 Even the name 'Eve Langley' was contested: 'Of course Eve Langley is not my name either', she conceded. Her name was registered as Ethel Jane Langley, but she was also known as Dolly and Darcy in her childhood, later referred to herself as Steve Hart (the name of the narrator of The Pea Pickers), and formally changed her name to Oscar Wilde in the 1950s. Over time it became clear that Eve had no intention of ever establishing a precise demarcation between author and narrator: 'I am unknown to you; you are unknown to me, and between those two points lies literature', she wrote in an unpublished manuscript. Interviewed in 1964, Eve declined to offer a stable account of her past: 'I'm safe. You don't know anything about me'.
In the absence of a reliable autobiographical account, it is un-surprising that those who have since sought to reconstruct Eve's life and character have approached her largely through her work, evaluating her fiction in search of the woman who produced it. Although researchers have been mindful of the hazards of reading the fiction as autobiography, Eve's fiction has segued into her biography and her biography has leached into readings of her fiction. A solution to this problem is to rigorously distinguish the fiction from the biography – to focus on what Eve said about herself and her family in her fiction without being distracted by questions of whether or not these representations are true, or by the circumstances in which the fiction was produced.
The fiction – and especially the narrator – looks radically different when approached in this way. Rigour is needed because, in addition to Eve's evasiveness about her past in interviews, it emerges that she strategically manipulated the Langley family history, not just in the works of fiction that so many have read as straightforwardly autobiographical but also in the Langley family archives.
Eve was not alone in this manipulation. In the decade following Eve's incarceration, June's role in her sister's professional life expanded from fictional subject to biographer. For the first time, June had an opportunity to 'write back', a task she took to with alacrity. The sisters' relationship was complex, but evidently intense; both sisters discarded husbands, children and lovers to ultimately circle each other in the Blue Mountains, first arguing over the vintage and temperature of the tea they drank in their respective houses, and finally refusing to acknowledge each other's presence. In retrospect, and viewed from the position of literary sleuth, it is astonishing that no one has yet delved into the strange goings-on within the family featured in The Pea Pickers and White Topee.
All members of the immediate family in these novels are subject to unexplained fluctuations in identity, significance, even appearance. It emerges that Eve told in her fiction the secrets that June wanted kept hidden, and June returned the favour when the opportunity arose for her to write the biography of her famous sister. Both women sought to simultaneously expose and conceal truths about their family and origins; when they died they left numerous documents and images that both invite and challenge methodical analysis. But first this archive must be deciphered, a task rendered almost impossible by the systematic rifling through the family archives that both Eve and June engaged in over many years.
With access to this material, it appears that Eve's strange representation of herself and her family in her fiction seems to have less to do with the author's gender alignment, and more to do with the pervasive secretiveness of the Langley family. Despite the efforts of Eve and June to suppress, deny and mislead, an examination of the vast Langley archive produces a confronting portrait of a family blighted by experiences that the children were not, under any circumstances, to reveal. The material is riddled with silences and imprisoning secrets. By sifting through all the anecdotal and documentary evidence avail-able at this point, the present account provides a rich historical record of Eve and June's life – so that we are now in the rather odd position of knowing more about these sisters than they almost certainly knew about each other.
Eve Langley and the Pea Pickers by Helen Vines is published by Monash University Publishing.