Chris Hammer
CHRIS HAMMER was a leading journalist with a career spanning over 30 years as a political and foreign correspondent. After a long career in journalism he pursued his passion for writing, establishing himself as a critically renowned and bestselling crime fiction writer. His previous works of fiction consist of Scrublands, Silver, and Trust which followed journalist Martin Scarsden and his partner Mandalay Blonde.
gr caught up with Chris to discuss the release of his new standalone crime novel, Treasure and Dirt which follows homicide detective Ivan Lucic and investigator Nell Buchanan.
After a long career in journalism, what motivated your foray into fiction writing?
I'd written a couple of non-fiction books which taught me three things: 1) I loved writing, 2) I could write well enough to be published, and 3) there was no money in writing books. So, I went back to journalism full-time. But my new job was more involved in video production and anchoring on-line interview programs and I found I missed writing. So, I started writing fiction for my own satisfaction. The hope was always to be published, but I had no great expectations. It was really for my own satisfaction.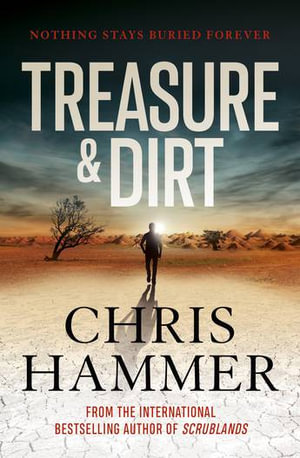 Your novel follows the investigation of a murdered opal miner - where did you get the inspiration for this story from?
I had an idea for a story set around a mining camp. Originally, I was thinking South Australia, but the borders were closed because of covid, and I couldn't travel there from my home in Canberra. Then, by chance, I encountered a woman wearing an opal pendant. So, I thought of Lightning Ridge in northern NSW, which I could still get to. I drove up and a very helpful miner took me down his mine. It was so atmospheric, and I thought: right, this is where the story starts.
Is the outback town of Finnigans Gap inspired by a specific town?
Yes, it's loosely based on Lightning Ridge. Finnigans Gap is in the same part of the world, but smaller and less prosperous. I've changed the layout significantly, to suit the plot of the book. And it's sensible to use a fictional town; that way I can be sure I don't accidentally malign real people or places.
Your novel looks at the social and political workings of a remote mining town - what was involved in your research process?
I spent a week up at Lightning Ridge, talking to people and soaking up the atmosphere. But most of it is imagination.
Your character Ivan Lucic is a well-regarded yet flawed homicide detective - how did you develop his character?
There are two main characters: Ivan shares equal billing with a new character, Constable Nell Buchanan. They sort of grew and evolved as I wrote Treasure & Dirt. Ivan is a minor character in the first three books, Scrublands, Silver and Trust, while Nell is brand new.
At the end of Trust, I decided Martin and Mandy needed a break (I'm sure they'll be back at some point!). I didn't want to use another journalist as a protagonist, so it made sense to use police officers. They both have issues that they need to address. Part of the fun of writing the book, and hopefully for those reading it - is the inter-actions between Ivan and Nell.
This book deals with a harrowing crime - as a writer how do you mentally prepare when exploring these darker issues?
Strangely, I don't find it too difficult, as I'm the one making it all up. So, I know it's make-believe. I find such scenarios far more confronting when reading other authors' work.
Has your previous work as a political and foreign correspondent shaped any of the scenes or characters in this novel?
It's strange what can inform your writing. Often I don't realise what I'm drawing upon until after I finish writing. For example, there are a couple of mining billionaires in this book. They are informed by some of the powerful people - politicians, autocrats, oligarchs, tycoons - I've encountered over the years, the sort of people who act with impunity.
Also, there is a squatter's camp in Treasure & Dirt - elements of it, or the feel of it, is somewhat reminiscent to a squatter's camp that emerged between the Berlin Wall and the river in the early 1990s.
There is also a familiarity in arriving in a town for the first time with the aim of finding out what has happened/is happening there. I used to do that a fair bit - both in Australian and overseas.
Your fiction works to date are stories shrouded in mystery and crime - what draws you to this genre?
Crime fiction provides such a broad canvas. First up, it requires a plot. This drives the narrative forward and it's fun to imagine different scenarios. That provides a base to develop intriguing characters, and atmospheric settings, and moral conundrums, and societal observations and snappy dialogue and so it goes on… You can go wherever you like, providing an entertaining read while touching on all sorts of other elements at the same time.
Treasure and Dirt by Chris Hammer is published by Allen & Unwin