Fiona McCallum
Erica, newly widowed, is devastated to discover her venture capitalist husband left their finances in ruins. Determined to save her home while protecting her teenage daughters, she vows to get back on her feet without letting them, or anyone else, know the truth.
When her girls head off on a long-planned overseas adventure, Erica focuses on her much-loved job behind a makeup counter to keep her emotionally and financially afloat - although she is troubled by a peculiar encounter at work.
Then she loses her job, the darkness beckons and Erica's life spirals downwards, further disturbed by strange occurrences in her house. Missing objects. Stopped clocks. Noises in the night. Should she doubt her very sanity? Can she swallow her pride and make herself reach out to her friends in time? Does she have a choice?
gr chatted to Australia's most beloved authors, Fiona McCallum, about her latest novel, and why she loves to write about self-discovery.

Trick of the Light is all about the ways life can come crashing down unexpectedly. What inspired it?
A while ago I was having a general conversation with an acquaintance, of a similar age to me, about money. As a woman solely responsible for my own finances, I was left so stunned when she said she had no idea about the state of her family's finances, and didn't want to, that I had to write about it!
As my main character, Erica, realises, it's a dangerous position to allow yourself to be in.
How did you develop Erica's character and the troubles she faces?
I draw heavily on my life experiences for my work so Erica and her story are the result of me navigating all my own personal ups and downs and a lifetime of curiosity and fascination with human nature and the world around me.
For me, what comes up and demands to be written about does so at will from my subconscious. My pencil, paper and keyboard are really just conduits for the characters or stories my soul tells me I need to release. That's what's so wonderful and magical about creativity!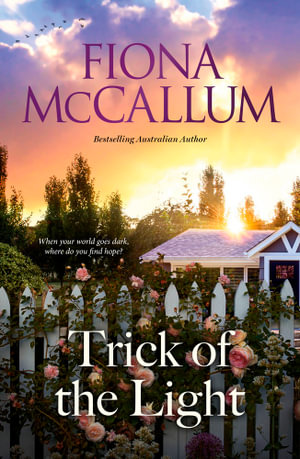 Trick of the Light covers a lot of sensitive topics, such as grief, depression, loss of loved ones, and the fear of losing oneself. How did you go about covering these themes in a realistic and sensitive way?
I'm a super-sensitive and empathetic person, so writing the way I do is intuitive for me. Fortunately (or unfortunately, depending how you look at it), I have a lot of deeply emotional and traumatic experiences on which to draw.
You've said you love to write stories of 'self-discovery', and Trick of the Light is no different. What draws you to write such stories?
I've accepted it's a calling. I'd love to work with characters and storylines that don't always require me to tear open my own scars to revisit painful and difficult parts of my life and
emotional journey, but that never seems to happen. Maybe one day things will change. Meanwhile, I'll continue following my heart and sharing what I've learnt.
Do you have any advice for readers who may be going through a tough time, and having trouble reaching out to friends and loved ones?
Take the time to stop and breathe – slowly and deeply. It's incredible how much clearer things can become through simply taking even just a five-minute pause to cease the frantic and unhelpful chatter of the mind and collect oneself. And learn to listen and trust your intuition – it's never wrong, so ignore it at your peril!
Trick of the Light by Fiona McCallum is published by HQ Fiction.