Brydon Coverdale
BRYDON COVERDALE, AKA 'The Shark', loves pitting his knowledge against contestants on 'The Chase Australia'. In his new memoir, The Quiz Masters, Brydon shares with us his journey and takes us behind the scenes of the quizzing world. We asked Brydon what he's reading and how he keeps his steely focus when facing a barrage of questions.
What are you reading now, and why?
I'm halfway through Why We Kneel, How We Rise by the former West Indian cricketer Michael Holding. It's a really important book on the causes and effects of racism, through the prism of sport. What I love about Holding's cricket commentary is the logic and precision of his arguments and observations. He brings the same traits to this book. I've learned a lot from it. On the fiction side, I've just started The Others by Australian author Mark Brandi. I loved his first two novels, Wimmera and The Rip, and I'm really looking forward to getting stuck in to The Others. His books have a wonderfully dark undercurrent that builds and builds.
When you were a child did you prefer factual books or enjoy reading stories, or both? What are some of your favourites?
I loved picture books, and when I became a father I started a blog called 'DadReads', looking at some of the books I was reading with my kids. One that I remember fondly, and which I wrote about, was Don't Forget, Matilda by Ronda and David Armitage. It's a beautifully observed and illustrated story about a day in the life of a little girl koala, but what struck me as a child in the 1980s was that the mother went to work and the father stayed at home, looked after Matilda and did the housework. Coming from a family with fairly traditional gender roles, that opened my eyes to other possibilities. Children's books have an incredible power to shape young minds. Later I was a big Roald Dahl fan, but I also trawled factual books from encyclopaedias to books of sporting facts and figures. I wanted to know it all.
What books have made you laugh?
Bill Bryson makes me laugh out loud to an embarrassing degree. If I could write like anyone in the world, it would be him. I'm so jealous of his gift for mixing fascinating facts and observations with hilarious jokes. There are certain lines from Neither Here Nor There and Down Under that I still laugh about today, 20 years after I read them. The Australian satirist Ben Pobjie always gets me laughing as well. His books on Australian history, like Error Australis, are just made for my sense of humour.
What books have made you cry?
It tends to be picture books that get a lump in my throat. Books about the passing of time, opportunities both lost and yet to come. Books like Wilfrid Gordon McDonald Partridge by Mem Fox, about a young boy befriending a woman in a nursing home, or The Lorax by Dr Seuss. Adult books don't usually hit me as emotionally as the very best children's books can.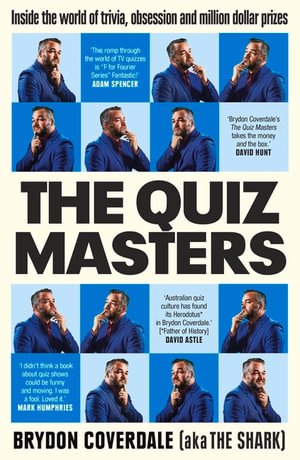 When you first decided to be a quiz master, what did you do to learn information?
I've always read widely and pick up a lot of my information through natural curiosity about the world. It's the same curiosity that led me into journalism. I want to know the 'how' and 'why' of everything. I'm interested in the stories behind things. The stories of people. Much of my study has been organic, but I also find writing my own trivia questions is a very useful tool to remember information.
How do you keep your quizzing skills sharp?
I'm always jotting down notes whenever I come across something interesting, and then I'll use those notes to write questions – either practice questions for myself, or for the newspaper quizzes that I write. At the moment, I write 145 questions per week for different media outlets, which means I'm always studying and taking in new information.
How do you remain calm when being quizzed?
I think I have a natural ability to focus on a single task in front of me without getting distracted, which is great for quizzing but maybe not so good for all the multi-tasking I have to do as a husband and father of three. But also, while I am fiercely competitive, I appreciate that quizzing is just a game. It's like a sport for the brain. Sometimes I win, sometimes I don't. I'm just lucky I get to play games for a living.
Are the Chasers competitive between each other?
We've always been incredibly supportive of each other, because it's a unique little club and nobody but us quite understands what it's like to be in the position we're in. Rather than compete, we help each other by writing practice questions for each other. Only one of us is playing at any given time, but we consider ourselves a team.
What's your top tip for anyone in the position of answering quick fire questions?
The single most important thing is to maintain your focus. Everyone will make a few mistakes. The Chasers do too. The key is to put your mistakes behind you straightaway. You can't afford to let your mind wander back to the question you just missed ('That was stupid, why did I say Jane Austen wrote Wuthering Heights, I know it was Emily Brontë!') because while you're going through that mental process you haven't been listening to the next question. And it can all spiral out of your control quickly after that.
If given the opportunity to host a dinner party and invite six people, authors or not – alive or deceased – who would they be?
I'm a massive fan of detective fiction and especially some of the golden age and hardboiled novelists, so I think I'd invite six of my favourite detective authors. I'd put Rex Stout in charge of the menu – he created my all-time favourite, the eccentric gourmand detective Nero Wolfe, who is far more obsessed with his haute cuisine meals and personal chef than his cases. We'd be joined by Agatha Christie, Fredric Brown, Ross Macdonald, Dashiell Hammett and Robert B Parker, and I would eavesdrop on six all-time greats, wise-cracking and comparing notes on ingenious crimes and solving each other's twist endings. The question is, would I survive the meal?
The Quiz Masters by Brydon Coverdale is published by Allen & Unwin