Eva Verde
ABOUT THE AUTHOR
Eva Verde is a writer from Forest Gate, East London and is of dual heritage. Identity, class and otherness are recurring themes throughout her work as she studies towards an MA in Creative Writing. Her memoir piece, 'I am not your Tituba' was recently selected to form part of Kit De Waal's Common People - An Anthology of Working Class Writers, with Unbound. She is long-listed for the unpublished category first Comedy Women in Print Prize 2019 for her debut book Little Lives Like Mine. Eva lives in Essex with her husband, three daughters and passive-aggressive elderly black Labrador.


---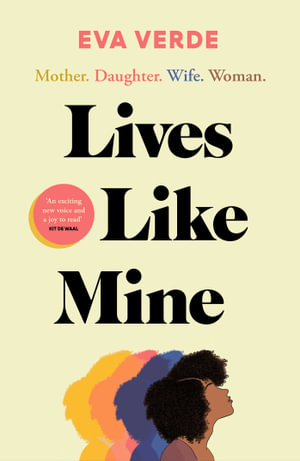 ABOUT THE BOOK
Mother. To three small children, their heritage dual like hers.
Daughter. To a mother who immigrated to make a better life but has been rejected by her chosen country.
Wife. To a man who loves her but who will not defend her to his intolerant family.
Woman … Whose roles now define her and trap her in a life she no longer recognises…
Meet Monica, the flawed heroine at the heart of Lives Like Mine.
With her three children in school, Monica finds herself wondering if this is all there is. Despite all the effort and the smiles, in the mirror she sees a woman hollowed out from putting everyone else first, tolerating her in-laws' intolerance, and wondering if she has a right to complain when she's living the life that she has created for herself.
Then along comes Joe, a catalyst for change in the guise of a flirtatious parent on the school run. Though the sudden spark of their affair is hedonistic and oh so cathartic, Joe soon offers a friendship that shows Monica how to resurrect and honour the parts of her identity that she has long suppressed. He is able to do for Monica what Dan has never managed to, enabling her both to face up to a past of guilty secrets and family estrangements, and to redefine her future.


---
EXTRACT
Way back in the day, on the bus stop outside my childhood church, in great Tippex capitals, were the words: Virtue is Valium. After Saturday school or Sunday mass, Mum would tick me off for reading it out, as we waited for the bus home.
Funny what comes back.
Outside a different church, in my grown-up different life, is how you find me, now. Despite all I've been, this is what I became. Mother, wife. Good. Grateful. So, grateful. And happy – if I ignore the low burn irritation, that comes from spotting those sugary layers of linen, just up ahead of us, the pastel on pastel occasion-wear, that can only belong to one person. Penny: mother-in-law, only by law.
She waves like mad, spotting us, too.
'At least you look hot.' After all our years of togetherness, me and Dan share our emotions like we've learnt to share everything else. His soothing hand on my hip works. 'After the speeches, we're off. I promise.'
Dan's beautiful eyes are disarming, known to have me feeling like there's no earth, like he's the centre of everything and all it means. It's unsettling – revealing, too – how feebly teenage I can be. How romance, very much, still rules.
'Look at your mum and dad, kids. That's love, that is,' Penny gushes, dotting them with kisses, leaving all three disgusted and mortified. 'Love and good hair! Much more stylish when you wear it straight, Mon.' She laughs and I join in, with a mockney cockney twitter that makes for the oddest of feelings. 'Best leaving all that frizz for the young'uns.'
Virtue is Valium.
Outside this different church, in my grown-up different life, those little white words from the bus stop stick.
My sadly thinning hairline meant calling time on the relaxers. I'm now transitioning, in love with the very word of the process I'm slowly adapting to. At 39, I'm at last embracing my 3c curl pattern, trying to dismantle what went before this transitioning - my conditioning, that natural hair was unruly, unsexy, primitive.
Comedic.
My big black hair is a tiny rebellion.
Yet today the rebellion shrinks. Today it's best to fit in, even if that means straightening to buggery, cloning the woman I am truly from, that angry mother at the bus stop, I now choose to keep at a distance. Today, I armour my little brown self the very best way I can, from this family of people still as alien to me as the day I married into them.
Budgie Crane's reception is in the crumbling hotel opposite his boxing club. Eight round tables seat eight guests apiece, each with a central arrangement of lilies, better suited to the funeral home four doors up. There's a sad-coloured sea of buffet, too: dehydrated sandwiches, pale sausage rolls, unidentifiable strips in breadcrumbs. And white wine. Lashings of room temperature white wine.
I haven't forgotten Dan's promise, nor the one he made to the kids – which was more bribery – about stopping at McDonalds on the way home. The kids. Fran on my lap, acts as my fortress. Little girls can be so useful. Our twins, Joel and Toby, are glued – admittedly most discreetly – to a phone screen, likely the year seven group chat I've recently lost them to. How quick they are, to seek distraction.
How bloody lucky.
Budgie stands at the top table. There's an unlit cigar in one hand and a pint in the other. With his waistcoat undone, there's no disguising his gut, pouched on his belt like a hot water bottle. 'It's an honour to introduce my third time -.'
'Final time!' Penny heckles her brother. She side-eyes me, mouthing behind a cupped hand. 'It won't last.'
'Third time's a charm, spanking new, trouble and strife.'
Budgie's bride play-slaps his thigh, exploding into nervous hic-cupped laughter – Gracie Crane, three decades younger than him, and three trillion light years better looking. Though she's always fun and rather charming, since the church I've thought of nothing but her lack of guests, how she'd stood in front of those half-filled pews and seemed so very small. There's something, beneath the giggles and over-styling, that makes me want to hold her.
As Budgie talks on, Gracie straightens the tablecloth, then her cutlery. The fizz set out to toast with, she's already polished off, her restless hands now playing with an empty flute.
Where's her mum, her family, today?
Where was mine?
'It's all on me, so fill your boots.' Budgie jabs a jewelled digit at his brother, a bowling ball of a man, with a flushed damp face. 'Except you, Ray. You'll bloody bankrupt me.'
Necking his flute, Big Ray takes a small bow, unoffended. The tables begin to disperse, making way for the evening dance floor, as the DJ strikes up with Sinatra.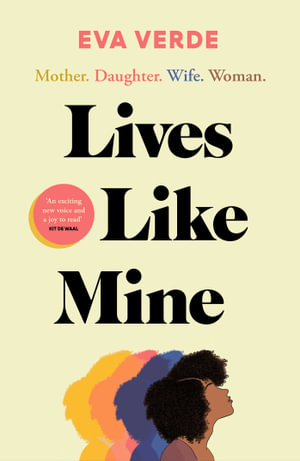 Lives Like Mine by Eva Verde is published by Simon & Schuster