Book Club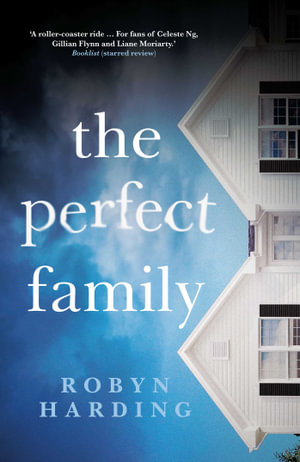 Our August book club pick is The Perfect Family by ROBYN HARDING. What happens when a seemingly perfect family is pushed to the edge?


ABOUT THE BOOK
The bestselling author of The Party explores what happens when a seemingly perfect family is pushed to the edge by cruel, vindictive and increasingly dangerous attacks.

Thomas and Viv Adler have a picture-perfect family. Affluent and attractive, with two well-mannered kids almost out of the nest, they live in a beautiful house in a well-to-do neighbourhood. Their jobs are fulfilling; their children are thriving; the world is their oyster.

Until one morning, when they wake up to find that their house and car have been pelted with eggs. Thomas dismisses it as the work of a few out-of-control kids, but when a smoke bomb is tossed on their front lawn, and the tires on their BMW are punctured, he begins to worry. Unable to identify the perpetrators, they are helpless as the assaults escalate. The police assure them that this is just the work of bored teenagers, but no one in the Adler family believes it. After all, each of them has a secret – kept not only from the outside world but from each other.

As the Adlers grapple with their guilt, fear and shame, the assaults grow deadly. Their 'perfect' façade is crumbling, and it may be too late for any of them to do anything about it.
---
Would you like Robyn Harding to join your book club catch-up in person or by zoom?
Email us at editor@goodreadingmagazine.com.au and include your contact details (email address, phone number), approximate numbers of members in your club and we'll pass this on to the author.

ABOUT THE AUTHOR
Robyn Harding is an author, screenwriter and executive producer of the independent film, The Steps, which premiered at TIFF and was the closing gala film at the Miami International Film Festival. She has written numerous bestselling books including The Arrangement, Her Pretty Face and The Party, which was a finalist for the Arthur Ellis Award for best crime novel. She lives in Vancouver with her family.
---
Next Month's Book Club Pick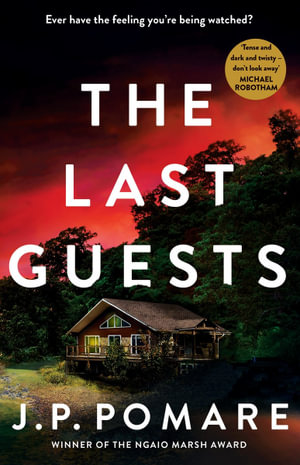 Ever have the feeling you're being watched? A smart, unsettling, unputdownable literary thriller from the award-winning, critically acclaimed writer

Lina and Cain are doing their best to stay afloat. Money has been tight since Cain returned from active duty, and starting a family is proving harder than they thought.

Putting Lina's inherited lake house up for rent at weekends seems like the solution to at least one of their problems. The secluded house is more of a burden than a retreat, anyway, and fixing up the old place makes Cain feel useful for once.

But letting strangers stay in their house might not be the best idea. Someone is watching - their most mundane tasks, their most intimate moments - and all the things Lina and Cain want to keep hidden will be exposed.

A darkly riveting psychological thriller from the bestselling author of Call Me Evie, In the Clearing and Tell Me Lies.
Midsummers Eve, 1670. A wealthy man waits outside a poor London warehouse to meet with Alinor, the woman he failed twenty-one years before. He has everything to offer, wealth, land, status, and he believes she has the only thing he cannot buy: his son and heir. The warehouse is failing, clinging on to poor business in Restoration London—a city gone mad for pleasure. But will Alinor and her family sell-out to Sir James? Meanwhile in New England, Alinor's brother Ned, who rebelled against the Crown, cannot find justice in the New World, as the King's revenge stretches across the Atlanic and turns the pioneers against each other and against the native Americans. A beautiful widow, Livia, arrives from Venice, telling them Alinor's son, Rob, has drowned and that she needs the family's help with a profitable new trade. She will import beautiful statues of marble and bronze to fuel the classical craze among the wealthy landowners. She enchants the warehouse family with her son, their new heir; her sensual carefree warmth; and promises of wealth to come. She captures Sir James and spins them all into a mesh of deceit which only the brave little daughter of the warehouse can break. Sarah searches for the truth about Livia in Venice bringing home the stunning denouement to this, the second book in the Fairmile series.

More about this book

It's a cold and wintery night in 1968 and ten-year-old JJ's mother isn't home. The cows are milked, the pigs fed, and her dad won't answer any questions. The four children survive as best they can in a cloud of their father's lies and clear misery, dealing with their mother's absence in their own ways. But it's always been JJ's job to cause trouble, and her sleuthing wreaks havoc in their tight-knit community. Fourteen years on, JJ has a new life, a loving partner and a good job, but she finds herself being pulled back in to the unsolved mystery of her childhood. While pretending to have made peace with her father's dishonesty, she organises a final farewell for her mother so they can all put the past behind them. Will the tragic truth finally set them all free? The Serpent's Skin is a gripping, literary crime novel about male power and the secrets that can haunt a family. Most of all, it's about the many ways we prove our love. This novel ushers in Erina Reddan as a brilliant new voice in Australian fiction.

More about this book

With The Mirror and the Light, Hilary Mantel brings to a triumphant close the trilogy she began with Wolf Hall and Bring Up the Bodies. She traces the final years of Thomas Cromwell, the boy from nowhere who climbs to the heights of power, offering a defining portrait of predator and prey, of a ferocious contest between present and past, between royal will and a common man's vision: of a modern nation making itself through conflict, passion and courage.

Download a READING GUIDE here.

More about this book

Family circumstances force siblings Ying and Lai Yue to flee their home in China to seek their fortunes in Australia. Life on the gold fields is hard, and they soon abandon the diggings and head to nearby Maytown. Once there, Lai Yue finds a job as a carrier on an overland expedition, while Ying finds work in a local store and strikes up a friendship with Meriem, a young white woman with her own troubled past. When a serious crime is committed, suspicion falls on all those who are considered outsiders. Evoking the rich, unfolding tapestry of Australian life in the late nineteenth century, Stone Sky Gold Mountain is a heartbreaking and universal story about the exiled and displaced, about those who encounter discrimination yet yearn for acceptance.

More about this book

The unforgettable story of a mother and son fleeing a drug-cartel to cross the US-Mexico border. 'I couldn't put it down. I'll never stop thinking about it' – Ann Patchett 'One hell of a novel about a good woman on the run with her beautiful boy' – Stephen King Fear keeps them running. Hope keeps them alive. Vivid, visceral, utterly compelling, American Dirt is the first novel to explore the experience of attempting to illegally cross the US-Mexico border. Described as 'A Grapes of Wrath for our times' (Don Winslow) it is a story that will leave you utterly changed. Yesterday, Lydia had a bookshop. Yesterday, Lydia was married to a journalist. Yesterday, she was with everyone she loved most in the world. Today, her eight-year-old son Luca is all she has left. For him, she will carry a machete strapped to her leg. For him, she will leap onto the roof of a high speed train. For him, she will find the strength to keep running.

More about this book

Cassandra Pybus's ancestors told a story of an old Aboriginal woman who would wander across their farm on Bruny Island, in south-east Tasmania, in the 1850s and 1860s. As a child, Cassandra didn't know this woman was Truganini, and that Truganini was walking over the country of her clan, the Nuenonne. For nearly seven decades, Truganini lived through a psychological and cultural shift more extreme than we can imagine. But her life was much more than a regrettable tragedy. Now Cassandra has examined the original eyewitness accounts to write Truganini's extraordinary story in full. Hardly more than a child, Truganini managed to survive the devastation of the 1820s, when the clans of south-eastern Tasmania were all but extinguished. She spent five years on a journey around Tasmania, across rugged highlands and through barely penetrable forests, with George Augustus Robinson, the self-styled missionary who was collecting the survivors to send them into exile on Flinders Island. She has become an international icon for a monumental tragedy - the so-called extinction of the original people of Tasmania. Truganini's story is inspiring and haunting - a journey through the apocalypse.

More about this book

In 1981, a car overturns on a remote West Australian road. Nobody is hurt, but the impact is felt for decades. Nicole and Samantha Cooper both remember the summer day when their mother, Tina, lost control of their car - but not in quite the same way. It is only after Tina's death, almost four decades later, that the sisters are forced to reckon with the repercussions of the crash. Nicole, after years of sabotaging her own happiness, seems finally content but still can't get through to her sister. And Samantha is hiding something that might just tear apart the life she's worked so hard to build for herself. The Spill explores the cycles of love, loss and regret that can follow a family through the years - moments of joy, things left unsaid, and things misremembered. Above all, it is a deeply moving portrait of two sisters falling apart and finding a way to fit back together.

More about this book

A beguilingly original and satirical debut novel of friendships, imagination, and the bodies we live in Lincoln Locke's fifteen-year-old life is turned upside down when he's thrust into bachelor-pad living with his father, after his parents' marriage breaks up, and into an exclusive new school. Crestfield Academy offers Lincoln a new set of peers – the crème de la crème of gifted individuals, who also happen to be financially loaded – and a place on the swim relay team with a bunch of thugs in Speedos. Homunculus, the little voice inside his head, doesn't make life any easier; nor does Lincoln's growing awareness of a genetic anomaly that threatens to humiliate him at every turn. On a search for answers to big LIFE questions, he turns to the school library, where he spies a nineteenth-century memoir, My One Redeeming Affliction by Edwin Stroud, a one-time star of Melinkoff's Astonishing Assembly of Freaks. As Lincoln slowly reads this peculiar, life-changing book, the past reaches into his present in fascinating and alarming ways. Ways that defy imagination . . . Audacious, funny and wonderfully inventive, The Origin of Me is a song to friendship, to young love, to the joy of imagination, and to celebrating differences.

More about this book

A rare opportunity to connect with the living tradition of women's songlines, as recounted by Yolngu women from far north Australia. 'We want you to come with us on our journey, our journey of songspirals. Songspirals are the essence of people in this land, the essence of every clan. We belong to the land and it belongs to us. We sing to the land, sing about the land. We are that land. It sings to us.' Aboriginal Australian cultures are the oldest living cultures on earth and at the heart of Aboriginal cultures is song. These ancient narratives of landscape have often been described as a means of navigating across vast distances without a map, but they are much, much more than this. Songspirals are sung by Aboriginal people to awaken Country, to make and remake the life-giving connections between people and place. Songspirals are radically different ways of understanding the relationship people can have with the landscape. For Yolngu people from North East Arnhem Land, women and men play different roles in bringing songlines to life, yet the vast majority of what has been published is about men's place in songlines. Songspirals is a rare opportunity for outsiders to experience Aboriginal women's role in crying the songlines in a very authentic and direct form.

More about this book

2038. On a remote island off the Pacific coast of British Columbia stands the Greenwood Arboreal Cathedral, one of the world's last forests. Wealthy tourists flock from all corners of the dust-choked globe to see the spectacle and remember what once was. But even as they breathe in the fresh air and pose for photographs amidst the greenery, guide Jake knows that the forest is dying, though her bosses won't admit it. 1908. Two passenger locomotives meet head-on. The only survivors are two young boys, who take refuge in a trapper's cabin in a forest on the edge of town. In twenty-six years, one of them, now a recluse, will find an abandoned baby - another child of Greenwood - setting off a series of events that will change the course of his life, and the lives of those around him. Structured like the rings of a tree, this remarkable novel moves from the future to the present to the past, and back again, to tell the story of one family and their enduring connection to the place that brought them together.

More about this book