Obsessed with a Mountain Lion: Elizabeth Crook on The Which Way Tree
Elizabeth Crook was born in Houston, Texas, in 1959 and lived there until her family moved to Washington DC, where her father worked under President Lyndon Johnson.
She also spent time during her schooling years in Canberra when her father become the US Ambassador to Australia. There she failed maths class (apparently harder than math classes back in Texas) while her father became great friends with Australian author Thomas Keneally.
Keneally visited Crook when she was older and gave her some well-heeded encouragement as she tried to write her first novel. Since then she's published four lauded books and is well known as an excellent writer of Western-style novels, drawing on inspirations that range from school shootings to bad dates.
Below the author tells Good Reading about the night her son was lost in the wilderness while a mountain lion stalked the area, and the novel that grew out of the terror that haunted her for many years after: The Which Way Tree.
ABOUT THE BOOK
Early one morning in the remote hill country of Texas, a panther savagely attacks a family of homesteaders, mauling a young girl named Samantha and killing her mother, a former slave, whose final act is to save her daughter's life. Samantha and her half-brother, Benjamin, survive, but she is left traumatised, her face horribly scarred.
Narrated in Benjamin's beguilingly plainspoken voice, The Which Way Tree is the story of Samantha's unshakeable resolve to stalk and kill the infamous panther, rumored across the Rio Grande to be a demon, and avenge her mother's death. In their quest she and Benjamin, now orphaned, enlist a charismatic Tejano outlaw and a haunted, compassionate preacher with an ageing but relentless tracking dog. As the members of this unlikely posse hunt the panther, they are in turn pursued by a hapless but sadistic Confederate soldier with troubled family ties to the preacher and a score to settle.
In the tradition of the great pursuit narratives, The Which Way Tree is a breathtaking saga of one steadfast girl's revenge against an implacable and unknowable beast. Yet with the comedic undertones of Benjamin's storytelling, it is also a timeless tale full of warmth and humour, and a testament to the enduring love that carries a sister and brother through a perilous adventure that takes on thedimensions of a legend.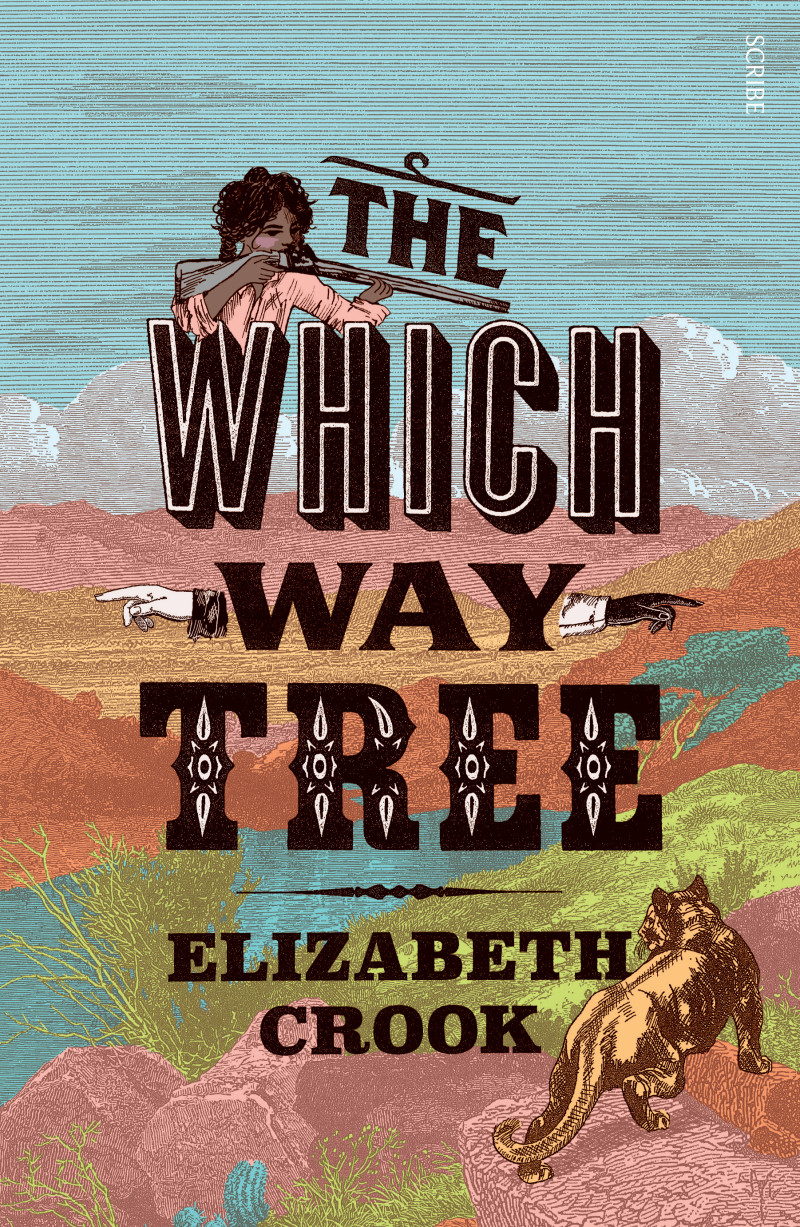 AUTHOR Q&A
Many of your novels are set in Texas and based on historical events of the state. Having lived in multiple places other than Texas, such as Washington DC, Canberra, what is it about this setting you find so stimulating?
It's the deep familiarity of the landscape. The central Texas hill country, where The Which Way Tree takes place, is stony and scruffy and populated with scrub trees and thorny vegetation—not the most elegant terrain. But I grew up in this area, and it's simply beautiful to me. I've written books set in other places—one in New Mexico and one in Tennessee—but I have a strong provincial streak and deep family roots that keep me mostly on familiar ground. I can move back in time for a setting with more ease than I can move east, west, north or south.
Having said that, I should add that my year in Canberra as a child remains a magical memory for me. My dad was the US Ambassador to Australia back in the late sixties, under Lyndon Johnson, so our family lived in the embassy residence. I attended third grade at Canberra Church of England Girl's Grammar school and remember with so much gratitude a kind and terrific teacher named Mrs. Atchison who helped me adjust to the different—and more difficult—schooling than I had received in the U.S.
"To this day, when I hear flocks of small birds fluttering through brush I'm transported back to Australia."
When we weren't in school my brother and sister and I spent a lot of time in tunnels we carved through the hedges and thickets on the embassy grounds, where there were hundreds of colourful, twittering birds. To this day, when I hear flocks of small birds fluttering through brush I'm transported back to Australia.
While we were there my father became good friends with Thomas Keneally and they travelled together to Antarctica. Mr. Keneally and his wife once came to see us in Texas nearly twenty years later. I was trying to write my first novel at that time, and he was extremely generous and encouraging. His name is still golden in our family, although we've fallen out of touch with him since my father's passing.
The idea for The Night Journal began with a blind date with an arrogant artist – where and how was the idea for The Which Way Tree conceived?
It started with a frightening event on a night seven years ago. My son, Joseph, who was fourteen at the time, went for a hike with a friend in the canyons in the hill country and didn't show up at the designated place and time. During our nine-hour search for them—the scariest night of my life—a large mountain lion was spotted in the canyon where the boys had disappeared.
"I don't mean to scare you, ma'am, but when I got there that cat had its eyes on your boys."
Pilots of a search helicopter finally caught sight of a small campfire with two figures beside it deep in a ravine, and transported a deputy sheriff to a bluff from where he hiked down, found the boys, and brought them out. When they were brought in and the helicopter was taking off again, the deputy sheriff shouted to me over the noise of the rotor blades, his face lit by the flashing lights, "I don't mean to scare you, ma'am, but when I got there that cat had its eyes on your boys."
For my son, the night was only a childhood adventure, but the idea of that cat haunted me for years. The story of The Which Way Tree is not, in any sense, the story of that night—it takes place in a different time, with different kids, and there is no similarity in the events. But searching those dark canyons for Joseph while a mountain lion, known in Texas in the old days as a panther, prowled through the area, planted in me a lasting obsession with mountain lions. For months I conducted Google searches for news of their activities—a pony mauled in Utah, a Chihuahua devoured in California, goats terrorized. Any violence done by a mountain lion fascinated me. Eventually, the obsession drove me to write the book.
How much of The Which Way Tree was inspired by or based on true events?
The story is made up but the historical backdrop is authentic and accurate. German settlers in the Texas hill country were persecuted for Union sentiments during the Civil War, just as described. The landscape and the way of life are depicted as accurately as I could manage. Benjamin's manner of speaking and his moral perspective are as true to the times as I could make them.
Benjamin's voice is very strong in The Which Way Tree. Why did you choose to tell the story through letters, testaments and interviews rather than explanations and dialogue?
In the course of research I came across an old book my grandmother had given to my grandfather as a Christmas present in 1968, titled Now You Hear My Horn: The Journal of James Wilson Nichols, 1820-­1887. I found the writing so compelling that I read the journal time and again until the manner of speech settled into familiarity and became, to my ear, somewhat the voice of my character Benjamin. This means that, oddly enough, I heard the voice even before I knew the story it would be telling. I didn't see the story in its entirety Or envision it in terms of a constructed plot; instead there was a sense of hearing it unfold, one scene at a time, through Benjamin's telling of it. I hardly ever knew what would happen in the next chapter. This made the writing a lot of fun.
You've written before about defending the violence featured in your novel. What do you say to people who object to this aspect of your writing?
I have a lot of thoughts on that subject that I've spelled out in an essay titled "A Venture into the Night: Some Notes on Violent Fiction" that can be found on my website. The bottom line is that I just can't get interested in writing about tame events. If my characters aren't involved in peril, in some dire emergency or at some real risk, then I don't become worried about them or fret over their fate. And if I'm not worrying and fretting about them, then I'm not emotionally invested in what happens to them. And if I don't care what happens to them, why write their story? Why get up every morning and spend all day with them?
In The Which Way Tree, the panther takes on an almost mythic edge – were you inspired by any other stories in which creatures are regarded as almost supernatural?
For me, the key word in your question is "regarded." The panther in The Which Way Tree is regarded, by some, as a demon, while in fact he is only a panther. I like realistic stories that stick with nature, where animals behave according to their species. My panther behaves appropriately for a large male tom, although he develops a taste for barnyard animals over wild game. It's the people in the story who elevate him to the supernatural—and that, of course, is also in keeping with our species.
We like creating stories and attributing meaning to what are often simply random, natural, very un-­‐mythic events, such as a small girl in a white shift running across a dark farmyard, her movement catching the eye of a panther who, up until that split second, has been stalking the goats.
The Which Way Tree by Elizabeth Crook is published by Scribe, $29.99.