How We Eat with Our Eyes
The fascinating psychological research used by MELANIE MÜHL and DIANA VON KOPP in their new book, How We Eat with Our Eyes and Think with Our Stomachs, shows that taste is often a much less significant factor that we ever expected in determining the kind of foods that we put on our plates. The oddest things can sway our choices in what we eat at restaurants, such as the font used on the menu, the company we're keeping, the colour of the tablecloth and if you can hear steaks sizzling in the kitchen. As the following extract reveals, even the girth of your waiter can have an effect on how much food your order.
Some cues have an obvious effect on us while others work so subtly on our subconscious that we would never think of them as cues in the first place. Either way, we are so susceptible to manipulation that we can be sure of only one thing: our behaviour is irrational. Nowhere more so than in a restaurant.
It should come as no surprise that the waist size of the waitstaff affects the choices you make when dining out. In a study on the relationship between a waiter's weight and customers' orders, researchers Tim Döring and Brian Wansink scrutinised the interactions between waitstaff and customers in 60 different restaurants. They recorded the estimated BMI of the waiters and the diners as well as what food and drink they ordered. The results showed that the higher the BMI of the waiter or waitress, the more food and drink the customers ordered, regardless of their own weight.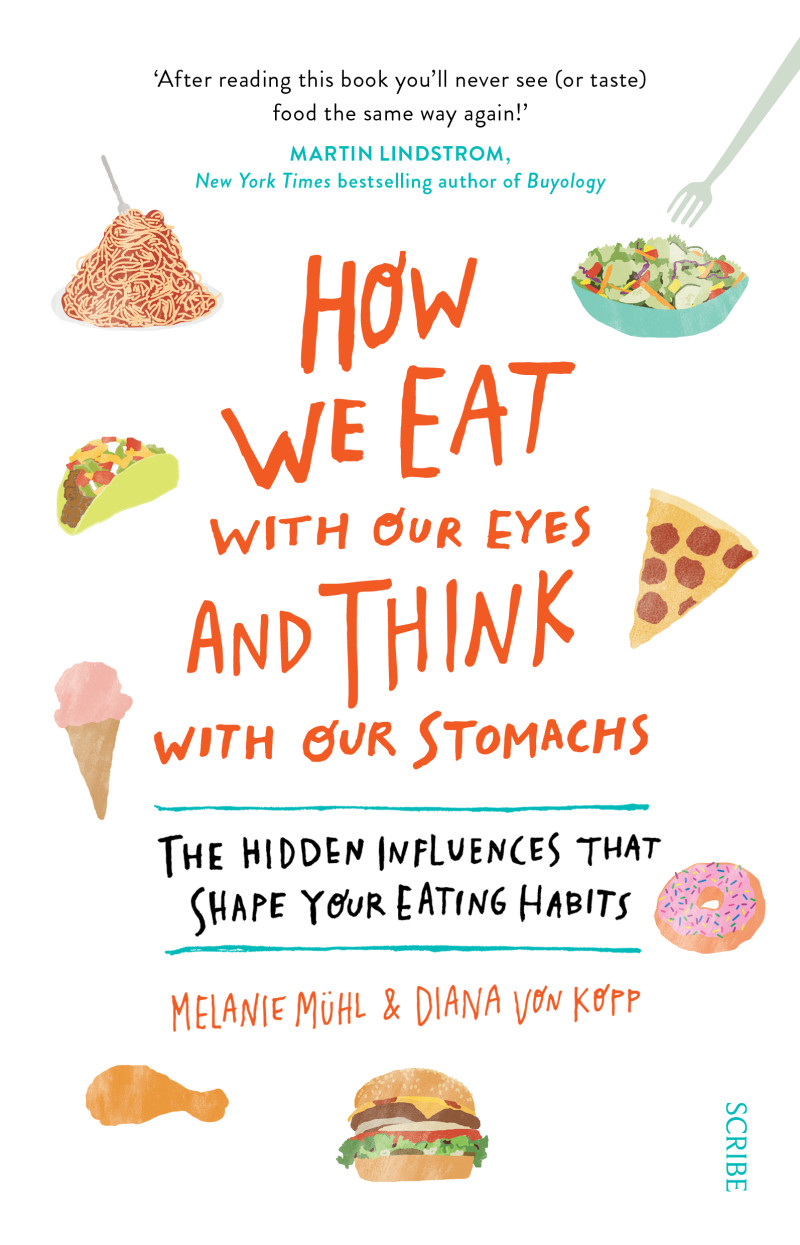 Overweight waitstaff also significantly increased the diners' proclivity to order alcoholic drinks and desserts. Döring and Wansink explained that this was because the server set a 'social norm' in which they became the benchmark – against this metric, thinner diners perceived themselves as having bested the norm while heavier diners perceived themselves as the average, meeting the norm. If the server is fat, we feel justified to stuff ourselves. If the server is slim, we are more careful about how much we ourselves consume. In other words, thin waiters and waitresses personify our guilty conscience.
Even more important than the size of the waiter, however, are the eating habits of your fellow diners. If you are with a group of people who are wolfing down their meals, you automatically adapt your own eating speed to theirs. If all the others are ordering a Coke, you tend to give your usual beer a pass. If your fellow diners are overweight, you eat more. If the waiter takes everyone's order individually, the likelihood that everyone opts for a dish from the same category increases. In a study published in the Journal of Food Quality and Preference, Brenna Ellison found that 'diners wanted to be different from their dining companions, but not too different'. We want to fit in and not be the odd one out, which is why in company we eat more than when we're eating alone. Psychologists call this subconscious tendency to imitate the behaviour of others the chameleon effect. Woody Allen satirised this effect in his film Zelig. The opportunistic protagonist, Leonard Zelig, is a human chameleon; he takes on the traits of those around him. When Zelig is with a well-educated psychiatrist, he, too, becomes a psychiatrist; in the presence of large people, his stomach bulges.
Have you ever gone to a restaurant with a large group and been one of the last to order, only to realise shortly after that the dish you selected wasn't really what you wanted? Sometimes we're compelled to select an option in response to those around us. To demonstrate this phenomenon, Dan Ariely and a colleague, disguised as waiters, approached 100 groups of unsuspecting brewery customers and offered them free samples of beer. They could choose between Copperline Amber Ale, Franklin Street Lager, India pale ale, and summer wheat ale. Along with the beer, they gave the customers a questionnaire asking them to indicate whether they liked the beer and if they regretted their choice. Not all customers ordered their beer out loud; half of the groups they approached had to make their choice in writing. As it turned out, those who placed their order in public ordered a range of different varieties, an expression of individuality. Yet, in the end, they tended to be less satisfied with their choice than those who chose in private. With one exception: 'The first person to order beer in the group that made its decisions out loud was de facto in the same condition as the people who expressed their opinion privately, since he or she was unencumbered, in choosing, by other people's choices.' With the result that in the end they were happier with their choice than the other people in their group who had ordered out loud.
In other cultures where individualism is not desirable, as in Hong Kong, Ariely found the opposite behaviour to be true: 'In Hong Kong, individuals also selected food that they did not like as much when they selected it in public rather than in private, but these participants were more likely to select the same item as the people ordering before them.' According to Ariely, people – especially those with a high need for uniqueness – would sacrifice personal benefit in order to gain prestige among their peers. People make compromises in order to look good.
How We Eat With Our Eyes and Think With Our Stomachs by Melanie Mühl and Diana Von Kopp is published by Scribe, rrp $29.99.