Vim to the Brim
Journalist, broadcaster and cartoonist KAZ COOKE stumbled across a publicity shot of Ada Delroy from the late 1800s in a scrapbook she found at State Library Victoria. Bewitched by the entertainer's glamour and distant gaze, the author of Up the Duff and Girl Stuff has written a book based on the famed vaudevillian's life, which involved magicians, trained cockatoos and scandal aplenty. ANGUS DALTON asked the author how she overcame her fears to write her debut novel, Ada.


If there's a prevailing emotion Kaz Cooke felt in her early career as a journalist, it was terror.
After getting through three interviews with The Age while wearing her mother's best dress, the not-quite 18-year-old Kaz Cooke secured one of four cadetships offered by the paper in the 1980s to students fresh out of high school.
'I was a completely unschooled, untrained, wide-eyed twit from the suburbs. It was an incredible piece of luck,' the author admits over the phone from Melbourne. 'I was crazy for cartooning as well, so to be in a place where you could walk past Les Tanner, John Spooner and Leunig – the big cartoonists of the day – really was like being in a lolly shop.'
Starstruck as she was by her new colleagues, Kaz and her fellow cadets were haunted by horror stories of former trainees misspelling names in court cases and costing the paper hundreds of thousands of dollars in libel suits. Cadets sat in the front row of a huge open-plan office of journalists, and the air was thick with the sound of 180 manual typewriters, the burble of interviews taking place on bakelite phones and, every so often, plumes of smoke from a wastepaper basket set on fire by cigarette ash. Subeditors would stalk behind the cadets, grilling the young writers on every fact and claim they typed.
'It was always exciting, but it inculcated in me an absolute terror of making mistakes,' says Kaz.
Despite going on to forge a career in writing and broadcasting, Kaz said her interest in journalism wasn't born out of a childhood surrounded by books.
'There were no books in the house when I grew up. My parents weren't readers,' she says. 'You know how sometimes you talk to a writer and they go "Oh, our house was full of books and music …"? Well, our house was full of orange laminex. And aqua carpet, now I come to think of it!'
But her discovery of Ronald Searle's anarchic St Trinian's schoolgirls – unearthed in the second-hand bookshop she worked at when she was at school – is the moment Kaz pinpoints as the inspiration for her career in print and beyond.
'I was incredibly lucky to find that he'd done this series of arsonist schoolgirls who were practised in hand-to-hand combat and were really naughty. It said to me that you can be cheeky and naughty and make it a job.'
Kaz's most famous cartoon character is Hermoine the Modern Girl, who has a pair of groovy black sunglasses perched on top of a huge beaked nose (a homage to the pointy noses of Searle's sketches) and who has been dishing out sage and sassy advice since 1983 when she was first published on the front of The Age's Friday entertainment section. One such pearl of wisdom imparted by Hermoine goes: 'Treat romance like a cane toad. Study it furtively – then squash it!'
Hermoine is also a recurring figure in Kaz's bestselling advice books, such as Real Gorgeous – a book that Stephanie Convery, deputy culture editor of The Guardian, says motivated her to throw into the bin every glossy magazine that made her feel bad about her body – and Up the Duff, a pregnancy survival guide.
'I came of age in a window of feminism and opportunity, and I actually didn't know how unusual it was to write about those things and be bolshie about it,' says Kaz of her advice books. 'I would rather girls learn about what sex is from me instead of from something they see on a boy's mobile phone. When I started, my early cartoons were very spindly with incredibly thin lines. But as I continued to write these advice books, my lines got bolder and darker. My hand got steadier.'
Despite hitting her stride as a seasoned journalist and a confident purveyor of advice, a few years ago Kaz stumbled on a scrap of history that would lead her to a project that would terrify her all over again: a work of fiction.
'Libraries are these giant caves of treasures, and while at State Library Victoria I came across a scrapbook of theatrical types. There was a publicity photo of a woman, and the caption said "Ada Delroy". And she had everything on but the kitchen sink! A giant bow in her hair, a hat the size of a cartwheel. She had feathers, she had broaches, she had a huge pendant.'
The name 'Ada' was spelled out in diamantés across the woman's torso. 'It's lucky her name wasn't Marguerite,' Kaz quips – and the distant, dreamy look in her eyes captured Kaz's imagination.
'There was something about her that made me ask, Who is she? And that's where it all started.'
Ada Delroy was orphaned in 1877 when her parents died from 'some variety of grip-guts'. She was taken in by her adoptive brother, who ran The Bell Family Troupe, and began her career as a comedian, actress and, most famously, a dancer. She earned fame and fortune throughout the southern hemisphere as a Terpsichorean Marvel with her spectacular serpentine dance.
The act involved hundreds of yards of flowing silk that the troupe would project lights on as Ada twirled and whirled. The visual spectacle would have audiences of miners, down-at-heel regional residents and even the King of Siam and his extended family in raptures.
'Life back then was very unforgiving. And to be able to see something as beautiful as the serpentine dance must have been kind of miraculous, I reckon. And I'm sure Ada had a lot of admirers at the stage door as well!'
Ada is written as if it's being told straight from the flamboyant vaudevillian's mouth. She's telling her story from a bed in Melbourne, now sick and clutching a morphia cocktail. A representative from the Old Colonist's Homes for Decayed Actors and Others of the Theatrical Profession comes to interview Ada to establish her eligibility for a charity cottage. Ada launches into her life story in an attempt to clear the stage whispers and rumours that surround her, including accusations of stolen jewels, a stolen husband and a missing infant. But the boldest claim against her is the accusation that she stole her famed serpentine dance from American performer Loie Fuller. According to Kaz, the claim has credence: Ada made a rare visit to New York for 10 days at the exact time Fuller was performing.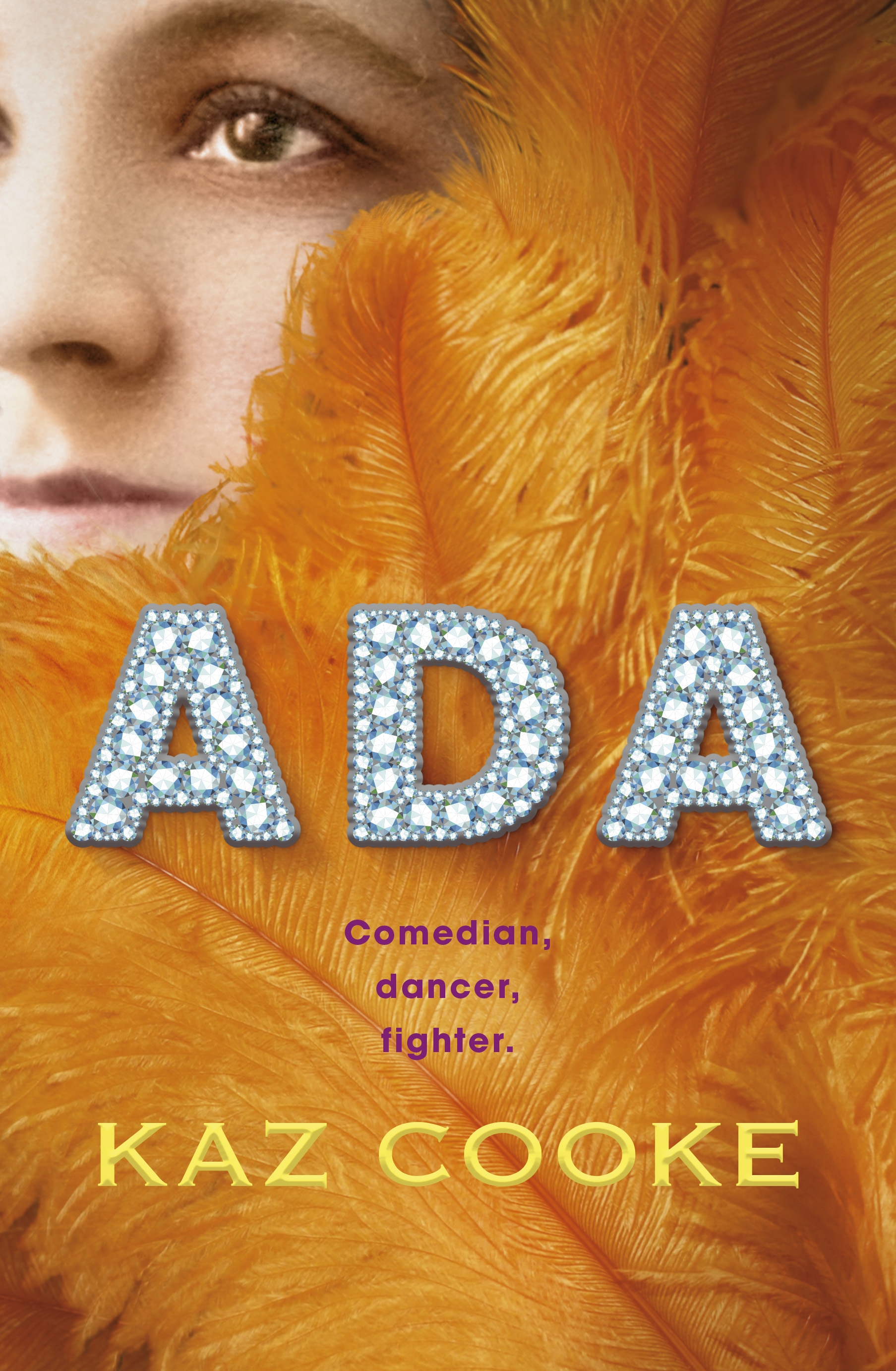 For all the fame and fortune garnered by Ada, there are only two sentences in which she is directly quoted in newspapers; men in vaudeville received far more coverage. Inhabiting Ada's voice is Kaz's way of paying tribute to this remarkable woman and ensuring that she is not forgotten. But the act of inventing conversations, thoughts and situations went against every instinct ingrained in Kaz during her training as a journalist.
'For the entire time I was writing Ada I was terrified that the non-fiction police would come round and bang on the door to shout at me and say "How dare you make things up, you stupid girl!" I imagine all the non-fiction police look like Gideon Haigh in a concierge uniform. But they never came!'
The world of mad magicians, clairvoyants and cockatoo-wrangling vaudevillians is fascinating, but the most compelling thing about Kaz's debut novel is Ada's voice that conjures it all up; a character in the book memorably described her as having 'vim to the brim'.
'I do wonder – if Ada could come back to life – if she would fix me with a level glare and say, "I wasn't like that at all!"' Kaz laughs. 'But I also suspect that all the vaudevillians would understand the liberties you take to tell a story and to entertain. In that sense I feel like they would approve. But I'm glad you enjoyed her voice in the book – because releasing it to the world is terrifying!'