The Monster Maker: Patrick Ness on A Monster Calls
Patrick Ness, writer of 'The Chaos Walking' series, A Monster Calls, a Dr Who spin-off show and most recently, a YA novel inspired by Mrs Dalloway, tells Good Reading's Angus Dalton about creating monsters and killer writing advice.

Patrick Ness and Jennifer Kent – the writer and director of the 2014 Australian horror movie The Babadook – are mutual fans. The shared respect makes sense; both are the creators of towering spindly-fingered monsters bent on horrifying children.
Ness is also the creator of the Spackle, a race of telepathic humanoids with 'eyes blacker than swamp stones, lichen and moss growing where clothes should be' who are native to the colonised planet that serves as the setting for his 'Chaos Walking' series. As writer and executive producer of Class, a Dr Who spinoff series, Ness unleashed dragons and extraterrestrials disguised as teachers on Coal Hill Academy, as well as the Lan Kin: a vine-like creature that lures in its human prey by conjuring apparitions of their deceased loved ones so it can feast on their grief – and flesh.
As for the ancient giant of bark and branches that unfurls itself violently from a yew tree growing in a graveyard at the centre of A Monster Calls, Ness was inspired by a particularly frightening tree in a 1982 horror film.
'Looking back, the visceral image of the tree surprisingly came from my subconscious from having seen Poltergeist many, many times when I was about 10,' Patrick tells me over the phone from London. 'There's a very angry tree that comes smashing through walls … it's funny how those things settle in your brain and start growing and changing and take up space in your mind until there's a monster.'
The concept of a monster showing up in a boy's dreams was created by human rights and anti-censorship activist Siobhan Dowd, who was also a writer of YA novels. In 2007, she died from breast cancer after having written a draft of the first chapter of A Monster Calls.
'She had the characters, a premise, and a beginning,' Patrick writes in his Author's Note. 'What she didn't have, unfortunately, was time.'
Patrick finished A Monster Calls in 2011, dedicating the novel to Siobhan. The book begins seven minutes after midnight as the monster comes for Conor, a 12-year-old boy who has become self-sufficient as his terminally ill mother becomes too sick to care for him. He stubbornly believes his mother will recover after increasingly desperate treatments, and rejects his patronising real-estate agent grandmother's insistence that he move in with her instead.
When the monster arrives at Conor's bedroom window, he isn't scared, much to the irritation of the monster – even a mighty roar of hot, compost-smelling breath doesn't muster as much as a quake in the boy's legs. Conor's convinced it's all a dream, and he's got bigger fish to fry, quite frankly. But that begins to change when in the morning Conor wakes and plants his feet in a carpet of crunchy yew leaves covering the floor.
'I have a theory that there's no such thing as a realistic story, that all stories are fantasy, even if they look real,' Patrick says of the supernatural elements that exist in all his books. 'I love someone like Tim Winton, his books are what everyone would call realistic and contemporary fiction. But they're just as much an act of imagination as Game of Thrones. The monster to me in A Monster Calls is completely realistic in the story sense, and it's realistic to Conor too – he never doubts that it exists.'
When interest began to mount for a movie adaption of A Monster Calls, Patrick insisted that he write the screenplay rather than sell the rights to the story.
'I was worried that parts of it would be changed to make it less true,' he explains. 'I didn't want it softened.'
As the movie airs across the world (and finally in Australia on July 27), Patrick also has a new YA novel out called Release. In the style of Virginia Woolf's Mrs Dalloway, the book takes place over one Saturday in summer. The protagonist is Adam Thorn, the 17-year-old second son of a preacher who rules his household under a regime of rules called 'the Yoke'. Unfortunately for Adam, being attracted to other boys is a definite violation.
Patrick was born on an army base in Virginia and grew up attending a church he has described as 'the scariest, most apocalyptic sort of evangelical church'.
As he joined congregations three times a week – twice on Sundays, once of Wednesdays – and was lectured zealously about doom and sin, an encounter with Forever, a classic young adult novel by Judy Blume, became influential for Patrick in its brazen portrayal of teenage sex. For the same reason, the 1975 novel is notorious for being the subject of censorship and outrage from parents and educators dismayed by its sexual content, allusions to homosexual characters and the depiction of birth control.
'The non-judgmental frankness is awesome,' Patrick says of Forever. 'The author's not out there judging, she's reporting what she's seeing, it's a really optimistic book. You read it now and you'd be amazed at the stuff it contains, god love her forever.'
But as a gay man, Patrick was worried that there wasn't a version of Forever for queer teenagers.
'I remember reading Forever and thinking, this is great, but there will never be a book like this for me. There are lots of gay characters in YA, and that's fantastic, long may it continue, but we tend to look away a little bit with sex. Even with straight characters we look away. Particularly for a queer kid reading, if I'm not discussing it honestly, then where are they gonna get information about sex? They're gonna get it from Grindr and porn. How can that be good for the kids, for their self-image, for their future relationships? I've said this about dark subjects, but it's the same for things like sex – if I don't talk about it honestly, then I'm abandoning a teenager to face it alone, and how can that possibly be moral?'
Patrick also refuses to entertain derision towards YA from those who view it as a less valuable genre. After reading stories written by teenagers that often contain issues that are as dark and complex as adult-written books – if not darker – and have occasionally high body counts, he knows teenagers are capable of creating and understanding sophisticated and emotionally intense stories.
'I lived in Los Angeles for 10 years. I quite like Los Angeles. And the thing about Los Angeles is that New Yorkers hate it,' Patrick says. 'If you meet a New Yorker in Los Angeles they will tell you in the first three seconds that they're from New York – it's like vegans, it's like the first thing they say – and then they will instantly insult LA. They will say it's empty, there's no centre, it's vacuous, blah blah blah. But LA doesn't even notice. People who live there just do not care. They just shrug and go 'oh, come on over, you'll love it, have a mimosa, it'll be nice!
'That to me is the attitude I want to have about YA. I know how awesome my audience is. I know how curious, smart, interested and seeking and yearning and concerned about justice my audience is. If anyone talks smack about it I just say, oh, give it a try. We're all good over here.'
While Patrick's stories almost always contain elements of magic or fantasy – even Release, set in real-world Washington, features the ghost of a girl rising out of a lake – he's dedicated to truth telling in his stories, fairy-tale endings be damned. Some recent writing advice imparted from the author via Twitter says, 'No one can tell you how to write. They can only tell you how *they* write. There are many paths up the mountain … and if your path requires you killing a fictional dog, tell the crowdsourcing to go f**k itself, shed a tear and kill the sweet little bastard.'
But despite not being a purveyor of happy, wrapped-in-a-bow endings, Patrick says acknowledging the 'messiness' of life and pursuing the truth in a story holds far more hope and gravity for readers.
'The truth is hopeful. Even if it is sad or tragic. Even in a book that ends ostensibly 'hopelessly'; if you've told the truth, if you've let a reader see that how they feel about the world is valid, and that they're not alone in thinking this … if they can recognise themselves in that, how is that not hopeful? If you tell the truth to a teenager about how the world is, there's bound to be hope in there. Bound to be.'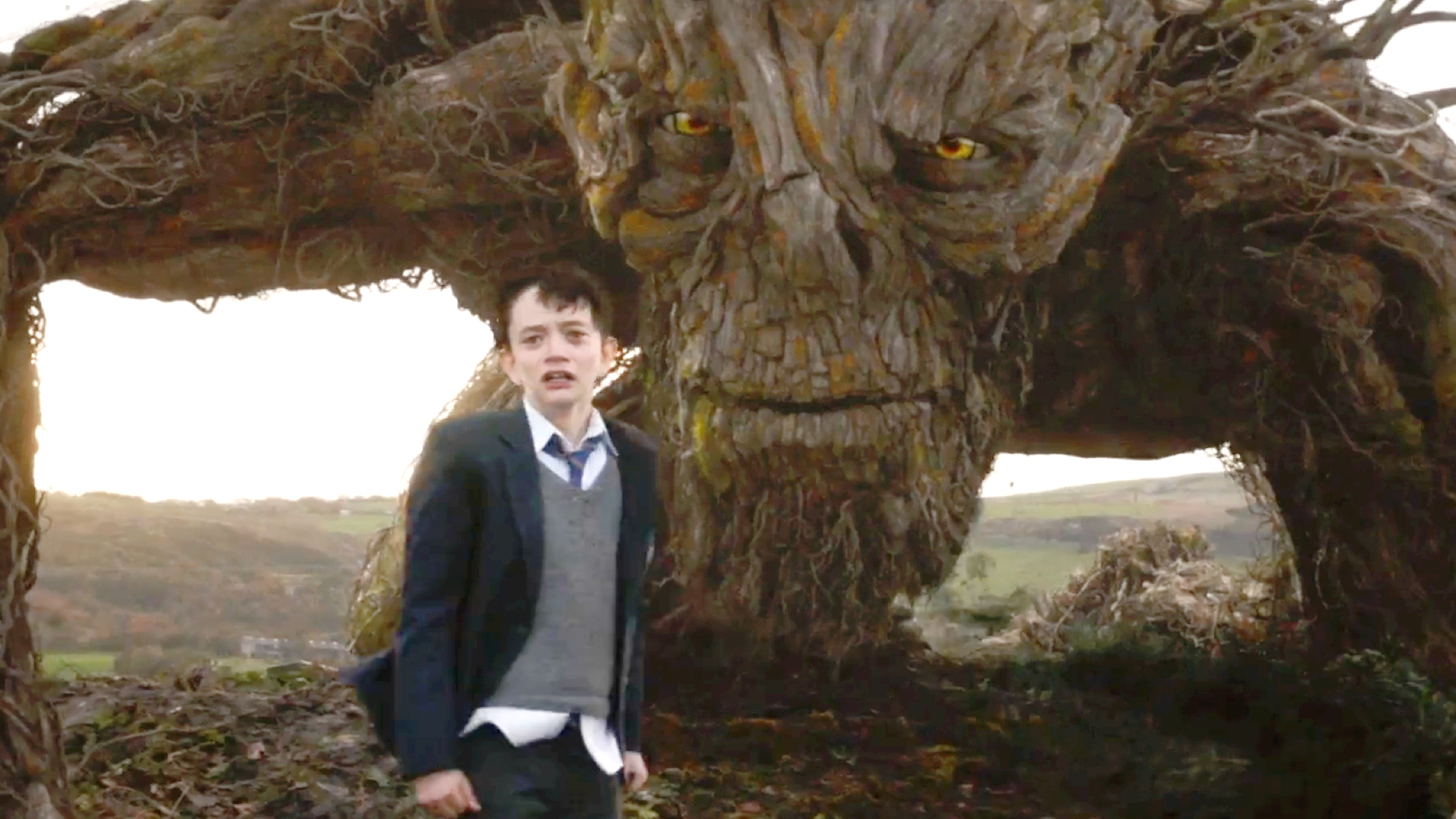 Patrick's passion and respect for storytelling and creating creatively challenging, gut-wrenching stories shines through during the twenty minutes I have with him on the phone. The complexity and significance of story is also a theme in A Monster Calls; before the giant tells one of its tales, it delivers a warning of the power of stories and the importance of telling them truthfully:
'Stories are wild creatures,' the monster rumbles to Conor. 'When you let them loose, who knows what havoc they might wreak?'
A Monster Calls and Release by Patrick Ness are published by Walker Books. The film adaption of A Monster Calls has been released.