Disappearing Off the Face of the Earth: A Q&A with David Cohen
David Cohen's Disappearing off the Face of the Earth follows Ken Guy, who works at Hideaway Self Storage, just off Brisbane's M1. His tenants are mysteriously vanishing, leaving behind swathes of potentially valuable posessions - the sale of which keep his business afloat. But his OCD and peculiar assistant, Bruce, is acting even stranger than usual, Ken is developing an aversion to fluroescent lights, and his girlfriend is developing an aversion to Ken. We asked the author about writing about the banalities of life, why so few novels are set in the 9-5 workday, prog-rock, and how this 'warped comedy with a body count' came to form.


What led you to write a novel set in a self-storage department?
When my wife and I relocated from Melbourne to Brisbane seven years ago we stored a lot of our things in a self-storage facility. I thought it would be a great setting for a novel – who knows what's going on behind that bland exterior? Some time later I read an article about the boom in the self-storage industry and a corresponding increase in the number of people simply abandoning their stored items. I was also thinking about 'missing persons' – people vanishing, sometimes never to be seen again. Those threads came together at some point.
This is your second novel, and you've also written a collection of short stories – does all of your writing chart the 'absurdities of everyday life'?
A lot of it seems to go in that direction, sometimes despite my best efforts to take it elsewhere. It would be true to say that I thrive on the banal. I like to take things that are usually in the background of a story – or simply aren't considered worth mentioning at all – and put them in the foreground, so to speak.
What's the most mundane job you've ever had?
I've had quite a few, so I've probably forgotten some of the more boring ones. I cleaned offices in an office block in Melbourne. That was really tedious because the offices were brand new and hardly required any cleaning, so there was nothing to get my teeth into; cleaning a bakery was far more gratifying for obvious reasons. I did a brief stint with a stocktaking company when I lived in Perth. On the way to my first stocktaking job – a supermarket – I was in a car accident. I wasn't injured so I still showed up for work, even though I was an hour late. That was quite the anti-climax: one minute I'm rear-ending another car on Stirling Highway; the next I'm counting packets of plastic forks – a real waste of adrenalin.
Have you used any anecdotes from your own life to shape Disappearing off the Face of the Earth, or based any of the characters on people you know?
There's not a lot based on direct experience. I used to work in a library, and my colleagues occasionally made reference to a former employee named Bruce, who apparently was very meticulous when it came to stapling the newspapers each day; he insisted that the staples had to be perfectly aligned. That was the starting point for the Bruce character – and the name was so good, why change it? Ken's uncle Dennis is vaguely connected to my own father who, like that character, suffers from dementia.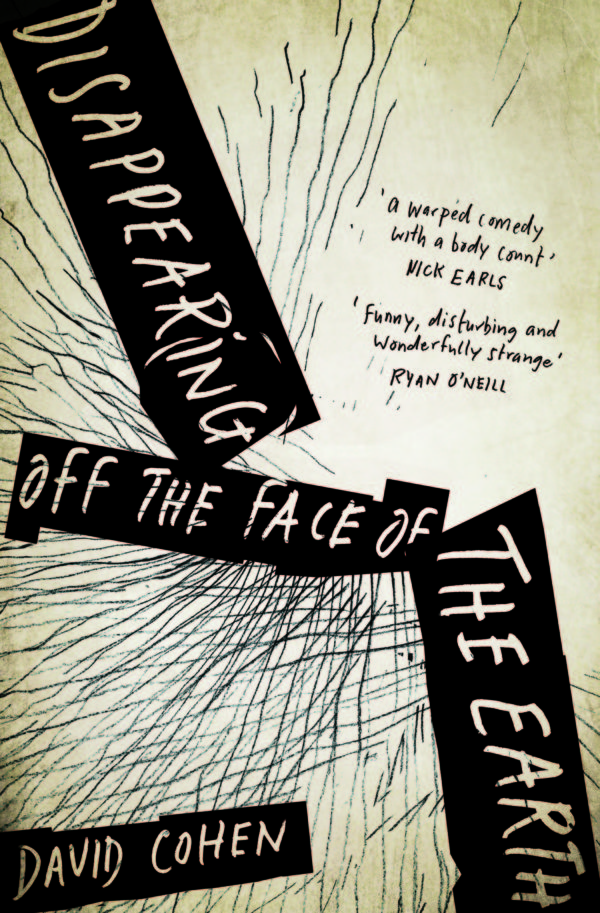 Why do you think it's so rare to find a novel largely about work?
Perhaps because people don't want to be reminded of work when they read a book. We spend most of our lives at work, often doing jobs we don't particularly like. To me that's precisely why 'work', whatever that may entail, should be explored more extensively in fiction. Maybe publishers feel that novels about work are not going to appeal to many readers as, on the face of it, 'work' isn't inherently dramatic or interesting – unless one happens to have a job as a neurosurgeon or a cryptologist, or a foreign correspondent reporting from war zones in the Middle East. But I for one am not interested in reading about extraordinary characters doing super-important things; I'm interested in reading about ordinary but peculiar characters doing boring things, even if not necessarily by choice.
Your main character, Ken Guy, has an affinity for prog-rock – do you share his taste in music?
Many people won't publicly admit to liking prog-rock: I have no such reservations. I wouldn't say it's my favourite sort of music, but King Crimson and other prog giants do appear in my record collection. So whatever else Ken may be, I can't really fault his taste in music.
Which writers or books influenced the writing of for Disappearing off the Face of the Earth?
There are certain authors who write compellingly about routine work and manual labour, and I'm sure they've had some influence. One is the English writer Magnus Mills, whose novel The Restraint of Beasts is a sinister, funny, and, dare I say Kafka-esque, tale involving a team of fencing contractors. I've always liked Charles Bukowski's novel Post Office, and that has probably had an indirect influence. Another favourite novel is Flann O'Brien's The Third Policeman, which to some extent inspired the scene at Phil's Self Storage in the middle of nowhere.
Some of the vanishing tenants in Disappearing off the Face of the Earth leave behind collections of comic books and porcelain figurines – have you ever been a hoarder or collector?
When I was young I had pretty impressive collection of Mad comics, and I've still got quite a lot of books and CDs, but I've never been a collector as such. I never used to like throwing anything away, although I was nowhere near the point where Hoarders-style intervention was called for. As I get older I'm becoming less attached to things – either I'm becoming a more enlightened human being or I just like having the extra cupboard space.