Meet Diane Connell
DIANE CONNELL began writing as a novelist when she lived in Paris. She later moved to London, where her first two books, Julian Corkle is a Filthy Liar and Sherry Cracker Gets Normal, were published under the name of D J Connell. Her latest novel, The Improbable Life of Ricky Bird, is beautifully written, heartbreakingly funny and deeply moving.
What inspired the idea behind this novel?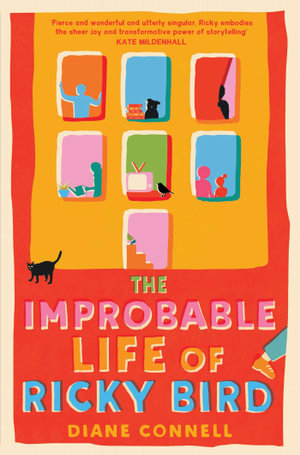 I started out with the idea of a character, a big character. Ricky is someone we've all met and wanted to know. She's someone who shines bright. She's full of energy, a big spirit, a wit.
I then took this wonderful character and put her in a story that is sad and complicated. It's a story that is very close to my heart, something I have wanted to write for a long time.
Ricky is a big, funny character but her story is not. My novel is many things but essentially it's about power and the abuse of this power.
I feel very deeply for people who have been preyed on and experienced childhood trauma. I feel immense empathy and burning rage for these young people and for the adults who were once these young people. They not only experience trauma and abuse but often they are left to carry burdens of shame and guilt.
Too often, when they attempt to express their truth, they are silenced and maligned. They lose control of the narrative. They are not believed. The person with power gets to tell their story.
When they react, when they act up and try sound the alarm, they become the problem and when you're a problem, no one wants to listen to what you have to say.
In my small way, I wrote this novel to give these people a voice.
Your novel is set in a housing estate in Camden – what was involved in your research process to capture this environment?
I lived in London for eleven years, mostly in Camden, before moving to Sydney in 2018. I also lived for a year or so in Brixton. Camden is a vibrant and very diverse inner-city borough with a lot of public housing and a large young population. It was the ideal setting for a story about a young person in trouble and alone in a big city.
One of the things I love about London is the way public housing is woven throughout residential areas. In Camden, housing estates with tower blocks of flats often sit next to multi-million pound houses. Residents shop at the same supermarkets and use the same public facilities and parks, including the magnificent Hampstead Heath.
I loved researching and writing about life on a Camden housing estate. Camden was my hood and the inhabitants were my people.
Over the course of the novel, we follow Ricky as she struggles with her identity – why was it important to you to highlight these struggles from Ricky's perspective?
I wanted to create a big character to tell a story that is troubling and hopefully meaningful. I wanted you, the reader, to cherish Ricky, to develop a strong emotional bond with this high-spirited young person. I wanted you to engage with her, to relish her triumphs and to fear for her when she encounters trouble and begins to unravel, to lose the things that have defined her and given her an identity.
Ricky's struggles begin almost the moment she arrives in Camden and is ripped away from the father she adores, the person who has encouraged her remarkable talent for storytelling and nurtured her connection to nature. She loses her home, her network of friends and the familiar neighbourhood of Brixton. Tragically, she also begins to lose her brother and the relationship she has with her mother.
In this new, alien place she has none of the footholds of her former life, nothing familiar or secure, nothing that says, 'This is who you are and you are safe'. Isolated from the people who should be supporting and protecting her, she doesn't know who she can trust. She has no one to confide in when her body begins to turn against her. For Ricky, this is a terrifying and profound betrayal. Alone, lost and vulnerable, she begins to turn on herself. If no one else cares, why should she?
Your novel looks at issues surrounding child abuse, trauma and grief – what role does fiction play in illuminating these issues?
Reading a novel is a creative and expansive process. It's interactive and very personal. Fiction forces you, the reader, to use your imagination. A passage might describe a character's physical appearance but it is your imagination that fills in the details. You form your own picture by dipping into your experiences and making the story yours. As you move through a book, your imagination will be leaping ahead, attempting to make sense of what's happening and anticipate what will happen next.
I believe my job as a writer is to encourage you to invest in my character, and through her story, encourage you to ask questions. If I have done it right, you will laugh when Ricky is being absurd and worry when she encounters trouble. You will feel for her when she is hurt and celebrate her triumphs.
Fiction makes issues such as child abuse, trauma and grief personal by putting you in the character's shoes and prompting you to empathise with her. It gives you, the reader, ownership. It delivers the experience of a compelling story while shining a light on issues that are important and disturbing.
You will invest deeply in a character you love. Indeed, you will feel what the character feels. When a beloved character experiences abuse and trauma it will have power and meaning for you. Her grief will be intimate and personal.
Ricky has a wild imagination and a proclivity for story telling – in what ways can stories help us process our trauma?
Telling stories is something we all do. It's how we relate to each other and engage as human beings. All of us know how to tell a story but some of us are better storytellers than others. The Improbable Life of Ricky Bird is about an exceptional storyteller, someone with a gift. This is Ricky's story but within it, like a series of matryoshka dolls, are the many stories she tells as she navigates her way through adversity, betrayal, conflict and love. Some of Ricky's stories are outrageous but she shares them for a reason. They all have a message, often buried within the symbolism of the characters and events she creates.
A good story illuminates, provokes, persuades and excites. A good story will involve you, the reader. A news article offers factual information but a good story will gift wrap some form of truth. It will offer something of life, a glimpse into the heart of things.
Through story, we share our joys and our troubles. We use story to capture the attention of others, to communicate something important and perhaps urgent about ourselves. When we share traumatic experiences through story, we create an opportunity for empathy and understanding.
Ollie and Ricky have a beautiful bond – was this relationship informed by anyone in your own life?
I have spent over half my life outside my country of birth, New Zealand. I've lived and worked in Australia, Japan, France and Britain. I developed and still maintain friendships in all these countries and part of me still considers each of these places home. Yet the thing that continues to inform my writing is my childhood. It's the vault of riches. Childhood was where I learned how to relate and negotiate, to observe and empathise. It's where I learned about power and love.
I was fortunate to grow up in a large family, the middle child of five children. The relationships I formed as a child still inform my own life as well as those of my characters. Ollie and Ricky are fictional but they were created out of my own experience and understanding of relationship and love.
When Ollie becomes ill, their mother fails to provide the necessary emotional and structural support for Ricky – in what ways is the system failing single parents?
I think in Ricky's case, it's the situation rather than the system that ultimately fails the family. I feel for her mother and hope that comes across in my writing. She is in a terrible position. She is desperate and blinded by this desperation, makes poor decisions.
I don't have children so from where I sit, child-rearing appears to involve a kind of magic. Women who raise children on their own are simply remarkable. I mean, what a responsibility. You hold the life of another human being in your hands and are expected to know how to manage this responsibility, often without support or guidance.
What did you love most about this writing process?
I love it when I come up with a solution to something that isn't working. This usually occurs when I realise I need to throw out an idea or a sentence, or even a chapter or two. More often than not, it's something I've written with a big head and have kept out of vanity. This awkward thing will be poisoning a paragraph or a chapter but I will cling to it through several edits until finally, I can put my ego aside let it go. It's always a relief. There's always another way to write something. Usually it's a better way.
I think the best moment of writing The Improbable Life of Ricky Bird was when Ricky finally emerged fully formed, when she became a 'real' person to me. She started out as an idea, an idea for a character to carry an idea for a story. The more I worked on the novel, the more her personality emerged. It's a strange and wonderful process. It's almost as if you reach a point where the character announces herself and takes over from the writer.
Writing is a relentless process and The Improbable Life of Ricky Bird is the result of many, many edits. It's like going down inside a mine with a hand pick. You hack away at the rock face until you find a glittering vein. At the beginning of the process, you are mostly hacking – laying down words into sentences, sentences into paragraphs, paragraphs into chapters. The more you hack away at a story and the more honestly you go about it, the more gold you find and the more likely it becomes that you will create something meaningful of worth.
The Improbable Life of Ricky Bird by Diane Connell is published by Simon & Schuster