Back to the Future
Jamberoo-based playwright and writer CATHERINE MCKINNON tells ANGUS DALTON about Storyland, her literary novel that explores the past, present and future of the Lake Illawarra region on the south coast of NSW.
'We make the world by what we pay attention to. If we give attention to the smaller stories, then we're changing the way the future might go.'
This idea, espoused by literary scholar Iain McGilchrist, is one of the core philosophical ideas that propel Catherine McKinnon's work. Over the course of our Skype interview, whenever a particularly influential author or novel comes up, Catherine leaps up to scan the roof-to-floor bookshelf behind her for the tome in question. But like many book lovers, her collection seems to be in disarray – she scans the shelves for Orlando by Virginia Woolf, Cloud Atlas by David Mitchell and Steven Amsterdam's book of dystopian short stories, Things We Didn't See Coming, to no avail.
Catherine began her creative career as a theatre director in Adelaide before completing her Masters in Creative Writing at UTS, during which she wrote her debut novel, The Nearly Happy Family. In 2000, the artists' coven Catherine and her husband had been living with in a converted warehouse was renovated into a smaller space that was four times as expensive. So they moved to Lake Illawarra near the Minnamurra rainforest, and during years of walking through the trees, watching a sky thick with birds and water skimmers skate across the surface of Mullet Creek, she decided she'd write a story based on the area.
'I like place to be strong,' Catherine says of her work. 'I go on lots of walks around Mullet Creek and Port Kembla – I was already doing all that before I started Storyland. I wanted to write about what it means to be Australian, really, what made us who were are, all this mixture of different kinds of people – and I just started from the point of first contact; one of the first stories of Indigenous and European interaction.'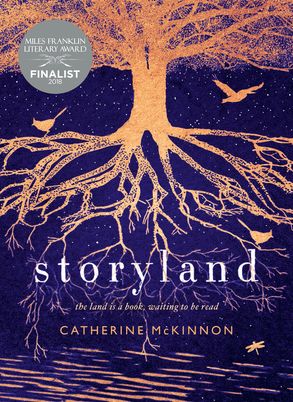 Catherine decided to fictionalise the story of a small exploratory voyage undertaken in 1796 by Matthew Flinders, George Bass, and a servant, William Martin. They journey south from the Sydney colony in Tom Thumb – a small vessel of two and half metres – in search of a river mouth that could grant inland access to larger vessels. If they are successful, Bass assures his servant, their names will be immortalised on the shiny buttons of English coats. But large swells throw their trip into chaos, and soon the trio becomes less interested in discovering landmarks they could name after themselves and more intent on quenching their raw throats.
Their search for fresh water led them to a pair of Koori men on a beach. The only record of this early story of contact between Europeans and Indigenous people was provided by Flinders' written recount of his circumnavigation of Australia – and it's an account that Catherine distrusts.
'Flinders had written one version of that trip – and it's the only version ever written of their journey down to what Flinders called Canoe Rivulet, which leads up to Lake Illawarra. So there was just this one document. And I noticed as I read other documents that everyone just simply repeated that version without question.'
By diverting attention from the main historical figure of this event and imagining the incident through Will Martin's eyes instead, Catherine draws attention to the miscommunications that occurred and, on a broader scale, reminds us that much of our history is filtered through a limited, colonial perspective that should be interrogated.
Through Will's eyes in Storyland, one of the Indigenous men is a giant whose 'body is burnt black and glistening with water. Hair and beard like a bush, knotted and wild. Dark eyes. Like a man born of the earth itself.' Dilba and his unnamed companion – thin, yet strong – make a tentative trade of fish to the explorers in return for a handkerchief and two potatoes. According to Matthew Flinders' official account, more Indigenous people appeared over the dunes after the trade and rushed towards them. Fearing for their lives, the Europeans fired off their gun and made haste to escape.
'All the little snippets of that story repeat Flinders' viewpoint and there was no questions of what these Indigenous guys were really doing. Maybe it was to kill them – that's one version. But maybe the Indigenous people wanted to invite the explorers to meet their elders, or they were saying they shouldn't sleep where they were because it was a sacred site. There's so many possible things that could have been happening in that miscommunication. All that story was trying to do was trying to raise questions and say: there could be another story. We don't know.'
"And then the most thrilling leap occurs; Catherine takes us to 2033."
The next story leaps into 1822 with a farmer named Hawker, tilling a cornfield on freshly felled bush near Mullet Creek. It charts another uneasy relationship between the Europeans farming the land and the Indigenous people still populating the surrounding bush. Catherine based the story on the court transcript of a murder trial held against Hawker when an Indigenous woman was shot and mauled by dogs.
'Hawker got off in the trial; the trial ruled that the dogs murdered the woman. Hawker shot her, but the dogs actually murdered her, they took her life – that's what they decided. And I guess I've put the blame on Hawker in my story. One may or may not agree with that, but that's my imagining. I'm not trying to write history. I use truth to write fiction.'
Charting the changing industries of the land, the next story centres on a dairy farm run by sisters and the tensions that flare when the young daughter of their neighbour vanishes into the bush. A modern-day story follows about a group of children who make a raft and go exploring along the banks of Lake Illawarra – and become embroiled in the possibly criminal dealings of a young couple who live in a ramshackle cottage by the water.
And then the most thrilling leap occurs; Catherine takes us to 2033.
'People who read the future don't read the past – and vice versa,' she says. 'It's interesting when you put them together. I love dystopian stories. I definitely wanted to write about where we are going.'
Catherine's vision is a coast battered by cyclones edging further south than ever seen before, and the degradation of society at the mercy of a super virus. In imagining this apocalyptic situation, Catherine used the aftermath of Hurricane Katrina as a case study.
'A lot of people said society broke down very quickly after Katrina. I was interested to read that some of the first things that went back up were the prisons. As they were rushing aid towards the area, they were already building cells. Just the way that things break down so quickly is really fascinating.'
Catherine is evangelical about the importance of stories as a way of understanding ourselves, our history, our country and every life playing out within it; every story we tell now plays a part in directing what comes next.
'Stories are making our future. Stories are as important as breathing. But we don't think about that. Because like breathing, we don't think about it until the air's stuffed.'
Storyland by Catherine McKinnon is published by HarperCollins, rrp $27.99.