Extract - Fry's Ties
STEPHEN FRY is an award-winning comedian, actor, presenter and director. He is also the bestselling author of four novels, The Stars' Tennis Balls, Making History, The Hippopotamus, and The Liar. His latest book Fry's Ties is an illustrated ode to Stephen Fry's obsession with the tie.
ABOUT THE BOOK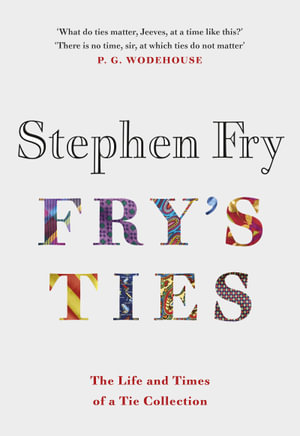 By the time he was fifteen, Stephen Fry owned more than forty ties. Inherited initially from a grandfather, matters turned more serious when he could afford to buy them brand spanking new.
Stephen's collection now numbers well into the hundreds. And each tie – whether floral, fluorescent, football themed; striped or spotty, outrageous or simply debonair– tells a story. A tale of the garment itself – the shops, makers and designers – as well as of Stephen, his reasons for choosing it, whether an occasion or just a whim.
Inspired by Stephen's hugely popular Instagram posts, this book will feature beautiful, hand-drawn illustrations and photographs to celebrate his expansive collection of man's greatest asset: the Tie, in all its sophisticated glory.
EXTRACT
Ties are worn for all kinds of reasons – club ties,
regimental ties, and work ties. There are such
things. Ties designed by or for an employer, to
be worn by members of its staff. Many, many years ago,
between A levels and university, when all around here
was green fields, I worked for a short while at the
department store Bonds of Norwich.
Bonds is a John Lewis now, but it was not unlike Grace
Brothers in Are You Being Served? in many ways. Mr Eric
and Mr Richard were the two Bond family members
who patrolled the departments – a little younger than
the sprightly valetudinarian Young Mr Grace, but with
a very similar air of benign patriarchal amiability. The
shop's symbol was a bee.
I started in Homewares but was moved up to Furniture on
the top floor, for which I had to wear a dark suit and this
splendid tie. Furniture's Mr Ellis (a marvellous man who
introduced me to the writings of Malcolm Lowry) and I
would patrol the floor, trying to get customers interested
in our lines of Ercol furniture. I would say things like,
'Madam certainly has an eye. She has instinctively picked
out the finest dining table in Norwich.' Or, 'Surely the
question Sir should be asking is, "Can Sir afford not to
own so exquisite a sofa?''' Later I was moved to Despatch
and would ride shotgun on the delivery vans.
Dear Old Bonds. It never felt like work.
Fry's Ties by Stephen Fry is published by Michael Joseph UK, Photography by Clare Winfield