Extract - Rogue Forces
MARK WILLACY is a seven-time Walkley Award winning journalist. His new book Rogue Forces is an insiders' story about Australia's SAS soldiers committing war crimes in Afghanistan.
ABOUT THE BOOK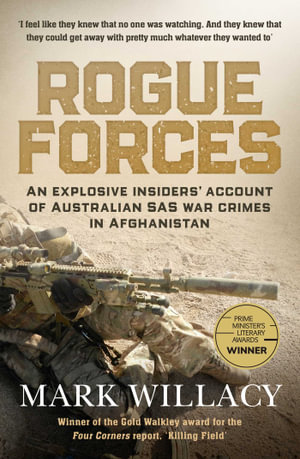 Mark Willacy, who won a Gold Walkley for exposing SAS war crimes, has penetrated the SAS code of silence to reveal one of the darkest chapters in our country's military history.

Willacy's devastating award-winning Four Corners program, 'Killing Fields' captured on film for the first time a war crime perpetrated by an Australian: the killing of a terrified, unarmed Afghan man in a field by an SAS soldier. It caused shockwaves around the world and resulted in an Australian Federal Police war crimes investigation. It also sparked a new line of investigation by the Brereton inquiry, the independent Australian Defence Force inquiry into war crimes in Afghanistan. It was a game changer.

But for Willacy, it was just the beginning of a much bigger story. More SAS soldiers came forward with undeniable evidence and eyewitness testimony of other unlawful killings, and exposed a culture of brutality and impunity.

Rogue Forces takes you out on the patrols where the killings happened. The result is a gripping character-driven story that embeds you on the front line in the thick of the action as those soldiers share for the first time what they witnessed. Willacy also confronts those accused about their sides of the story.

At its heart, Rogue Forces is a story about the true heroes who had the courage to come forward and expose the truth.

This is their story. A story that had to be told.
EXTRACT
Rogue Forces is not an historian's account of what Australia's Special Forces did in Afghanistan. It is an attempt at a nuanced investigation into what some – I repeat, some – of our SAS soldiers did in Afghanistan. It explores in detail how those soldiers visited needless and terrible violence on Afghan civilians, prisoners and combatants who had surrendered from the fight. It delves into the circumstances of these crimes – the perpetrators, the victims, the enablers, the possible motives, the methods, the cover ups, and the code of silence that allowed this deviance to perpetuate. But at its core, this is a book about good people – men and women who were drawn into these dark events by virtue of their service, and who, driven by good conscience and a desire for justice, have emerged to stand on the right side of history. They have done this at great cost. Some have had their careers destroyed, while others remain riven by guilt and shame over what they have seen or been forced to do. Almost all of them still suffer from the moral injuries and bear the psychological scars inflicted by what they have witnessed. To me, these people represent the true ethos of the SAS because, despite it all, they want to see things made right.
I have spent more than two years investigating allegations of Australian Special Forces war crimes in Afghanistan, producing more than 20 separate stories for the ABC on alleged unlawful killings, cover ups, bashings and cultural deviance. The most memorable and devas- tating of these stories was 'Killing Field', a FourCorners program that broadcast – for the first time – the killing of an unarmed and fright- ened Afghan man in a field by an SAS operator. Caught on the helmet camera of a patrol member, this horrific killing shocked many SAS members past and present and resulted in an Australian Federal Police war crimes investigation. It also sparked a new line of investigation by the Inspector-General of the Australian Defence Force's Brereton war crimes inquiry. As one senior Defence officer told me after the program went to air, 'Killing Field' was a game-changer. For me, it was the beginning of the journey to this book. After the FourCornersprogram was broadcast I was contacted by other former Special Forces soldiers and support staff with their own gut-wrenching stories. Their consciences jarred by 'Killing Field', or simply realising that the time was right to tell what they knew, they trusted me with their stories. They helped me uncover new killings. They gave me undeniable evidence and eyewitness testimony about senseless atrocities. They led me to the doorsteps of the alleged killers, men they served alongside. One SAS operator accused of war crimes even invited me to come and sit with him and listen to why he killed the Afghans he killed. 'We just go in there and just do the job, because it takes bad men to do bad work in the end,' he told me. Consequently, I was left with hundreds of hours of interviews, thousands of photos, dozens of video files, and a series of stories that are being told for the first time in this book.
Rogue Forces attempts to tell the story of what went wrong in Afghanistan through the lens of one SAS squadron during one deploy- ment in one given year. It is an attempt to explain the macro through the micro. I hope it provides the reader with an understanding of how one of the world's most elite and honourable Special Forces units could normalise deviance.
To me, the most courageous people are those soldiers who agreed to go on the record for this book, thereby risking ostracism, recrimination, and even physical reprisal. Dozens more spoke to me on the condition of anonymity, many of them desperate to see the honour of their beloved Regiment restored through a sustained blast of journalistic sunlight.
While these good people have often bared their souls, shared their dark stories and strived to expose the terrible things they witnessed, the Australian Defence Force wanted nothing to do with this book. In this, I was not surprised. Despite knowing that the ADF would decline my overtures, I formally asked for interviews with the Chief of Defence, Angus Campbell, and with the Chief of Army, Rick Burr, both men who came up through the ranks of the SAS and who both held key positions during the Afghanistan war. Six weeks after my approach I received an email from Defence Media 'politely' declining the opportunity to participate. No reasons were given for this.
Maybe it is for the best because it has provided more space in the book for those who made up the so-called tip of the spear – the medics who patched up the wounded, the signals intelligence officers who tracked the targets, and the soldiers who squeezed the triggers, not to mention the Afghans whose villages or compounds were raided or destroyed and whose family members were taken prisoner or left dead and bleeding. Paradoxically, the Afghan people are an often forgot- ten part of the Afghanistan War. For years they complained about killings by Australian soldiers and their allies, only to be dismissed as liars, money-seekers, or Taliban stooges. This book aims to correct that injustice, at least as best it can. From the Kuchi nomad camps of Deh Rawood, to the wheat fields of Deh Jawz-e Hasanzai, to the mud compounds of Shah Wali Kot, these people have recounted their stories. Their courage, honour and endurance is equal to that of the Australian Special Forces soldiers who have also helped me to try to understand what happened and why.
Rogue Forces by Mark Willacy is published by Simon & Schuster Australia