Extract - Ciao Bella!
KATE LANGBROEK is an Australian media personality who has worked across radio and television. Her new memoir Ciao Bella! is an inspiring book about her move to Bologna, Italy with her family.
ABOUT THE BOOK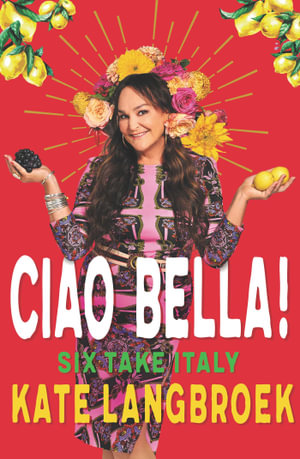 When Kate Langbroek first dreamed of moving to Italy, she imagined a magnificent sun-drenched pastiche of long lunches and wandering through cobbled laneways clutching a loaf of crusty bread and a bottle of wine, Sophia Loren-style, while handsome men called out 'Ciao Bella!'

In the stark light of day the dream Kate shared with her husband Peter after an idyllic holiday in Italy seemed like madness. They didn't speak Italian. They knew no one in Italy. They had four children. Kate also had the best job in the world on a top-rating radio show with her longtime friend, Dave Hughes.

But the siren song of Italy was irresistible. This would be the adventure of a lifetime, a precious opportunity to spend more time with their children – Lewis, Sunday, Artie and Jannie – and it came from a deep well inside to seize life after they almost lost Lewis to leukaemia.

Ciao Bella! is about having a dream and living it as Kate shares the sublime joys and utter chaos of adapting to a new life in Bologna, what you discover about yourself when you are a stranger in a strange land, and how she fell in love.
EXTRACT
Arriviamo: Famiglia Lewis arrive!
After twenty- four hours of fl ying, two stopovers and myriad eyeglazing time zones later, we touch down at Bologna International Airport crumpled and tired. It is a crisp January afternoon, and though we feel we have been travelling forever, it is somehow the same day we left Australia: Saturday.
The children are clutching the remains of the paper bags our girlfriend Carla presented to them as our minibuses pulled out of our street in St Kilda to take us to the airport. In each are the dregs of an assortment of Australian specialties. There are Cherry Ripe chocolate bars. Bags of chicken and cheese Twisties. Burger Rings. Violet Crumble honeycomb. She roared into our street and handed out the treats with fi nal hugs, while Mitra, our beloved and devoted babysitter of ten years, stood by with a jug of water, sprinkling it on the road behind us as we moved off – a Persian tradition that will ensure our safe return, she tells us, with water in her own eyes.
And now the six of us have been magic- carpeted to the other side of the world. Australian soil and its familiar hot, dry summer is far behind us, and in that always amazing travel trick of having fl own like a bird over oceans and land, everything is now opposite. It is winter here; cold, but not brutally so. Still, I am wearing the only coat I own that will fend off the chill of a European winter – a quite spectacular but slightly demented white fur, an ankle- length covering I bought second- hand at a school fl ea market years ago. The children are variously layered in hoodies and puffer jackets and, after we have made our way through the snaking queue of immigration (our papers are in order!), we walk through the arrivals terminal, past groups of people eagerly scanning the crowd for loved ones.
There is no friendly family member waiting for us, of course. How could there be? We push our laden trollies past a gleaming yellow Lamborghini on display and a man at a table covered with a chequered cloth, making mortadella sandwiches on crunchy white rolls and there, suddenly, is a black- suited Italian holding a sign that says in scrawled sharpie: Famiglia Lewis. It is for us. We follow him outside, where amidst the standard Italian- fl avoured chaos of jammed cars and farewell- and- welcome cuddles, and taxis and buses and huddles of smokers, there are two black minivans pulled up at the kerb.
After months of discussion and culling, we have brought from Australia only what we think we will absolutely need: a case each for the junior members of our posse, and two each for Peter and myself (one with winter clothes; one with summer). As well, there is sundry sporting equipment, two boxed bicycles for Jannie and Artie, five kilos of vac- packed bacon I have frozen (from our beloved market butcher, Gary), paintbrushes for Sunday and medicines (for hopefully no one). We have ten suitcases, plus backpacks and bodies, so we are squeezed into the vans like tinned Ligurian anchovies.
The trip into central Bologna only takes twenty minutes or so.Like every airport around the world, this one is on the outskirts of the city and the drive is not pretty. We pass concrete blocks of apartments, freeway ramps and the huge convention centre, and because it is winter, it is grey and the trees are stark. The overall impression is a little bleak. Looking through the tinted windows of our transport, I sense the bleary, unspoken apprehension of the children: Where have you brought us? And I must admit, even through the fog of my fatigue, it is an apprehension I share. Soon, however, we rumble our way to the outskirts of the walled city, and the buildings take on the famous red hue of the old city of Bologna, and everything is familiarly, unfamiliarly lovely.
As we pass through the entrance of the old walls – the thick, redbrick, crumbling structure common in so many ancient Italian cities and towns – that once formed an impenetrable barricade around the medieval centre, and bump along narrow streets covered in cobblestones and flanked with centuries- old buildings, Peter and I exchange looks. It is an eloquent, wordless exchange between two people who have been together a long time and are often surrounded by tiny eavesdroppers. A silent look and yet full of layered meaning. It says: We are here. We have done it. And it also says: Aaarrrggghhh! He reaches over and squeezes my hand as we make our unheralded entrance to our new home.
Ciao Bella! Six Take Italy by Kate Langbroek is published by Simon & Schuster Australia