Extract - Find Your Light
Olivia Molly Rogers was crowned Miss Universe Australia in 2017 and has worked as a model and speech pathologist. In her new book Find Your Light, Olivia provides advice on having a healthy relationship with food and embracing her body.
ABOUT THE BOOK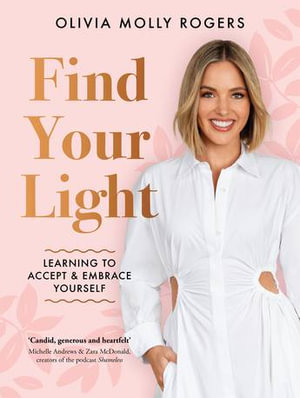 When Olivia Molly Rogers was crowned Miss Universe Australia, she knew exactly what she wanted to shine a light on: her struggles with disordered eating and anxiety.

While many of her Instagram followers are eager for her fashion, art and insanely cute dog content, the heart of Olivia's audience is there for her refreshingly honest voice on body positivity and mental health.

In Find Your Light, Olivia reveals more of her story - from growing up as a shy child using food as comfort, to the pressures of modelling life, to finally finding the confidence, courage and self-belief to compete on the world stage. Olivia also shares the helpful mantras, tips and tools she's used to heal, have a healthy relationship with food and embrace her body.

This is a book for anyone who wants to practise self-love, feel more confident inside and out, and overcome the challenges that can hold us all back from finding our light.
EXTRACT
ALL FOR NAUGHT
When the week of the Japan meeting rolled around, I knew I was not well. I was too skinny. My skin, eyes, hair and nails were dull, brittle and lifeless. I hadn't had a period in two months. My hair was falling out and there was no sparkle in my eyes. The irony was, I had done all this dieting and exercise to look 'better' and more 'beautiful', but I'd ended up making myself look worse.
Feeling flat and depressed, which was the opposite of how I imagined I'd enter the room to meet the team from Japan, I arrived at the agency on the day and couldn't wait to hear that I was beautiful, perfect and exactly what Japan's runways needed! Even in my frail state, I imagined jumping up and down and making a string of celebratory calls once I heard the news. My agency had told me to wear something to show off my body, so I wore a tank top, jeans and heels. Because I had well and truly gone below the needed measurements for Japan, everything was too big. My once tight jeans were baggy and even my bra was too big. I looked like a lollipop. In less than five minutes, I said hello, spun around and then left without any sort of nod or smile. A few days later I got an email: 'I'm sorry, Olivia. You're not what they're looking for at the moment.'
Nothing was beautiful and everything hurt. My body, my pride, my ego, my heart. I felt nothing but embarrassment, shame and defeat. I felt like I'd lost my mind for this. And for what? For absolutely nothing. I was doing this crazy thing for no reason. I felt like all of the hard work that I had put into my diet and exercise was wasted. I had worked so hard to shave those centimetres off my hips, but they still didn't want me. I felt numb.
This blow impacted my self-worth, my general mood and even my confidence as a uni student. The night before my anatomy exam, at the end of Term 4, I was so stressed I had a full-blown panic attack. (I'll talk more about this in section two: 'Learning to Be Okay When Everything is Not Okay'.) I had been to every lecture and tutorial. I took a ridiculous number of notes and had been studying until my head was spinning. I wrote a study schedule that I stuck to like clockwork. But I felt completely overwhelmed.
I won't remember any of this!
I tried to calm myself down but felt like I couldn't breathe. When I startedcrying and couldn't stop, I called Mum.
Through hysterical tears, I told her I thought I was going to fail my exam.
But the reality was, it wasn't just the exam. Everything was coming to a head. Modelling, uni, my eating disorder . . . Mum suggested I skip the exam, but I refused. She then suggested I get professional help and I knew she was right.
This is why it's so important to share your struggles with someone else. They can help you take those first steps to getting help.
Straight after the exam I went to the doctor who diagnosed me with anxiety and depression. But, of course, when she asked me about my diet and eating habits, I lied through my enamel-lacking teeth.
Find Your Light by Olivia Molly Rogers is published by Bonnier Echo