Q&A with Michael Connelly
MICHAEL CONNELLY is the international bestselling author of 35 novels and was a former police reporter for the Los Angeles Times. His books have sold more than 80 million copies worldwide. We caught up with him to discuss his latest crime thriller, The Dark Hours.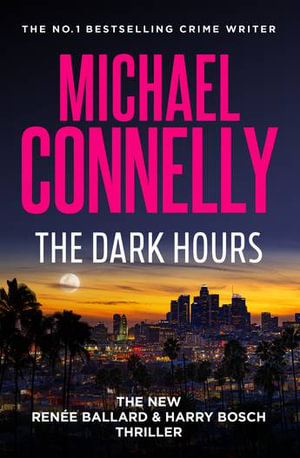 The novel is set during the pandemic – why did you decide to set this story in real time?
It was an easy decision because all of my books are set in real time – in the year they are published. So in keeping with that, I knew I had to bring the pandemic into it as a sort of presence that hangs over the story.
Where did the inspiration for this story come from?
It came from a retired homicide detective I know who worked a similar case of financial fraud leading to murder. That became the set-up and then I wanted to bring Ballard and Bosch together, so I came up with a second case – an old case that Bosch had worked but never solved.
How did you develop Bosch and Ballard's partnership in the novel?
I have to admit, Ballard was created to keep Bosch alive. That is, in literary terms. Bosch ages in real time and I have been wildly lucky that I get to keep thinking and writing about him for over 30 years. But the reality is that he's reached a point where he is too old to be a cop and too old to make all the moves an investigation requires. I had to team him with someone who could do the things it is unrealistic for him to do.
Ballard was born and so the more recent stories have involved both of them working together as a team. I think this partnership keeps Bosch on the page, so to speak.
Why did you decide to give Ballard's voice more weight in this novel?
She's the one with the badge so I think that makes her the alpha in this story. But the other reason is that I find her so interesting. This book was written during the pandemic and in the wake of the George Floyd police killing which sparked protests and demands for social justice and changes in how we police ourselves. It was a tumultuous summer and I think made police work more challenging in many ways.
All of this told me that I needed to drop Ballard into the middle of this and see how a dedicated and fierce detective would navigate these dark hours.
Where do you find the ideas for the crimes in your novels?
My thing is to spend as much time as possible with people who do the jobs I want to write about. Homicide investigators, defence lawyers, prosecutors, journalists. I am usually inspired by hearing someone tell a story about themselves and about something with high stakes and risks. When I hang around people like this, I get great stories and then it becomes my job to figure out what to do with them and where they belong in a book.
What fascinates you about the crime genre?
I'm fascinated by the people who have to figure out what happened and make it right. It's an incredibly hard job to do correctly. There's a noble bargain in there: if you do it right it will go unnoticed most of the time, but if you do it wrong it will get noticed most of the time. Yet there are people who take that bargain and do their best. It's the ones that are fierce about it and are relentless that get to me. That is what I am fascinated by.
The Dark Hours by Michael Connelly is published by Allen & Unwin