Extract - Firestorm
Firestorm is an inspiring story by GREG MULLINS that recounts what it's like to be on the front line of Australia's first giga-fire, whilst exploring the hard truths about climate change and what needs to be done.
Read On for an Extract

ABOUT THE BOOK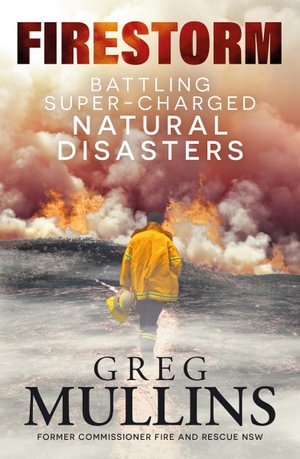 Greg Mullins followed his father into fighting bushfires – it was in the blood. He fought major fires around Sydney and the Blue Mountains for decades, and studied bushfires in Europe, Canada and the US. He risked his life in the 1994 Sydney fires and, later, during our catastrophic Black Summer of 2019–20. As a career firefighter, he worked his way up the ranks to become Commissioner of one of the world's largest fire services, Fire and Rescue NSW, for nearly fourteen years. When it came to natural disasters there was little, if anything, he hadn't witnessed first-hand.
Over five decades he watched as weather patterns and natural disaster risks changed, seeing bushfires becoming bigger, hotter and more destructive. He talked to scientists and weighed their evidence with his experience, coming to the realisation that man-made global warming was setting the stage for a deadly firestorm. In early 2019 he tried to warn the government that a Black Summer was imminent so that adequate preparations could be made. . .
But when he and former fire chiefs from across the country tried to meet with politicians to sound an urgent warning, they were ignored.
EXTRACT

PROLOGUE
I think most people remember 'firsts': their first car, first love, first job. Most firefighters remember their first big fire. I vividly recall mine, back in the days when fires and fire weather were far more predictable than today.
It happened on a hot, dry, windy Saturday in October 1971 following a dry winter. The evening before, 1 October, a bushfire broke out near a rubbish tip at North Turramurra adjoining Ku-ring-gai Chase National Park in Sydney's northern suburbs, making the horizon to the west of our home glow orange as flames lit up the night sky.
Despite being quite close geographically, 10 km to our west as the crow flies, it was about a 40-minute drive to get there by car as you had to skirt around the perimeter of the national park – probably a 15–20 km ride. To reach us the fire would have to jump Cowan Creek and burn through kilometres of bushland. My dad, Jack, a volunteer firefighter, didn't seem too concerned about it.
Most of the local bushfire brigades had been asked to head over to North Turramurra early the following morning to help local vol- unteers and full-time fire brigade officers to carry out a backburn intended to stop the fire burning downhill to the Bobbin Head marina, jumping Cowan Creek and then coming into the suburbs of Duffys Forest and Terrey Hills. Backburning is a firefighting tactic that involves lighting a new fire ahead of an uncontrolled fire to remove the fire fuel before the main fire gets there. If it works, a backburn can stop a fire in its tracks. But they are also risky. Because they are often carried out as a last resort in weather condi- tions that cause fires to spread quickly, sometimes backburns escape. It is always a calculated risk.
On Saturday morning a gusty westerly wind sprung up. I remember looking west from our front yard and noticing that the big column of brown smoke was getting bigger and darker. That was a bad sign. Mum and Dad had explained to me when I was younger as we looked out over the hills during the long, hot summers when there was often bushfire smoke in the distance, that black smoke meant flames were leaping into the tree canopies and burning euca- lyptus leaves, or that the air had suddenly become very dry, making fires burn more intensely.
Once fires started to burn into the crowns of the trees (known as crowning), burning pieces of bark, twigs and leaves could be carried up into the smoke column and dumped ahead of the main fire, starting new ones – spot fires. The sort of vegetation that grows in Sydney sandstone soils can be very dry and flammable so spot fires are always a concern. Spot fires can cause the main fire to spread even faster as the flame front is sucked forward to meet the new, smaller fires. Dad explained to me how fires draw in oxygen at the base and how very big fires create their own weather. He told me about the heatwave and massive fires of January 1939, when he had seen a smoke column high above a massive bushfire turn into a storm cloud and then heard thunder, as lightning flashed out and started new fires miles away. Today we call this a pyrocumulonimbus cloud or a fire-generated storm, an extreme event that until recently was quite rare and, back in 1971, almost unheard of.
As I looked at the thickening smoke column, even at twelve years old I could imagine all of the dynamics fuelling the fire, and that it would probably become bigger and ever more ferocious as the day warmed, dried, and the wind strengthened. My brother Terry, a talented competitive cyclist, was away on a long-distance road race, but my sisters Kim and Robin joined me out the front gazing at the smoke with trepidation. We knew that fires could spread very quickly, and the tension in the air was palpable as we looked at the tinder-dry bush surrounding our house. Everybody in the area was on edge, a familiar feeling during the fire season for anyone who lives in the bush.
The phone rang late in the morning, and Mum called out to Dad. It was Terry's best friend, Geoff Carr. He and his teenage sister Jenny were at home alone, their parents away for a couple of days. Geoff could see the huge column of smoke and didn't know what to do. They lived in the last house on Bibbenluke Avenue, a small acreage on the western edge of Duffys Forest adjoining Ku-ring-gai Chase National Park. The house was surrounded by bush at the top of a steep, wooded slope facing west. It would be the first property to be impacted if the fire jumped Cowan Creek.
Dad made another phone call and I remember him looking concerned. He'd found out that the backburn at North Turramurra had escaped, and the fire was expected to jump the creek soon. Local fire trucks were making their slow way back to Duffys Forest, but it would be at least an hour or more before they arrived. Geoff and Jenny were in the direct path of the flames and needed urgent help.
Firestorm by Greg Mullins is published by Viking