Extract - The Astonishing Chronicles of Oscar from Elsewhere
The Astonishing Chronicles of Oscar from Elsewhere by JACLYN MORIARTY is the fourth book in the magical and whimsical world of the kingdoms and Empires about a non-magical boy called Oscar who finds himself caught up in an urgent quest.


Read On for an Edited Extract

ABOUT THE BOOK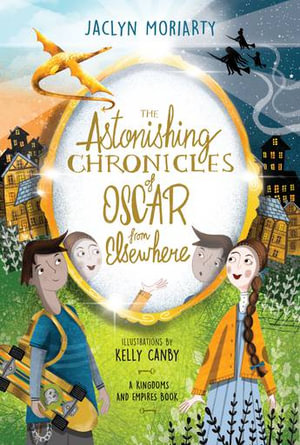 Let me get this straight. I'm on a trip with the following people:
1) Bronte, a girl who makes magical 'Spellbinding' rings,
2) Alejandro, a former pirate/current prince who can shoot arrows and make fire from stones,
3) Imogen, who can read broken maps and is a kickboxing master,
4) Esther, who saved her entire world from some kind of ancient monster,
5) Astrid, a smart ten year old who can read minds, and
6) Gruffudd, a surprisingly speedy (and always hungry) Elf.

And who am I? Just a kid who skips school to ride a skateboard.

The Astonishing Chronicles of Oscar from Elsewhere is the account of Monday through Friday of last week. That's when Oscar found himself on a quest to locate nine separate pieces of a key, held by nine separate people, in order to unlock a gluggy silver spell that had trapped the Elven city of Dun-sorey-lo-vay-lo-hey. The quest was an urgent one. Friday at noon, the spell would become permanent, the Elves would be crushed to death and Oscar would be trapped in this magical world forever. (The account, it should be noted, has been written at the request of a small public school's Deputy Principal. She wants to know exactly what Oscar considered more important than coming to school last week.)
LISTEN TO THE PODCAST
EXTRACT
Chapter 1
Oscar
Monday morning, 9.45 am, I went to Cam.
That's the skate park at Cammeray.
It's always quiet mid-morning.
When I skated in, there was a dad with a little kid. Kid had a scooter; dad had a skateboard. The dad skated around a bit, showing off for his kid. The kid scootered, ignoring the dad. The dad attempted a trick right when the kid happened to glance at him. Trick failed. Kid stared at the dad kind of blankly.
'Right,' the dad said. 'Time to go home for a snack.
And off they went.
That was when I realised there were two other people in the skate park. Murmur, murmur. Skated over to see.
They were sitting close together up the back. On the tufty grass between the skate park and the soccer field.
Two guys. Older than me. About fifteen maybe. T-shirts, hairy arms. Their boards were lying in the grass and they were hunched over something.
I coughed. They looked up at me.
One of the boys had a little round mirror in his palm. He closed his fingers over it, but not before it caught the sunlight.
I frowned.
'What ya doing?' I asked. '
The other boy looked at me more closely. He had a long, thin nose with flaring nostrils, like a jet plane. 'You're Oscar,' he said.
'Yeah.'
'You've had a haircut,' he told me. 'Didn't recognise you. I've seen you skate here before. You're good.'
'Cheers.'
I didn't tell him he was good. I'd seen both of them skate here before and to be honest, they're pretty average.
They were both studying me now. They glanced at each other, super swift, and mirror-boy raised an eyebrow.
The other one nodded.
'Thing is,' he said, and his eyes went shiny. 'There's meant to be another skate park. Size of a football field.'
'Okay,' I said. 'Where?'
'Right here.' He thudded his fist on the grass.
'Yeah, good on ya.' Dropped my board, ready to skate away.
'No, Oscar, wait.'
'We're serious.'
'It's real. It's right here.'
Both of them were talking at once.
'There's a secret way to get there,' jet-plane-nose boy explained.
'You hold a mirror in just the right place—' The other boy's hand darted around like a little bird, fingers still closed over the mirror.
'Only,' his friend put in, scratching his jaw, 'we can't find the right place. And we've gotta go.'
They both stood up slowly, kind of groaning like old men.
'Keep trying if you want.' Nose boy looked over at mirror-boy.
'What?'
'Give him the mirror.'
'Why?'
'So he can try!'
They carried on arguing a while. Turned out mirror-boy had bought the little mirror at the discount store for two dollars, so he wanted to keep it. The other boy kept urging him to give me the mirror, explaining that if they couldn't go to the 'killer skate park', I should be able to go.
In the end, he tried to grapple the mirror out of his friend's hand, and next thing, they were wrestling.
I started laughing. 'It's all right,' I said, holding up my hands. 'You can keep your mirror.'
They looked back at me from their wrestling hold. Mirror-boy sighed and tossed the mirror onto the grass at my feet.
'Try it,' he said.
'Trust us,' his friend added.
They grabbed their boards and skated away.
'Good luck,' they called over their shoulders, heading out of the skate park, onto the path, and off down the road.
A car droned by. Another one.
Helicopter someplace in the sky.
Stood up, picked up my board and my backpack, ready to go. Looked down at the mirror, still lying on the grass, facedown. Of course, I didn't believe them. A skate park you could reach with a mirror? Lost the plot, the pair of them.
All I did was, I turned the mirror over with my foot, caught a glimpse of my eyes staring back—
My eyes?
Wait, were they my –
And then, there I was.
Standing at the foot of the best skate park I ever saw.
Chapter 2
Imogen
Only, it wasn't a skate park, was it, Oscar? It was the Elven city of Dun-sorey-lo-vay-lo-hey
But you didn't know that at the time.
Hello, my name is Imogen Mettlestone-Staranise, and I am thirteen years old. I have been asked by Oscar Banetti to help him write this account.
At first, I said: 'No thank you, Oscar, I have no wish for additional homework.'
I was only joking. Of course I would help him. (Although, to be clear, I definitely have no wish for additional homework. In case any overexcited teachers are about to jump in.)
Before I begin, you should know that I don't believe in 'descriptive language'. My teachers are always saying things like, 'Well, start believing, Imogen!' I take no notice. A thing is a thing. Who cares what it's likeor how shiny it is?
As long as we're clear on that, I'll get on with it.
Monday morning, 6.35 am, I woke to a loud knocking on the front door.
I was home from boarding school for the holidays, along with my younger sisters, Esther and Astrid. We live in the mountain village of Blue Chalet. It's said to be picturesque. Our cousin Bronte and her friend Alejandro were staying with us at the time. All five of us had been sleeping on mattresses on the living room floor. When the loud knocking sounded early Monday morning, I stepped over the others' snoring bodies to reach the door.
It was the postmaster. 'Urgent letter!' he said, handing it over.
He waited, clearly wanting to watch me open the letter.
'Thank you,' I said, and closed the door on him.
The letter was addressed to my sister Esther anyway. I turned it over to see the return address:
King Maddox HRH, Elven city of Dun-sorey-lo-vay-lo-hey
'Esther,' I said. 'Wake up.'
My sister Esther is a Rain Weaver. This means she can cure people who've been afflicted by Shadow Magic. She only discovered this recently and she's been in high demand ever since
However, this was the first time she'd had a request from an Elf. Certainly the first time she'd heard from an Elven king.
The letter was a little hysterical.
'Please, please, please, Esther,' it begged. 'Come urgently, at once, to the Elven city of Dun-sorey-lo-vay-lo-hey and perform a cure! It's vital that you get here before 10 am on Monday!'
It already was Monday.
The letter suggested Esther take a coach to the north-east, perform the cure, and then take another coach home.
'Nothing could be simpler,' the letter declared, and then it spent several pages describing the beautiful countryside surrounding the Elven city.
'I'll go ask Mother and Father if it's all right,' Esther said sleepily—she always takes a while to wake up properly in the morning.
Except Mother and Father had already gone out. There was a note from them on the kitchen table:
Gone to the Markets to get fresh pastries for breakfast.
'The morning coach leaves at seven,' I said, consulting the schedule on the refrigerator. 'It should get us to the Elven city just before ten. If we're going to catch it, we need to leave now.'
I looked at the others. Their bright or sleepy eyes looked back at me.
'Let's go,' I decided. We scrambled into our clothes, grabbed a handful of coins from the 'emergency saucer' on the kitchen counter and scribbled a note to our parents ('Back Later!').
Esther put the Elven king's letter in her pocket and we sprinted down the road to the coach stop.
***
At 9.45 am, we stepped off the coach. (It was horse-drawn, by the way. We have very few motorised vehicles in our region.)
We were now in the middle of the countryside.
We set out along a laneway.
I was leading, as I'm the eldest.
The weather was warm. There were fields and meadows. Also: cows.
At 9.49 am, we arrived at the Elven city of Dun-sorey-lo-vay-lo-hey.
Only, it wasn't there.
All we could see was a welcome sign—
Welcome to Dun-sorey-lo-vay-lo-hey!
Take care where you step.
— and a huge blanket of silver.
The blanket was bright in the sunshine and made us squint.
It was the size of a football field and it was lumpy, with lumps in the shapes of tiny houses. It seemed clear that the Elven city of Dun-sorey-lo-vay-lo-hey was underneath that lumpy silver blanket.
I cleared my throat. 'HELLO?' I called. 'ELVES?'
Silence.
'HELLO? WE HAVE BROUGHT ESTHER, THE RAIN WEAVER, TO SEE YOU, AS YOU REQUESTED!'
Here Esther added: 'THEY DIDN'T BRING ME! THEY CAME ALONG TO KEEP ME COMPANY!'
True, but just a technicality.
Elves are about the size of teaspoons and I was interested to see what sort of affliction this one might be suffering. I have seen Esther cure old men who can't stop dancing, young girls who can't stop crying, and children who've forgotten how to eat. Those are all examples of shadow spells.
'HELLO?' I tried again. 'ESTHER, THE RAIN WEAVER, IS HERE!'
More silence.
'You don't need to keep referring to me as the Rain Weaver,' Esther muttered, embarrassed.
But I like doing that. I'm very proud that my sister is a Rain Weaver. She's the only one in all the Kingdoms and Empires. My other sister, Astrid, can read people's moods and tell you if they're lying. I'm proud of her too.
We stood in a row along the laneway. Our eyes followed the lumps, the bumps, the contours and the hillocks.
'Do you know what this is like?' Bronte asked suddenly. 'It's like children have been asked to tidy their toys and have flung the living room carpet overthe toys instead.'
Alejandro spoke up. 'It is more like a silver ocean,' he said, voice distant and dreamy, accent pronounced. This always happens when Alejandro, who was once a pirate, gets near the sea.
Or near a big silver blanket that slightly resembles the sea.
Bronte knelt and touched the silver with her fingertips.
'It's solid!' she said, surprised.
We all knelt and she was right. It was not a blanket at all. It was a strange silver substance, smooth and hard as glass.
That was the moment when uneasiness hit me.
If I were a descriptive sort of person, I'd say it was as if a shadow crossed my heart, the way a cloud crosses the sun
'ELVES?' I shouted, sharply. 'ELVES! ARE YOU UNDER THERE? ELVES! ANSWER ME!'
The others seemed to catch my uneasiness. Alejandro tried getting his fingers beneath the edge where the silver met the laneway, and lifting. It did not budge. He strained and strained, but nothing. We all began wrenching, groaning, using all our muscles.
'ELVES! CAN YOU HEAR US!' The others yelled along with me now, banging on the surface, trying to wrench it up again.
I caught sight of my reflection in the silver, and my eyes looked back at me —
Wait, I thought. Those are not my —
Then a hand touched my shoulder and I jumped in fright. It was only Astrid. Her face was peculiar. She was staring.
'A boy,' she said, and pointed.
I looked across the silver.
A boy was standing perfectly still at the far end of the city. He carried a satchel on his shoulder and a short plank of wood beneath his arm.
'Where did he come from?' I exclaimed.
And that's when it happened.
The Astonishing Chronicles of Oscar from Elsewhere by Jaclyn Moriarty is published Allen & Unwin Children's