Louise Candlish on 'The Heights'
The Heights is a tall, slender apartment building among the warehouses of Shad Thames, its roof terrace so discreet you wouldn't know it existed if you weren't standing at the window of the flat directly opposite. But you are. And that's when you see a man up there – a man you'd recognize anywhere. He's older now and his appearance has subtly changed, but it's definitely him.
Which makes no sense at all since you know he has been dead for over two years.
You know this for a fact. Because you're the one who killed him.

---
The Heights is the latest thriller from bestselling writer of Our House Louise Candlish. gr chatted with the author about what inspired her latest book, writing unlikable characters, and the films of Alfred Hitchcock.
The Heights is a story of the past coming back to haunt you – what inspired it?
I'd wanted to write a revenge story for a while. It's such a primitive instinct and yet, given the constraints of the law, likely to require cunning. What happens to Ellen and Vic is probably as appalling a tragedy as you can imagine, but their instinct to avenge is still an extreme response (the fact that their choices come back to haunt them is probably an act of cruelty on my part ...). The tragedy that sets it all in motion was inspired by the Chappaquiddick Incident of 1969, when Senator Ted Kennedy drove his car off a bridge and into the water, escaping the vehicle himself but leaving his passenger, Mary Jo Kopechne, to die. His actions were by most people's standards unconscionable and though he was never prosecuted for them he was haunted for the rest of his life.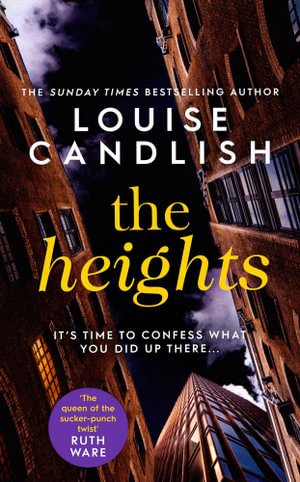 Part of The Heights is a book-within-a-book told by one of the characters, Ellen Saint. What was your thinking behind the use of meta-narrative?
I wanted to create the same sense I had in my earlier book Our House of the way in which the story is delivered becoming integral to the plot. I hope it gives readers an extra layer to the puzzle that is really satisfying. I chose a crime memoir because I'm fascinated by society's appetite for true crime and also by the rise of victimhood in 21st century culture. Being able to claim victim status has become almost desirable now, which I find very disquieting. The question for the reader is which is Ellen? Perpetrator or victim – or both?
The story is told from the perspectives of Ellen and her ex-husband Vic Gordon. What can you tell us about their characters?
Even before tragedy knocks her for six, Ellen is neurotic and high maintenance. She might present as a classic Gen X parent – proud, involved, ambitious – but she's actually unhealthily overprotective. She also has an unusual phobia: high place phenomenon, which is a form of intrusive thinking when you are in a high, open place like a balcony or clifftop – you feel the urge to jump, even though you don't actually want to. Given her tendency to overreact to smaller slights, it's perhaps not surprising that when she is truly wounded she lashes out in extraordinary ways. Vic is a counterpoint to all of this. He's more humane, more rational. That's not to say he isn't also deceitful and secretive in some of his dealings, but he would see that as pragmatism.
Many of the characters in The Heights, like your other books, are flawed and even 'unlikeable', yet readers are still fascinated by them. What's your secret to making a flawed but relatable character?
I think my main strength is I really don't mind that people don't like my characters; I just want them to ring true. There needs to be a recognizable psychology to them even if their behaviour is quite obviously beyond the pale. As a starting point, I try to imagine what I would do in a situation if I were being completely kneejerk about it, before I'd had the chance to reflect. Civilised readers may think, I would never do that, but that doesn't mean they wouldn't think it or even fantasize about it. Well, my characters think it and do it – and then they lie about it!
Your writing has often been described as 'Hitchcockian', and with themes like 'high place phenomenon', readers could draw parallels between The Heights and Vertigo. Does Hitchcock inspire your thriller writing? What is your favourite film of his?
I love Hitchcock and old noir movies, as much for the mood as the drama. I'm very inspired by the glamorous styling, the concealment of characters' flaws – and even savagery – under a glossy, seductive surface. Ultimately, Ellen is protected and enabled by Vic and her husband Justin because they find – or once found – her attractive. I deliberately made her a Hitchcock blonde. She could easily be played by Tippi Hedren or Kim Novak. My favourite Hitchcock movie is Vertigo, closely followed by Rear Window.


The Heights by Louise Candlish is published by Simon & Schuster.