Sinead Stubbins on Becoming the Perfect Person
In My Defence I Have No Defence is the debut book of Melbourne-based comedy and lifestyle writer SINÉAD STUBBINS, a non-fiction collection of essays and anecdotes about the writer's attempts to improve herself and become the perfect person – attempts which often fail in entertaining ways. As HEATHER LEWIS writes, it's an adventure that'll have you laughing and cringing.

It's a universal human experience to look around at your life, put your foot down and say, 'Something has to change!' Maybe it's going vegetarian, signing up for a gym membership, pledging you'll go for a run every morning before work, or quitting a vice like drinking, coffee or cigarettes. More often than not real life will get in the way, and these well-intentioned plans for self-improvement will fall by the wayside – New Year's resolutions anyone?
Few know the trials and tribulations of attaining self perfection better than comedy and lifestyle writer Sinéad Stubbins, who has chronicled her journey in her book In My Defence I Have No Defence. Through autobiographical essays and anecdotes, Sinéad shares her experiences in trying to change herself for the better, which tend to backfire in wonderfully chaotic ways.
'I have never really felt at ease in myself, which may not come as a surprise to anyone who has read my writing or stood near me for more than 30 seconds,' Sinéad says. 'I noticed that the stories I liked writing that involved people performing an ideal version of themselves and being found out as a fraud in the process. I think moments of failure – to seem cool or sophisticated – are mostly hilarious.'
From her childhood to awkward adolescence and even her adult life as a successful writer, Sinéad shares with brutal honesty stories of how she's tried to better herself and failed. Stories range from the perils of trying yoga, Sinéad getting fired from her teenage job at a Wendy's after only two weeks, or the brutality of starting a new job during a pandemic, where the only way you communicate with your new colleagues is via Zoom.
'At first I just started writing down anecdotes, memories and conversations I remembered that were funny or strange. They were the kind of "a moment in time" stories I really enjoyed writing, but didn't necessarily suit any particular publication, so I was mostly writing for myself. Soon it became clear that a lot of the pieces were about perfectionism, shame and things not going to plan. As soon as I landed on that, a bunch of new stories came to mind.'
With Sinéad gleefully sharing her embarrassing experiences, the book is great at evoking schadenfreude – the 'better them than me!' relief when something a little bit bad happens to someone that's not us. It's the same feeling evoked by watching cringe comedy shows like The Office or watching someone trip over in public. Thankfully, In My Defence I Have No Defence avoids being too over the top in its cringe factor. Her experiences come across as very relatable – we've all had those moments of trying to be someone we're not, only to metaphorically or physically fall flat on our face.
And while Sinéad's tone is self-deprecating throughout, it manages to avoid becoming miserable thanks to her sense of humour about herself and the world around her, but also in the ways she reflects on her mishaps.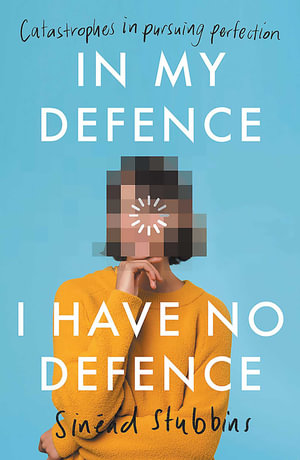 'I was extremely worried about the tone feeling grating. It's something that I thought about a lot. I didn't want to play a cliché of using self-deprecation as the punchline for every joke. On the flipside, I became very aware of catching myself apologising in the book, not just for seeming annoying but for even presuming that what I was writing was worthy of being in a book. It's sort of ironic how ashamed I felt while writing a book about shame.'
Where does this pressure to be perfect come from? Many take aim at social media platforms like Instagram, which only show the filtered highlight reels of someone else's life, as kryptonite for one's self-esteem. Simply avoid those apps and your confidence will come back! But for a lot of people, these feelings of inadequacy are simply internal, an amalgamation of a million factors that make us think we're not good enough.
'I've always felt an uneasiness that I wasn't doing it right,' Sinéad says. 'I was ashamed a lot of the time, but a lot of that was internal. As I've gotten older, I've realised that feeling of being defective or incomplete is so common and that I need to make peace with the imperfect version of myself.'
In My Defence I Have No Defence is clever, funny and even educational, but it's also a comforting reminder that we're not alone in thinking we're not cool enough, or smart enough, or whatever enough. We're all stumbling through life trying to do our best, comparing ourselves to others, and sometimes failing miserably. It's the human experience.
'I think that there are so many systems that are designed to tell us that we're not good enough and that even the most secure person can be bruised with a single scroll of Instagram. I hope in reading the book they can take comfort in the fact that they're not alone. The best stories in life are messes of failure, imperfection and disaster and I reckon the best people are like that, too.'
In My Defence I Have No Defence by Sinéad Stubbins is published by Affirm Press