Drawn Together
Kentucky-based writer KAYLA RAE WHITAKER tells gr about her debut novel, The Animators, which follows the turbulent creative partnership between two indie animators in New York City.
In 1943,Walt Disney released a short animation called Der Fuehrer's Face. It was the only Donald Duck film to win an Academy Award. It begins as Donald is marched by bayonet-wielding Nazis to an artillery factory, where he spends 48 hours screwing caps onto mortar shells and manically saluting portraits of Hitler. The beloved feathered character was featured again the 1944 animation Commando Duck, in which he parachutes into a Japanese airfield, intent on destroying the entire compound. It's the only Disney film that portrays a character directly engaging in war.
Disney released 32 of these animated short films between 1941 and 1945, which were commissioned by the US government to instil a loathing of Hitler and other enemies of the Allies. For self-described cartoon fangirl Kayla Rae Whitaker, the headhunting of Walt Disney as a vehicle for propaganda is no surprise.
'Cartoons have a compelling power because they are seen, on some level, as innocuous,' the Kentucky-born author explains. 'There's a reason the US government recruited Walt Disney to produce pro-Allied propaganda during World War II; a Donald Duck short is a compelling way to hammer home a message.'
An obsession with cartoons and a respect for the disarming effect that animation can have on an audience drove Kayla to write her undergraduate thesis on cartoon representations of hillbillies; this obsession is also the binding force between Sharon and Mel, the two main characters of her debut novel, The Animators.
Cartoons are one of the first types of electronic media that children are introduced to, but there is an increasing adult audience for cartoons who want something beyond the staples of The Simpsons and Family Guy. The popular Cartoon Network channel in America dedicates screen time between 8pm and 6am to Adult Swim, a programming block of animated TV shows notorious for derisive parody and salacious content.
'There's an audience out there that yearns for nuance and complexity in animation, and they cannot be overlooked. The Adult Swim line-up is probably the best example. BoJack Horseman, for example, is about a cartoon horse with extreme existential angst who wants to kill himself most of the time. It's an art form with as much space and possibility as any other. The way Sharon and Mel manipulate that space is a huge facet of this story.'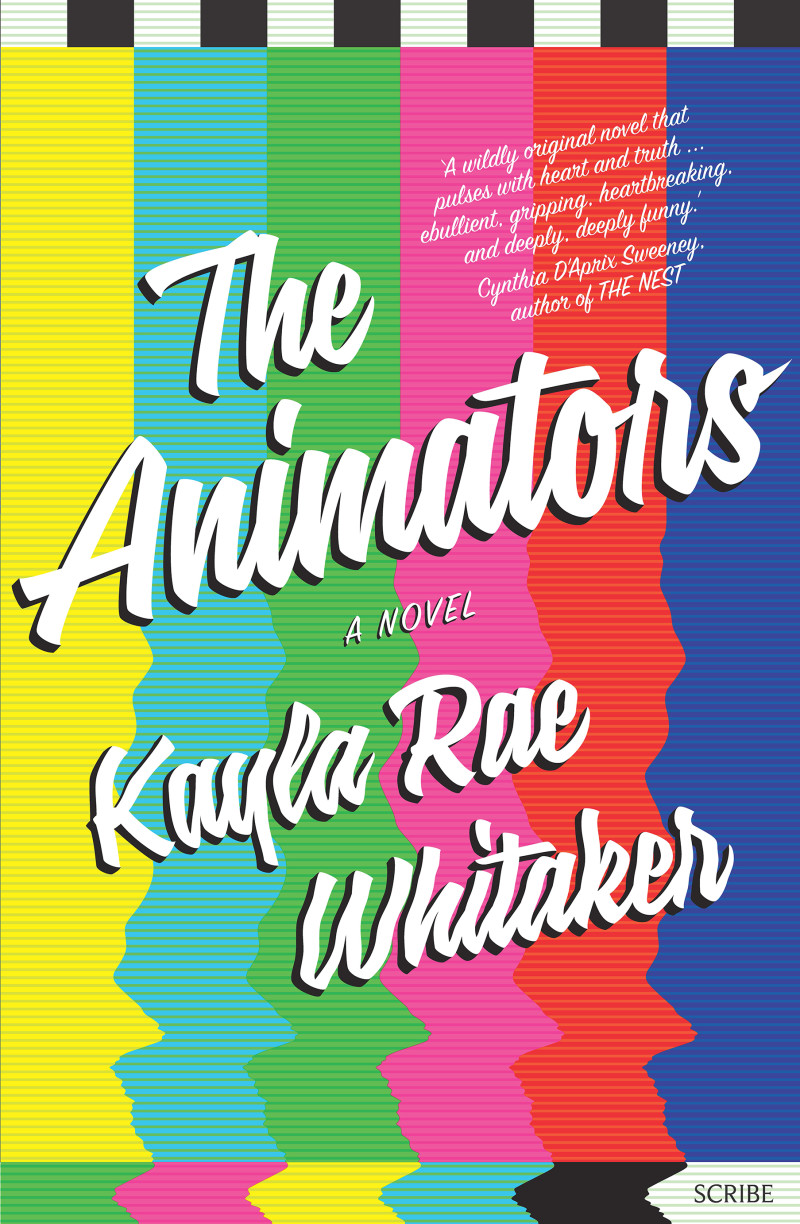 Mel Vaught and Sharon Kisses, who meet in an art class at Ballister, a private college in upstate New York, are among the few students to attract some scraps of praise from their belligerent tutor. Reticent Sharon is sheepish about the scholarship that allows her to attend the prestigious college; Mel is brash and, in Sharon's eyes, 'hellfire and balls all over'.
Bonding over their self-admitted Southern 'white trash' roots, they foster a mutual ambition to create a career out of animation.
'Sharon and Mel are both weirdos. If you grow up somewhat isolated in your interests, that moment when you meet another person who is as fanatical about the same things as you feels like a revelation,' says Kayla.
Skipping forward a decade, the two friends have released a critically acclaimed indie animation about Mel's fraught relationship with her amphetamine-addicted mother, who was incarcerated by the time Mel was 13.With their success comes a $250,000 grant – and the burden of relationship-straining pressure.
In the first hundred pages of the book, the two women's creative partnership has already begun to drastically peak and dive.'I wanted the story to be messy and complicated; I like big books, where a lot of things happen, and this is certainly one of those,' says Kayla. Mel is almost perpetually drunk. Or high. Or off her face after a gulp of one her famous cocktails that consist of cough syrup, fruit brandy, gin and gummy bears – blended, not stirred.
Kayla claims she has very little in common with her characters.'One of the pleasures of fiction is the opportunity to live lives that are not mine. I find that experience tremendously exciting. Were I not a writer, I would probably be diagnosed with a personality disorder.
'There is a tremendous amount of shame and stigma around women in recovery, and I wanted Mel's story to be complex and not punitive. Her illness is lived out through the explosive nature of her life, the zeal with which she tackles work and sex and parties and problems. But it also exists in tandem with this quiet darkness rooted in her history – the sadness that, in a way, links her to Sharon. She is a victim of her illness. It was important to me to tell this story as clearly and honestly as I could.' The writing of The Animators seems to take its cues from the bold, lurid and surreal aspects of cartoons.
There's a sense of irreverent energy and experimentatio throughout the story. Like her characters, Kayla evokes New York with gutsy exaggeration; it's as vile, drug-addled and fantastic as you want it to be. Kayla wrote the book in Brooklyn before moving back to Kentucky last year with her tomcat, Breece D'J Pancake, in tow.
She may lack the visual arts talent of her characters – Kayla describes her own doodles as 'goofy as hell' – but one thing she and her fictional creations share is the knowledge of how difficult it can be to pursue a career as a female creative.
'The struggle to make one's voice heard and to be viewed as an authority of the work in question is a never-ending battle for women. No-one will ever tell you that you are the authority over your own work; in fact, you will be told constantly, both implicitly and explicitly, that you aren't. The lifelong fight against that message is real and is maybe the greatest bond
I feel with Sharon and Mel; in making art, we are all, in a big sense, going against our training as girls and as women. It's an excellent thing that Mel and Sharon have each other, and that may be the real beauty of this story.They keep each other steady in their vision. If you are on your own, however, you have to steady yourself, which I am learning to do with varying levels of success.'