Alison Lester on 'The Quicksand Pony'
To celebrate hitting one million sales with her publisher, Allen & Unwin, award-winning children's author ALISON LESTER is releasing a special new edition of one of her most beloved books, The Quicksand Pony.
gr chatted with Alison to reflect on hitting one million sales, and what inspires her magical writing.
How does it feel to have hit one million sales with Allen & Unwin?
It's hard to believe that I have hit 1 million sales with Allen and Unwin, but I guess that's what happens if you stick with something for long enough. I feel very lucky that my work resonates with so many readers. Its as though somebody else has done a lot of the books when I look back at them all, as I don't know when I had the time.
If you can think back to when you were first writing The Quicksand Pony, what inspired it?
The Quicksand Pony is over twenty years old now, so it's hard to remember exactly what was going on in my head when I wrote it. It is based on a true family story however, the story of taffy: a lovely old buckskin stockhorse of ours who got bogged in quicksand on the beach at Wilson's Promontory, as my father and uncle were bringing cattle home from a muster. When I had my own children I started telling them the story and extending and exaggerating it. Finally I told it to my editor Rosalind Price, and she said 'this is a book' and nagged me until I got it done.
How did your childhood inspire your books, in particular The Quicksand Pony?
My books draw extensively on my childhood, the landscape I lived in, the animals and people I shared my life with and the dreams I had the freedom to have. I was the youngest and probably most indulged of four children: I loved riding and being outside, so I had days and days of being out in the world on my pony, daydreaming. And as a little kid I had lots of responsibilities and felt quite capable and powerful within our own small world. I could check the calving cows to make sure everything was OK and I could get on my pony and bring a mob cattle up to the yards. I think I have stayed emotionally stuck in that period of my life and so that's the part that resonates most with me.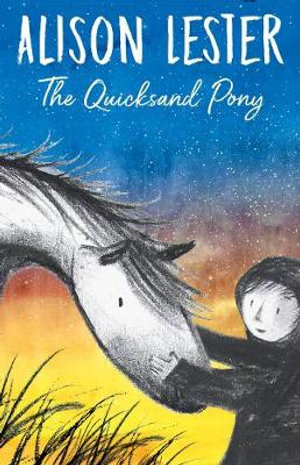 Horses are very prominent in your work, and in your life since you were a child. What draws you to them, both personally and creatively?
There are a lot of horses in my work and there are a lot of horses in my life. Since I got Inky for Christmas when I was five I don't think there's been a time in my life where I haven't had a horse. I was on a horse well before I could walk. My mum used to pass me and a cushion up to my father as he rode past the house, and he would take me with him when he went to do stock work. I've had some horses I didn't like very much and who haven't liked me either, but the horses I have loved and have loved me in return have been like real friends. I love their power and intelligence and the strong bond that develops between horse and rider.
The Quicksand Pony is just shy of 22 years old – with this new edition coming out, what do you hope brand new readers will take away from it?
This new addition of The Quicksand Pony has a new cover and therefore I guess a more contemporary look. It seems like a very different book to most of the books that are being published now and I hope it won't seem like it's from too far away to be understood. But I think the idea of being out in the bush and managing to look after yourself is a very exciting idea. These days when we protect our children so much (understandably so) it's hard to imagine having the chance to have such an adventure, and I guess it is a fantasy - but it's a fantasy that will empower many readers, I hope.
The Quicksand Pony by Alison Lester is published by Allen & Unwin