Book Bite from 'The Last Bookshop' by Emma Young
Cait Copper's best friends have always been books – along with the rare souls who love them as much as she does, like the grandmotherly June. When Cait set up her shop, Book Fiend, right in the heart of the city, she thought she'd skipped straight to 'happily ever after'. But things are changing, and fast. June's sudden interest in Cait's lacklustre love life and the appearance of the handsome 'Mystery Shopper' force her to concede there might be more to happiness than her shop and her cat. The city is transforming, with luxury chain stores circling Book Fiend's prime location. And meanwhile, a far more personal tragedy is brewing.
Soon Cait is questioning not only the viability of the shop, but the life she's shaped around it. An unlikely band of allies is determined she won't face these questions alone; but is a love of books enough to halt the march of progress and time?
The weather didn't change for the next fortnight, and neither did the niggling sense that some kind of equilibrium had shifted, leaving Cait slightly off-balance. The hazel-eyed guy came on several more occasions during lunchtimes, while she was occupied with the endless tide of people looking for the usual suspects, the bread and butter of her trade: Robert Ludlum, Fiona McIntosh, Danielle Steel. Endless copies of The Girl on the Train, which Cait had read out of curiosity, but couldn't see what the fuss was about. Requests for 'that gardening book they talked about on that show last night; it was green, with a tree on it.' And, always, the book they couldn't quite remember the name of, but it had this picture on the front … a girl in a hat. She had a sort of flowing dress on. Did Cait know it? Sometimes, amazingly, she did.
She never saw the hazel-eyed guy enter, but caught glimpses of him skulking in the Self-help – Relationships corner with a pile of books at his elbow. When the lunch rush began to clear out, so would he. She kept her distance. She told herself that this was because he clearly didn't want help and ignored the little voice that told her she was only afraid of saying something awkward. She had forgotten how to talk to men. Wait, that was bullshit. She'd never known how to talk to men. She would only say something horrendously inappropriate and scare him away. But there was nothing stopping her indulging in idle speculation as she gave him a wide berth during post-lunch tidies, then retreated behind the counter to process new piles of second-hand stock. She fanned each book out to find the boarding passes, shopping lists and love letters inevitably left inside after being used as bookmarks. She inhaled the familiar smells, one after another. The paper dust that rose into the air in clouds as she sanded back yellowed page edges. The Windex she used to remove grime. The eucalyptus oil that removed sticker residue and discolouration. Then she priced and she shelved, and all the while, she covertly watched her mystery shopper.
He was definitely around her age, definitely presentable. His clothes looked way more expensive than hers. It made his predilection for self-help even more intriguing. Thirty-something hot guys in pricey businesswear were hardly the target market for Australia's multimillion-dollar self-help industry.
After he'd left, she would tidy the section, attempting to deduce which books he'd been looking at. Maybe he needed to advise an unlucky friend. No, even she wouldn't believe that. No-one would gift-shop in a self-help section. Besides, if he was gift-shopping in an unfamiliar genre, he would be asking for her help.
Maybe he was going through an agonising breakup. But tormented lovers were supposed to be hollow-cheeked, wild-eyed and unwashed, like Heathcliff. Not neatly pressed and nicely muscled and smelling of some kind of delicious man-cologne that she always caught the faintest trace of as he left. His hair was a little dishevelled, true, but it kind of suited him.
Cait suddenly realised that in the lull between customers, she'd been sitting and staring into the corner where he was browsing. Now someone stood before her, waiting for her to look up. She leapt to her feet, toppling the stool she'd been perched on. She rescued it before it hit the floor and turned, belatedly arranging her face in a smile. It was one of her regulars, a man on the tail end of middle age who always bought something, but never missed a chance to complain. 'Sorry about that – off with the fairies,' she gabbled, taking his books and scanning them. 'Quiet moment.'
'I can see that,' he said. 'Now, you would have some more people in here if you didn't charge so much. See this one! Twenty-four dollars for this little slip of a book! Surely you can take something off that for me.'
'Sorry, sir,' she said, looking at it and mingling just the right amount of regret into her smile. 'This is a new one, and that gives me even less wiggle room than on my second-hand stock. Would you like to take it today anyway?'
'Twenty-four dollars!' he insisted, keeping a firm grip on his other two books. 'It's ridiculous what you're charging for these books! The profit must be astronomical!'
'I can assure you it's not, sir,' she said, gamely maintaining the rueful smile. 'I make pretty slender margins on my stock, and the rents in this part of the city are extremely high. There's no big company behind me. It's just me, and I assure you, I'm not rolling in it. It's just what books cost these days, I'm afraid. But they're worth it, right?' Her smile became encouraging. Come on, you grumpy old bastard. Meet me halfway.
'Yeah, well', he said, taking out his wallet and handing over the other books, and she drew a silent, deep breath as she rang them up. Heaven grant me patience, she thought.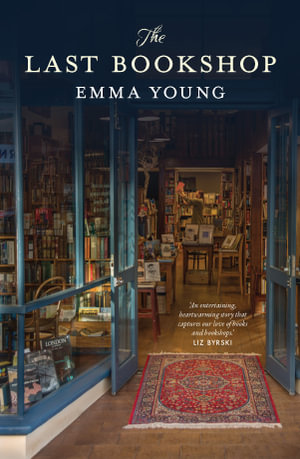 'Forty-eight dollars today,' she said apologetically. He paid. 'Have a nice day!'
She looked up to focus on the next person in line and saw with a little start that the eyes on hers were those of her corner-dwelling mystery shopper.
'Nice guy, hey?'
'He's not too bad.' A pause. She willed herself to say something else. 'He just likes to have his say. At least he ends up buying stuff in the end.' Right. That was enough. Stop while the going was good. 'Just this one?'
'Yep,' he said, and she glanced at it as she rang it up. No More Mr Nice Guy: A Proven Plan for Getting What You Want in Love, Sex, and Life. Goodness. Watch out, world.
'Nineteen ninety-five,' she said. She changed his 50 and bagged the book. 'Thanks. See ya.'
'See ya.'
Ha! A successful exchange, entirely without disaster. Why was he having so much trouble finding a girlfriend? Maybe he was a controlling psycho, or a jealous type. Or a workaholic. A mean drunk? Maybe he was just socially awkward, like her. Anyway, he had to be an idiot for thinking self-help books actually helped people. But he didn't seem like an idiot. And he had a nice smile. A really nice smile, actually.
The Last Bookshop by Emma Young is published by Fremantle Press