Q&A with Kayte Nunn
KAYTE NUNN's latest book The Last Reunion is a decade-spanning story of desire, revenge and courage, centered around a group Australian and British World War II servicewomen. gr sat down with Kayte to find out more about the history behind her book.

The Last Reunion uses multiple timelines to tell the untold story of 'The Wasbies' – who were they, and how did you come across this part of history?
I wanted to write about a May– December friendship between two women. I was also interested in netsuke – little Japanese toggles that held pouches or boxes onto a man's kimono. In looking for a way to combine these two ideas, I came across the exploits of the Women's Auxiliary Service in Burma. These were English and Australian women with Far East backgrounds who operated trucks supplying food, tea and sundries to the soldiers fighting in India and Burma. They served the closest to the front line of any women's service in the Second World War. Unfortunately, save for a handful of photos, a couple of pamphlets, some oral recordings and one published diary, very little is known about them.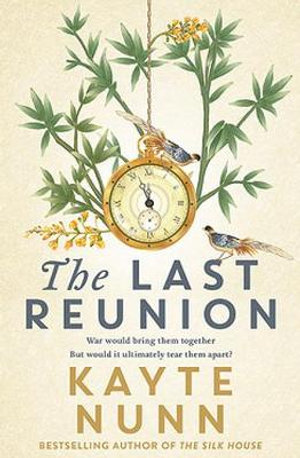 What inspired you to unfold the narrative through multiple timelines? Did this pose many challenges while writing?
I love the idea of a mystery from the past remaining unsolved until decades – or even centuries – later. For the reader, to have two, or even three, linked stories unfolding almost at the same time makes, I hope, for an engrossing narrative. I tend to write the historical timeline first, and then the contemporary one. The challenge comes in weaving the two stories together, and not giving away information in one story before it is revealed in the other.
What books should readers check out if they'd like to know more about The Wasbies, or World War II servicewomen?
There is an excellent book, Frontline and Fortitude, which are the diaries of E J Lockhart-Mure, who served as a Wasbie, published by Troubadour Publishing in the UK.
It was a snippet of an incident described in her diary – when she writes of how scared she was to be left on her own with a soldier and how she had to do some fast talking to get herself out of danger – that provided the inspiration for the main conflict of The Last Reunion.
The Last Reunion by Kayte Nunn is published by Hachette
READ ABOUT HER PREVIOUS BOOK, The Silk House