The Drunken Historian: An Interview with Amy Stewart
While researching for a non-fiction book about the botanical history of some of the world's most popular alcoholic drinks, US author Amy Stewart stumbled across a gin smuggler's altercation with a officious woman named Constance Kopp. This discovery catalysed her historical crime-fiction series based around Constance and her two sisters, set in New Jersey in 1915. As the second instalment in the series, Lady Cop Makes Trouble, is released, Angus Dalton finds out more.
'We just had an earthquake here!'
As our Skype call connects, a slightly rattled Amy Stewart appears on my computer screen, live from Eureka in California.
'It was only a 4.8, which doesn't sound too bad,' she says. 'But it was really close by. I have an old house and it makes a lot of noise in an earthquake. A lot of glass started clattering, it was terrifying. I went running out the house and thought, I'm not ever going back in there.'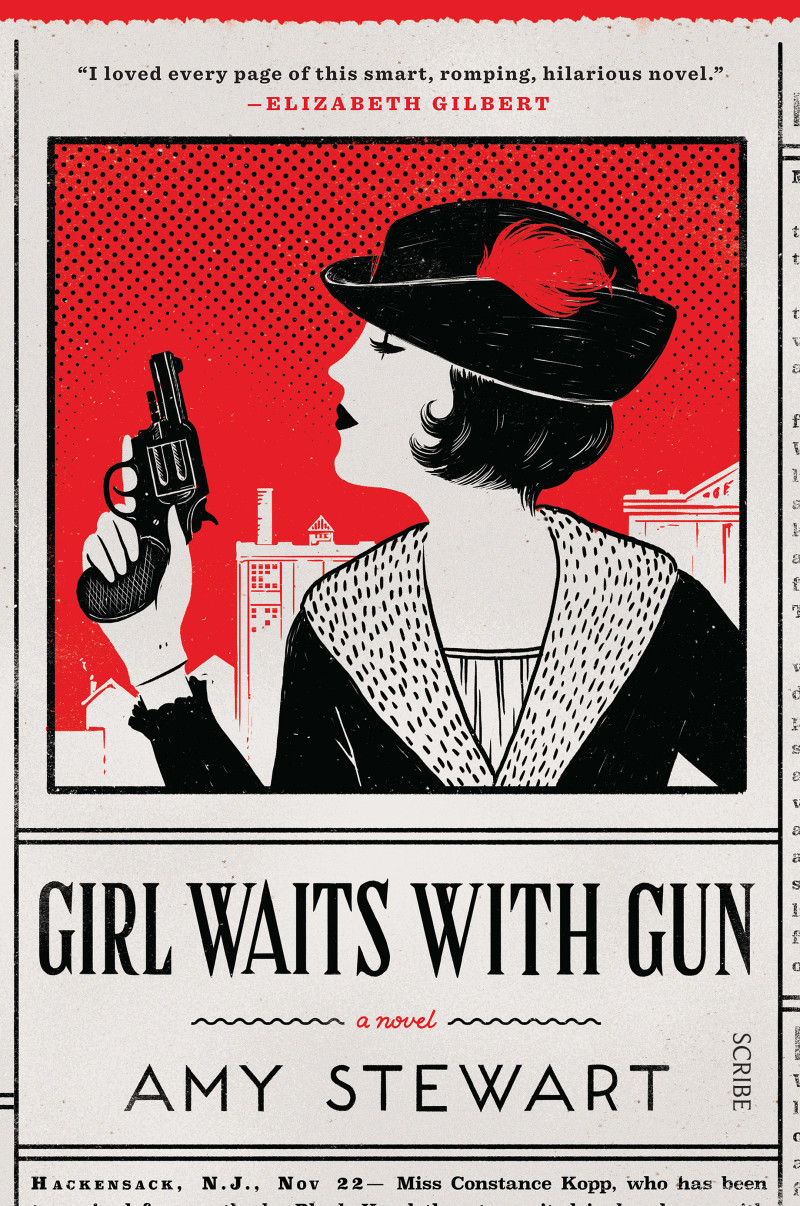 Before Amy Stewart leapt onto The New York Times fiction bestseller list with her debut novel, Girl Waits with Gun, she had a string of popular non-fiction titles. In Flower Confidential she investigated the world flower trade and the scientists intent on genetically engineering tulips to bloom in winter and mutating roses to grow electric-blue petals. In 2011 she released Wicked Bugs: The louse that conquered Napoleon's army and other diabolical insects, and after that came The Drunken Botanist: The plants that create the world's greatest drinks. This botanical escapade about the plants that form the basis of popular alcoholic drinks was her most famous title until Girl Waits with Gun, and after our literally shaky start stiff drink is exactly what's on her mind.
'I was actually gonna go get my favourite drink right before you called – I'm a little nervy after that earthquake!' She laughs. 'I love gin and tonics. I love whiskey. A Manhattan or an old-fashioned maybe. I drink a lot of wine, sparkling wine, rosé. I love vermouth too. People don't realise how good vermouth is all by itself if it's good quality.'
Her interest in the botanical origins of alcohol not only manifested in a bestselling non-fiction book but it also led her to a historical discovery that would change her life. Amy was researching Henry Kaufman, a gin smuggler in the early 1900s, when she came across a newspaper clipping that detailed a road accident on the streets of Paterson, New Jersey. Kaufman had ploughed into a horse-drawn buggy with his motorcar. Riding the buggy were the three Kopp sisters: Constance, Norma and Fleurette. The oldest and tallest of the sisters, Constance, demanded that Kaufman pay for the damages. He refused. So Constance took him to court. Over the next year, the Kopp sisters' quiet farmhouse was targeted by drive-by shooters and continuously terrorised by Kaufman and his gang of crooks. But these formidable young women stood by their guns – literally. The three sisters all acquired revolvers – and Constance was eventually hired as one of the US's first female deputy sheriffs as a result of her crime-busting efforts.
Amy was thrilled to stumble across Constance's story, but was flummoxed when further information about the Kopp sisters appeared to be non-existent.
'There was nothing. When I found the first old newspaper stories about her, I thought, okay, someone must have written a book about her. But there was no book. No Wikipedia page. The local historical society had never heard of her.
She's never mentioned in lists of women in law enforcement – I've read them all.'
Shocked as to how such a charismatic trio of women had been lost to history, Amy took on the task of reanimating them through fiction.
'There's nothing my publisher would have liked more from me than another Drunken Botanist. But when I dug up Constance's story and put all the pieces together, I felt an enormous obligation to her. I thought, I brought you back! I resurrected your life story and I'm not going to let you be forgotten again. I've been to the Kopp sisters' graves. I thought, I'm up here and you're down there, and I'm going to do right by you. I was very determined to write these books even if no one wanted to publish them.'
Luckily for Amy, the press loved Constance, and a wealth of previously un-discovered newspaper articles and interviews were waiting to be plundered for character details. Being a female law-enforcer in 1915 was a sensational position to be in.
'All the male deputies were out there chasing down bad guys, putting handcuffs on 'em, and nobody ever wrote them up in the newspaper. But when Constance did it, she was in papers all over the country. She was constantly followed and questioned in a way her male counterparts never were.'
Constance was so tall that she cast a shadow over most men. She had a stubborn, tenacious demeanour and spurned the convention that as a woman she should aspire to marriage and a life of domesticity. Amy was surprised to discover that Constance even used the word 'feminist' in interviews – a word that many people wouldn't have guessed was in currency in 1915.
Constance's younger sisters, Norma and Fleurette, also had distinctive personalities. Norma was notoriously cantankerous and abrasive, while Fleurette, the youngest of the three, was fashion-savvy and harboured dreams of going on the stage. Amy tracked down and met Fleurette's son, the last living connection to the Kopp sisters.
'He's in his 80s and he lives in Florida. He's the one person on the planet who has direct memory of his mother, but he also remembers his Aunt Norma and what a difficult person she was. He remembers his mother turning heads – she was a real glamour queen. She was about 5 feet tall but always beautifully dressed. She actually worked for Vogue as a pattern designer in her later years.'
In addition to trawling through a trove of newspaper clippings and documents about the sisters from the time, Amy also immersed herself in both popular and obscure publications from the time to get a feel for the idiomatic expressions of the early 1900s.
'I love finding weird little references from magazines and newspapers of the era. It hadn't occurred to me that curling irons existed in 1915. You had to fill 'em up with heating oil; they were really nasty and dangerous, and they caught fire really easily.'
Amy also reads her entire manuscript aloud four or five times before it goes to print, to ensure that no contemporary turns of phrase have crept into her writing. The result is a quirky, historically sharp caper.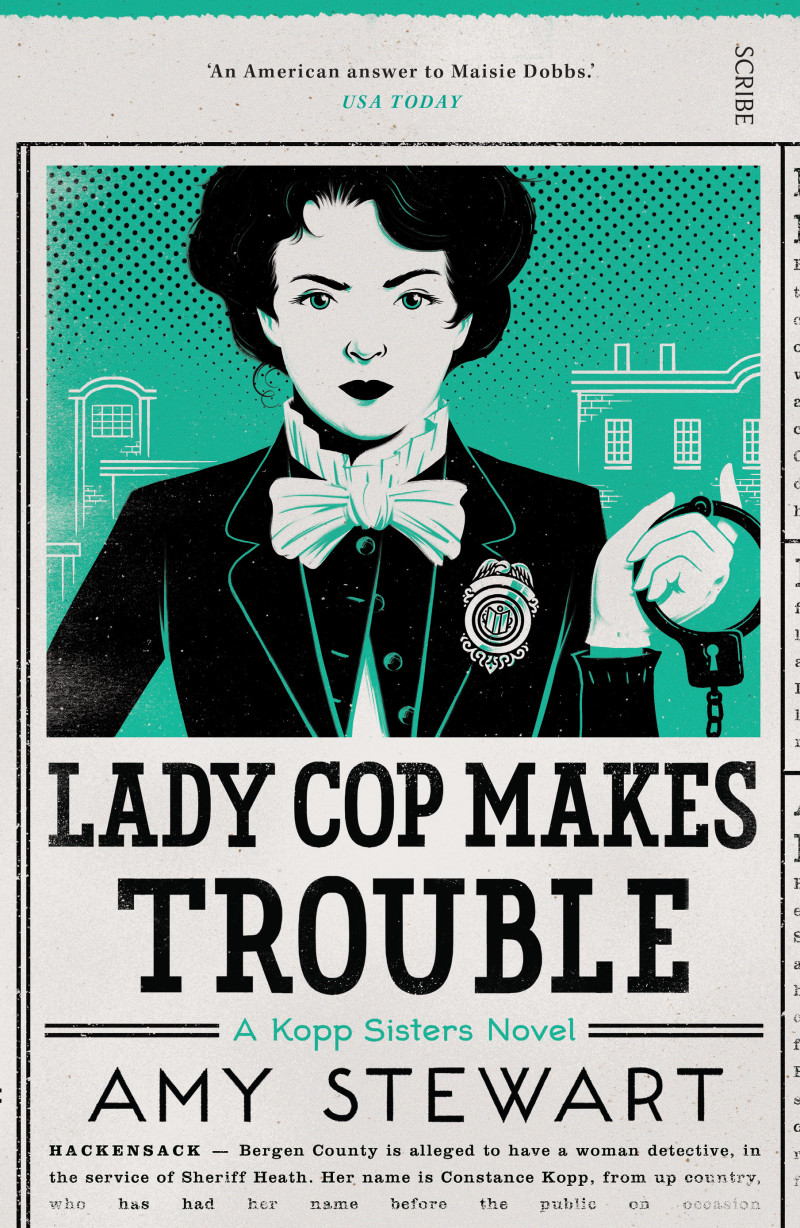 The next instalment in 'The Kopp Sisters' series is Lady Cop Makes Trouble; the title is taken from an actual headline of an article about Constance in The New York Times. Constance finds herself bolting down the streets of New York after dangerous fugitives as the world shudders with the beginning of World War I. And there's more Kopp sister action in the works – Amy has just finalised the manuscript for the third book in the series.
For each novel she's released, Amy has designed a cocktail to go with it – Girl Waits with Gun was paired with The New Jersey Automobile, a fruity concoction of gin, sweet vermouth, applejack and blackberry jam. For Lady Cop Makes Trouble, she's gone with a drink called the Fugitive, a drink consisting of tequila and blood orange inspired by the outlaw that Constance is pursuing, who just escaped from El Paso.
While Amy couldn't tell me much about the third book, I asked what we might expect for its paired cocktail. She's thinking sherry.
Lady Cop Makes Trouble is published by Scribe, rrp $32.99. Get it for $25.50 on Good Reading's new bookshop. Amy Stewart's newest release is The Wicked Plants Colouring in Book - get it now in time for Christmas!