Up Close: Surviving the Holocaust
Three Sisters is a novel based on the incredible true story of sisters, Cibi, Magda and Livia. The sisters were interned at Auschwitz-Birkenau Concentration Camp during World War II. Guided by a promise to always take care of each other, the sisters demonstrated unimaginable courage in the face of evil. As AKINA HANSEN writes, it's a deeply harrowing yet uplifting account of survival and love.

Our history plays a critical role in shaping the way we view the world around us. Whether it's a memory of generosity or immense grief, these experiences inform our ability to empathise and show compassion. Sharing our personal history takes immense courage and can also teach valuable lessons. For sisters Livia, Magda and Cibi, who died in 2015, sharing their story was a source of healing and an act of defiance.
In 2019 author Heather Morris received an email at 2am from the son of a Slovakian Jewish woman called Livia Ravek. His email explained that he had recently purchased her bestselling debut novel The Tattooist of Auschwitz, which follows the unlikely love story of Lale and Gita.
Upon seeing the cover of the book, his mother immediately recognized Gita's tattooed number.
'[Livia] knew by just seeing that number, because she had been to school with Gita, grew up with her in the same town, was on the same train going to Auschwitz with her, shared a bunk with her, and block with her,' Heather tells me.
This email would ultimately act as the catalyst for a more than two-year correspondence between Heather and the sisters - the result was Three Sisters.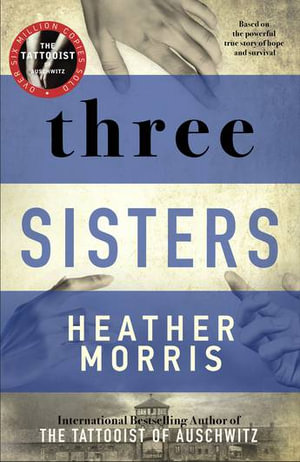 This book is based on the true story of sisters Cibi, Magda and Livia, and follows their life from living under German occupation in Slovakia, to being interned in Auschwitz, Poland, and finally through to their liberation.
Heather contacted Livia. 'She wanted to meet me, so that she could tell me some more about Lale and Gita … [and] something in her voice told me I needed to meet her, and I needed to hear what she had to say. And that was the reason I first went to Israel,' she says.
She travelled to Tel Aviv and 'spent the first two days there with her and her family, just listening to them talk'. The family would go on to ask Heather to share their story to the world, 'You're the only person we want to tell it.'
Heather quickly recognised the significance of their survival. 'How many complete families of children or young adult children survived … you don't find many,' she says.
Over the course of World War II, nearly 60 000 Slovakian Jews were deported, and by the war's end in 1945 only a few hundred of them had survived. Cibi, Magda, and Livia were a part of this small group of Slovakian survivors, and this makes their story remarkable. Throughout Three Sisters we learn about their motivation to survive, which Heather says was 'hard to get across in a novel'.
At the beginning of Three Sisters Heather reimagines an intimate scene between the sisters and their father to provide insight into their resilience.
It's 1929 and the girls are unaware of the social and cultural unrest unfolding around them. Their father, Menachem Meller, has an operation scheduled to remove an old bullet from his neck. The operation is risky, and he is conscious of the likelihood that he will not be around to guide his children into adulthood. So, at the ages of three, five and seven, the girls are asked to make a promise to always care for one another and to always be there for one another, no matter what the circumstances. This vow would ultimately instil in them a burning will to survive.
Over a decade later, Slovakia is under German occupation and Hlinka Guards are rounding up Jewish civilians and taking them to Auschwitz.
At just 15 years of age, Livia is ordered to leave her family home and her sister Cibi makes the courageous decision to join her, remembering the promise she made to her now-deceased father. Magda is spared this fate (until 1944), and subsequently spends the next few years evading the guards by hiding in her neighbour's roof and spending time in the nearby wilderness.
The novel explores the volatile social dynamics within the concentration camp. It provides insight into how, against all odds, all three women survived.
In 1942 young women across eastern Slovakia were the first Jews to be taken to Auschwitz. Heather says these women survived 'possibly because they were the first there, they established roles, they established a hierarchy'.
Ultimately, 'Longevity did play a part in the pecking order in Auschwitz-Birkenau.' Heather exlains that this was because the earliest arrivals were eventually spared from being killed at 'selections.' Heather importantly notes that, while this is a work of historical fiction, 'Just about everything in it has come from something that those sisters told me, or that Cibi said.'
During the Holocaust, the sisters endured dehumanising and brutal conditions. Despite this, they survived and went on to start a new life in Israel in pursuit of a life free of persecution – 'We just had to hang on to what we told papa all those years.'
While many readers may see this story as one of complete tragedy and sorrow, Heather states that 'these families don't see it that way. They just see it as we survived. And we have this amazing life; we're surrounded by family and friends.'