Up Close with John Byron
Anatomy meets obsession in The Tribute by debut author JOHN BYRON, about a formidable serial killer who terrorises Sydney with his violent recreations of a 16th century anatomical text. As HEATHER LEWIS writes, it's a tense read that also provides social commentary long overdue for the crime genre.
In 1543, 28-year-old anatomist Andreas Vesalius published the first book of De humani corporis fabrica libri septem – translated from Latin as On the fabric of the human body in seven books – a massively influential text that would later be known simply as the Fabrica. It was a major shift in our archaic understanding of the human body that dominated medicine for hundreds of years. Using knowledge gained from his extensive experience dissecting cadavers (which at the time was usually done by barber surgeons, not doctors), Vesalius was able to draw extremely detailed depictions of the human body from bones to organs and nerves and even the brain. While the Fabrica has since been superseded by other anatomical texts, its impact is still recognised in medical fields today. Author John Byron vaguely knew about the Fabrica from medical school, but the seed for his debut novel, The Tribute, was in fact planted by a co-worker at the bar he worked at.
'While I was in medical school I worked at a bar in Western Sydney, and there was a senior barman there,' he says. 'He was obsessed with Vesalius and his work. When he found out I was a med student he would chat to me on his breaks about the Fabrica. He was also an artist, and he showed me these magnificent reproductions, drawn from memory, of images from the Fabrica. I'm not saying my co-worker's intent was sinister, but I was interested in this idea of obsession, and how it could tip over into something pathological.'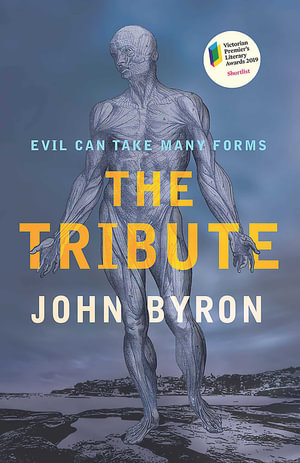 The Tribute follows a serial killer who recreates scenes from the Fabrica, drugging his victims and then dissecting them in line with each book of Vesalius' texts. Homicide detective David 'Spud' Murphy has a decorated arrest record, but flounders against a foe who can commit such sadistic acts while leaving no trace. Once it becomes clear the killer is replicating the Fabrica, Spud brings in his art historian sister, Jo, and both find themselves becoming more desperate as the bodies pile up and the pressure to find the killer grows.
Aside from learning about the Fabrica, it was the desensitisation and even dehumanisation of humans and what we have inside us that John experienced during his time in medicine that inspired the violently analytical killer of his debut novel.
'The scientific gaze, especially on humans, can be ruthlessly analytical. I remember in my third year at Westmead Hospital, this guy from the year above us came down into the student's common rooms and said, "There's a fantastic pancreas on the sixth floor!" So everyone rushed up to have the chance to feel this swelled pancreas.
'I was struck by how dehumanising that was,' John says. 'This was a person who had a terrible affliction, and was willing to share it with students to help them learn, but they were being reduced to their pathology.'
However, in The Tribute, the serial killer may not be the darkest character. Flawed detectives who drink too much, are rough around the edges and don't play by the rules are par for the course in crime fiction, but Spud Murphy is different. He exudes a blokey, larrikin type of hypermasculinity unique to Australia, the kind that made Kenneth Cook's Wake in Fright and its controversial film adaptation such a stark wake-up call.
'He's an amalgamation of hundreds of different blokes I've known,' John says. 'I worked in politics after medicine, and that's a pretty blokey business. The stuff you hear, even in casual conversation, is shocking. The object of Spud was to see how these people portray themselves as just good blokes, larrikins, salt of the earth, whatever. And some of them are completely benign, but every now and again someone abuses the goodwill that goes with that cultural understanding of blokes like that, to hide some pretty bad behaviour.'
Conversely to many hard-boiled cops in crime fiction, Spud Murphy treats his jobs with the kind of reverence he doesn't give to those he loves. Because his father, also a policeman, was killed in the line of duty, Spud remains chaste in his position as a police officer. He might bend the rules occasionally, but it's only in service of upholding the law.
'Cops are people with a lot of privilege in society, but I didn't want to make him two-dimensional. One of the things I like about him is that he's not a crooked cop, he doesn't abuse his position. His corruption is much more personal.'
In The Tribute, the serial killer and his grisly obsession take a back seat to address a pressing modern problem – that of Australia's relationship with masculinity, and the things it lets men get away with.
'There are a few major problems of our time, and for me one of them is about how men in our society are helping keep women down,' John says. 'Even if they're not necessarily the bad actors, it's a problem for men to solve, but it's mostly women who are trying to solve it. The extremity surprises us all, but it must come from somewhere, it has a platform where a person takes it that far, and that platform itself is unacceptable. It seems to me that Australian men have a responsibility to address this and disown it, and partly that's what motivated me to write about it.'