Belinda Lyons-Lee on 'Tussaud'
Paris, 1810. Haunted by the French Revolution, Marie Tussaud has locked herself away in her shop with the death masks she was forced to make to avoid the guillotine. Philidor, a famous magician, offers her the chance to accompany him to London to assist in creating a wax automaton that will bring them both money and success.
Following a disastrous performance on their opening night in which the wax on their prized spectacle melts, the eccentric Duke, William Cavendish, invites them to his rambling estate, Welbeck, where he suggests they take up residence, use his underground ballroom for a new show and in return create a private commission for him: a wax automaton in the likeness of Elanor, a beautiful girl who mysteriously disappeared from the estate when he was a child.
gr chatted with Teacher-turned-author Belinda Lyons-Lee about the gothic history behind her debut Tussaud.


Tussaud is your debut novel, which you wrote amid your career teaching English and creative writing. What was the process of writing it like?
Thrilling. I was so absorbed in Marie, so clearly heard her voice and sensed her personality that I lived the twists and turns of it myself. However like most writers I have a day job, which in my case meant I had to balance this with the needs of my students. At times this changing of headspace felt jarring but other times when I returned to the story I did so with a freshness and accumulated energy that was ready to be unleashed again.
Many characters of Tussaud, including our protagonist Marie Tussaud herself, are drawn from real historical figures. How did you discover these figures, and what inspired you to write about them?
I had an idea for a middle grade fiction story about a young boy in 19th century London who was the apprentice to a wax sculptor, but I didn't actually know when wax sculptures were first made. I began researching online and up came Madame Tussauds wax museum. Once I started reading about Marie Tussaud, her early figures and her life, I was utterly transfixed. I read about her sentence of execution as she was accused of being a royalist in the French Revolution because she had wax figures of royalty in her windows and then how she had her own head shaved in readiness to meet the guillotine. Fortunately, she was given a reprieve at the last moment on the condition that she make wax death masks of notable people executed for the revolutionaries to use as trophies, but I wondered what it would do to a woman, to her insides, to her psyche, to survive that kind of trauma? How would she make sense of the complete fracturing of reality I imagined must have happened, where her hands were holding the severed heads of people on a daily basis that she herself had seen executed? Where she was forced to take the heads home with her, into her house, and stare at them for days on end? The smell… can you imagine?
I suspect that this sort of experience would be so visceral, impacting all of the senses in all kinds of horrible ways but yet somehow Marie Tussaud not only survived this but used these experiences to build a thriving business, even after her partnership with a somewhat dubious real-life stage magician all went horribly wrong.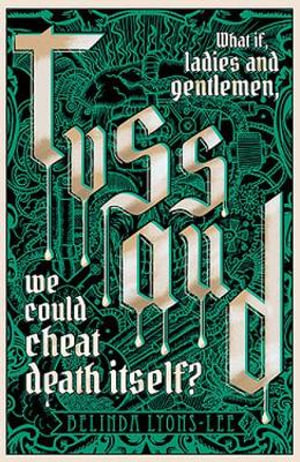 Are your depictions of characters like Marie Tussaud or William Cavendish based on real accounts of them, or did you take some creative liberties with their characters? How so?
When I first started researching and reading about William Cavendish I was absolutely fascinated. Some of his eccentricities even my own overactive imagination couldn't have dreamed up! The wooden letter boxes on the doors that he used to communicate for instance and his demand that a chicken was kept perpetually roasting so that the smell filled the air. As I delved deeper into his life and history it was clear to me that he had a 'backstory'- so I began exploring his personality, his family, the events of his time and life that may have impacted him and then, working always with the idea of plausibility, set about bringing some of these to the fore. I did the same with all of the 'real' people in the novel, Marie, Philidor, Pinetti, Mrs Druce - there are historical details recorded about each of them that significantly informed their development as characters however in order to 'bring them back to life' for the reader of this century, the facts needed to be built upon with human 'skin'- emotions, dispositions, motives, mannerisms.
Cavendish's Welbeck Abbey is also a real location which still stands today – how did you go about capturing its labyrinthine nature in the book?
I've been living in my head, writing novels and short stories about the 19th century for quite some time. In my travels in England and beyond I've visited many estates, private homes, mansions and castles and I'm very lucky that 50 kms down the road I have Werribee Mansion, a 19th century estate owned by the National Trust that I frequently wander around and in. All of these places inspired me in capturing something of Welbeck but to be truthful, the actual sheer scale of Welbeck is incredible! I trawled through research of historical records and old drawings and photographs online, read accounts and diary entries of people who had stayed and worked there and again, set my imagination to work. I can't wait until travel restrictions lift and hopefully, one day, I'll be in a position to see it all in real life, which considering I've inhabited it in my head for some time, might just be a bit surreal!
Wax automatons play a large role in the plot of Tussaud – can you tell us about the history of automatons and their use as entertainment in the 19th century?
It astounds me that automatons were apparently in use as far back as Ancient China. They were obviously still being constructed and used for entertainment in the 19th century and were often used as part of a larger 'show', a feature act of a magician for instance. Their ability to mimic life was extraordinary to the audiences of this time, as demonstrated in the non-fictional peacock automaton in the novel. Another famous automaton was The Turk, who was promoted as being able to best any person in chess. He was apparently all mechanical and sat at a desk with a chess board. This automaton was taken all over Europe and bested many chess players until it was discovered that there was a small cavity built inside the desk, in which a very small person could climb into and 'play the game' using a series of inner mechanical parts. These automatons, the precursors to modern day robots continue to fascinate.
When it came to creating a fantastical Gothic atmosphere, what books or author did you look towards for inspiration?
Wilkie Collins does brooding tension like no other I think, but then how does one go past Daphne du Maurier, the Brontes, Poe and, the obvious one for influencing 'Tussaud' is Mary Shelley. I have a large collection of 19th century compilation ghost stories and I'm constantly stumbling across new writers from that period that I haven't heard of. It always excites me when I discover another author who I can get on the trail of.
Tussaud by Belinda Lyons-Lee is published by Transit Lounge.