Meet Lois Murphy
Scott is in shock when his family - his father Leo, sister Natalie, the twins and their stepmother Sally - move to a rundown old house on the outskirts of town.
The garden is a menacing jungle that refuses to be tamed. An ancient gnome in its midst supposedly stands guard against lurking secrets, much to Scott's disgust and Sally's delight.
When strange and scary things start occurring and the creatures from the trees begin to invade the house, Scott must face the peril of an unknown force that threatens to turn their world upside down.
You've Let Them In is the first book for younger readers by Australian author Lois Murphy. We sat down with Lois to chat about how her childhood inspired her spooky new story.
---
What inspired the house Scott and his family find themselves moving to in You've Let Them In?
The house kind of grew from the garden. I grew up around Elwood and St Kilda, when there were areas of rundown old mansions, dark and dilapidated. As kids, we used to explore them and scare ourselves silly with the idea of witches and ghosts. I've always loved old houses and their majesty, however decrepit. I love the sense of space that you get in an old house. But that can be threatening too, those big empty windows.
When I wrote You've Let Them In, I wanted Scott to be a typical modern boy, who would want nothing more than ducted heating and carpet, especially when faced with a house so grungy and forbidding. The interesting thing is that I wrote the book when we were travelling, living in a homemade truck, and then quite a few years later, I find myself living in an environment very similar to the one in the book.
Scott's family is quite unique; what can you tell us about them?
I wanted to make Scott and his family a blend of real people rather than black-and-white characters. People are never just good or bad, smart or dumb, there's always a stew of faults and qualities in everyone. And there can be love without harmony, that's the rule of family.
Scott's stepmother Sally is a fruitcake in some ways, but she's also incredibly generous and someone who's both lovely and wearing to have around. Her zaniness contrasts with the dryness of Leo and the remote wisdom of the twins, and it was important that they could still appreciate her, welcome her into their family. I wanted Sally to be a touch ridiculous, open to all the sorts of things that were happening at the house, but totally blind to them, while Scott, who's really as down to earth as his father Leo and sister Natalie, has to cope with it all. The twins are a paradox too, they seem so remote and withdrawn, but are actually tuned in to everything that's going on. And I really enjoyed making the pets part of the story, a family to me always includes animals, and they have their own distinct personalities. Even when they can't talk, they can still let you know what they think of you, especially cats.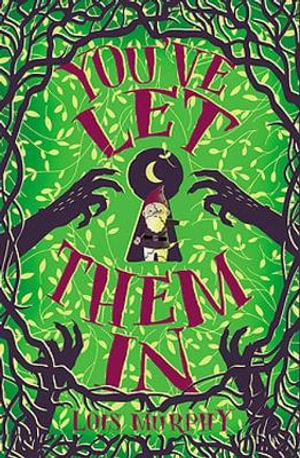 Of all the creepy features of Scott's new home, perhaps the creepiest is the (seemingly) talking garden gnome, Randolph. What inspired him?
Ha! An old boss I had, Ian's namesake. He started as a joke really, I've never thought of him as creepy. That said, I've always been terrified of dolls, so maybe he is a bit unnerving. I've always liked the idea of the things around you knowing what's going on and taking part in your life. He's a bit of a play on those pictures with eyes that follow you around. But I wanted something that would clash with Scott, something that would be really challenging for a teenage boy to accept, and garden gnomes are really the ultimate in daggy.
This is your first book for younger readers – what was it like to write compared to your other books?
Much, much harder, and I hope it's worked. It's far easier to write for your own age. I don't think you can get away with a lot when you're writing for younger readers, they're much more demanding: I think I would say that adults read for escapism, so they're prepared to be more relaxed and let the author take a few liberties if they're enjoying themselves. Kids will always question things; just turn on you and go 'Nup!' The tone of the writing is so different too, it has to be relatively straightforward without being simple or patronising; kids are so much more switched on with the world, so modern. And younger readers can turn off so quickly for reasons you'd never considered: one friend's daughter wouldn't even read it because she was bored with male main characters.
You've Let Them In by Lois Murphy is published by Transit Lounge