Q&A: Grace Under Pressure
Grace Harkness looks like she has it all – two beautiful children, four cookbooks under her belt and an idyllic beachside home #blessed. But add another baby on the way (oops), a spouse that is nowhere to be seen and a relentless list of things she 'should' be doing, and Grace is starting to unravel.
When the madness of modern-day motherhood finally pushes her to the brink, Grace and her friends decide to ditch the men in their lives, move in together and create a 'mummune' – sharing the load of chores, school pick-ups/drop-offs and endless Life Admin. The new set-up seems like a dream, but is life in this utopian village all it's cracked up to be?
To celebrate her debut fiction book, gr chatted with author Tori Haschka about what inspired her 'mummune', and the saving grace of female friendship.


---
How did the idea of a group of mums banding together to create a 'mummune' come about?
It was something I heard whispered by harried women at the park, in pelvic floor physio waiting rooms and in the line at day care pick up. The line was, 'how much easier would it be if we lived in a village of women?' It was usually said after someone had been rescued by the grace of their female friends. It was a line I couldn't shake from my head. For me the sentiment really hit home during a long dark winter in 2018 when my infant daughter was hospitalised with bronchiolitis and I had an overseas spouse. My friends swooped in and took my three-year-old son in for sleepovers with their kids so I could stay overnight in hospital, then when I got predictably sick too they dropped off food and care packages to my doorstep. It really does take a village.
How did you develop the character of Grace, and the growing predicament she finds herself in as a modern mother of two?
Of course, there's lots of what I know in the character of Grace. I've been a food writer. I've tried not to lose my cool grocery shopping with two tricky kids in tow. I've also had post-natal anxiety that nearly unspooled me. Grace is an amalgam of so many of the clever, kind women I see who are trying their best; to be a good mother, stitch together a career in a gig economy that doesn't really believe in maternity leave and to keep level headed in an age of anxiety that can make you second guess the implications of every choice you make. Grace Under Pressure was written over the course of two years, often on the side of soft play and skate parks on my phone. I would take little notes while I was there. The thing about motherhood is there is so much humour and pathos in the minute details of life. There's always something to write about. And the little things are often the big things.
Grace Under Pressure is also a bit of a thought experiment of exploring how difficult three children could be. I answered that question for myself in the writing. I'm content to have just book babies from here on. I only have two hands.
It seems like an obvious question, but how different was the writing process of Grace Under Pressure compared to your many food and travel books?
Fiction writing is a very different beast to food writing. It was a lot more solitary and took much longer – it felt a bit like an elephant's pregnancy. When I was food writing I would test a recipe up to 10 times – but you usually ended up with something delicious to eat at the end of each session. I think we went through 27 versions of Grace Under Pressure, with some major structural changes along the way. It's much more of a leap of faith to commit that much time to just adding words to a page. But it was also incredibly cathartic.
The best thing about writing Grace was that I was never alone. Even when I was doing the most banal of parenthood tasks; sorting clothes into the right sizes, washing out bottle nibs, wiping the floor, packing away puzzles and toys at the end of the night – I had at least four women in my head to keep me company.
That being said, your foodie knowledge shines throughout the book, the most obvious way being each chapter titled after a recipe. Did you make an effort to include the food-focused aspects of the book, or did it appear naturally while writing?
Food is what I know, so it felt like a security blanket to have that in there. But I also love how food provides such accessible and vivid metaphors. One of the first ones that came to me was when Grace talks about how her post-natal body feels 'baveuse'; it's the term cooks use for the centre of an omelette; where it's damp and wobbles. That's exactly what early motherhood feels like to me. In an earlier iteration of the book there were recipes at the start of each chapter; explicitly tracking Grace's pregnancy from a poppyseed to a pumpkin. They were eventually edited out for clarity and brevity. Now a few of those live in the endnotes.
Social media plays a large role in the book too, with some segments of the story appearing as Facebook posts – what did you want to say with this aspect of the book?
Social media can be such a double-edged sword. In the book the older next door neighbour Christine refers to the local motherhood Facebook groups as 'Greek choruses that can touch type'. They can be a ripe source of judgement – and humour – but they are also the village that we now have.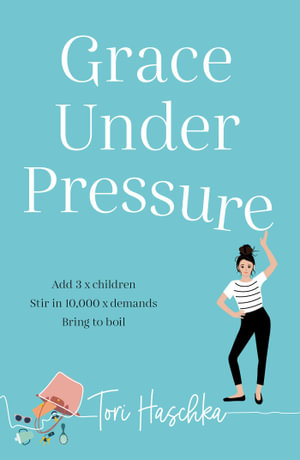 Those groups are where I found the paediatrician to deal with my daughter's tongue tie when I was up at 3 am and everyone else I knew was asleep, they are where we go to for advice and the validation we crave. Instagram is a harder nut to crack; I have made so many wonderful friends online and it helps circumnavigate the tyranny of geography – they can be in London, but they're really just at the end of my fingertips – but the pressure for those who are in creative industries to 'build and maintain a platform' in order to maintain their relevance and livelihood can be exhausting.
Having to digitally perform a 'best' version your life, balance what is safe to share and what is private, as well as manage the daily messiness of life can be the straw that breaks us. It's certainly not an aspect of parenthood that generations before us had to navigate.
Grace Under Pressure does a great job of presenting the many stresses of motherhood, but also the many ways mums band together to make things a little easier for each other. Was showcasing this bond between mothers a priority for you in writing the book?
More than anything, the book is about the saving grace of female friendship. I wanted to celebrate that more than anything. It's often the little things that help ease the path; the friend who messages to ask how last night was, the doorstep drops of bolognaise and biscuits, pitching in for pick-ups and drop offs, handing down clothes, loaning baby carriers and helping to assemble breast pumps when you're too sleep deprived to know which part goes where. It's being an unjudgmental ear and a compatriot to drink wine and collectively feed children sausages and vegetable sticks that will probably end up on the floor.
It's truly understanding how wretched and hard things can get, because you've been there too. That camaraderie in the trenches of motherhood has been the greatest gift I've found - and while I was writing it was such rich fodder to explore.
Grace Under Pressure by Tori Haschka is published by Simon & Schuster