Q&A: As Swallows Fly by L P McMahon
When Malika, a young orphan in rural Pakistan, is savagely attacked, her face is left disfigured and her self-esteem destroyed. Haunted by the assault, she hides from the world, finding solace in her mathematical theories. A few years later, her intellectual brilliance is discovered and she leaves conflict-stricken Pakistan for a better education in Melbourne, where she finds herself placed with Kate – a successful plastic surgeon facing emotional insecurities of her own.
Malika and Kate's lives slowly intertwine as they find within each other what each has lacked alone. At first, Kate's skills appear to offer a simple solution to Malika's anguish, but when tragedy strikes, the price of beauty is found to be much higher than either of them could have known.
gr caught up with author L P MCMAHON to chat about his poignant debut novel.


---

What inspired the story of As Swallows Fly?
The inspiration for the story was separate both in time and site. I recognised each of the two main characters, Malika and Kate individually and extended that idea to find potential common ground.
Malika was a girl in a desperately poor village in Pakistan (between Gujrat and Peshawa), who stood out among the other children. She had the brightest eyes and an extraordinary capacity to learn. Unlike the other children, she stayed with me during my visit there, quickly taking stock of the villagers' distressing medical problems – and all the limitations of their environment. I wondered afterwards what happened to her and what a difference it would have made to her life – as well as others I encountered on my trips – if they were given the opportunities we take for granted in Australia.
Kate was a compilation of several people (not all female): a plastic surgeon, a surgical registrar, and one of my own staff. Each of them was committed to their patients, but each was also challenged deeply by a system directed at the wellbeing of patients irrespective of personal cost. They were also challenged by various issues in their own lives. I guess there is an aspect of my own experiences there as well. The end result was someone deeply flawed, passionate about her work, lonely, but in the most fundamental sense would fight to the end for something she believed in.
I began wondering what would happen if these two 'people' got together. Would each drive the other away, would they put up barriers, or would these two distinctive women be able to see beyond that – specifically, that each was in need but also able to help the other?
How did your work with MSF in Pakistan influence Malika's story?
I was not associated with MSF while I was in Pakistan. My work there was on a voluntary capacity, helping out in a small town (Gujrat) at a small mission hospital. People of all faiths were always welcome and it was chastening to see the way the villagers lived, what mattered to them, how they dealt with loss (often of their children), and the strictness of the culture. These experiences were all key aspects influencing Malika's character development. The memories remain crystal clear even today, whereas so much of our lives in the West seems to blur – or maybe I'm just getting old.
Similarly, how did your career in medicine influence Kate and her experiences as a plastic surgeon?
As a nephrologist for over 30 years, I have been fortunate to see the entire spectrum of patient care. Nephrologists deal with hyper-acute situations, but also many of our patients live with their burden of disease for decades. Perhaps more than any other specialty, we maintain a holistic level of care for them, so we go through their dialysis periods, their transplants, invite other specialists to be involved when necessary, and eventually, we are able to help them die. As a researcher and, in later years, also an administrator, I know the struggles doctors and other medical workers have trying to give patients the best care. Health care workers suffer sometimes acute and sometimes lasting mental health and physical ailments, and yet it is humbling to see the level of care that remains foremost in their minds. On occasion of course (especially for doctors), it is a cauldron: ambition blurs horizons and pride stretches relationships. We are human, too. It could not be otherwise.
Kate was able to draw from many hundreds of such examples and experiences. To some extent, she partakes in a holistic approach for her patients and, as she states early in the novel, she is a plastic – not a cosmetic – surgeon.
When it came to the characters of Malika and Kate and the way their lives become connected, what did you want to explore?
As mentioned above, we are linked more by what we have in common than are we separated by our differences. Kate and Malika are opposites on the surface, differing in race, age, background, interests, training, cultural norms, and looks. Yet, each is alone in the world, each needs to love and be loved, each is strong enough to remain vulnerable (Kate with some help), and each has much to learn from the other. Therefore, I wanted to explore whether those differences would be integrated by each accepting the other.
A word and attitude used frequently today is 'unconditionally'. Perhaps that occurs from time to time – such as between parents and their children - but finding common ground, seeing our own limitations as well as accepting those of others, and thus (ultimately) being able to share a true friendship is a more realistic aim. I wanted to see if Kate and Malika would reach that point and give hope to the rest of us.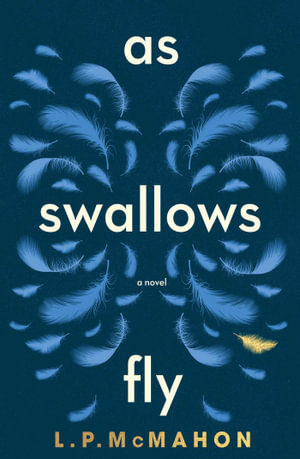 Swallows are a motif throughout the novel, including the title – what inspired this?
Swallows flying over fields of crops were a frequent feature of my time in Pakistan. Even today, seeing a flight of swallows takes me there. I began to appreciate when I was there that the seemingly random motion of the birds was in fact finely tuned. I later discovered it was able to be expressed mathematically through fractal equations. Their flight path is not dictated by the apparent leaders, but rather is dependent on the outliers to give that characteristic restless, smooth, three-dimensional movement. Somehow, it reflected Malika and her origins, was a convenient model for her mathematical modelling in the novel, and well described Kate and her awkward social and personal dimensions.
How did the experience of writing your debut compare to your many published short stories?
I think 'many published short stories' is overstating it, but yes I have had some success with shorter forms of writing. The difference between the two for me was marked. I would expect it would be the same for most writers. Complexity in both characters and plot were the main differences. My short stories focus on defined situations and experiences, where the character is etched clearly and quickly, and the narrative progresses in a limited arc to the finish. It must be contained. The novel raised a whole series of challenges: subplots, subtleties of character and motive as they developed and changed all needed to be given their due. It was a true learning experience, which I valued greatly and one I hope to continue exploring as my writing evolves.
As Swallows Fly by L P McMahon is published by Ventura Press.