Jacob Hendryx on Anna und Gunther
Anna und Gunther is the debut novel from Jacob Hendryx, drawn upon the inspiring story of his grandparents growing up and finding love amid the destruction of World War II. gr caught up with the author to dig deeper into the history of the novel.


---

Anna und Gunther is drawn from the lives of your German grandparents. How did you begin to delve into their history, and what inspired you to write a book about it?

Funnily enough, I hadn't started out with the objective to write an entire book, the process happened somewhat organically. My grandparents hadn't always been so open on the topic of the war, despite having both grown up in Germany throughout it and the subsequent Cold War, in many cases it was a subject they preferred not to spend too much time on.
In 2017 when I planned my first trip to Germany, I'd begun reading up on World War II and the world events that led to it, developing a strong personal interest in the subject whilst gaining some more perspectives on the sights that I'd see while there. Along the journey I decided to try finding the small village my Grandmother had grown up in, tucked away in the Sudetes Mountains halfway between Berlin and Prague.

Braving a January snowstorm, I drove my tiny rental car through the hills and stepped outside just long enough to take photos of the few buildings remaining there. Returning to Adelaide to visit later that year, I showed her the photos and one stood out in particular, a small chapel that stood in the centre of town. She recognised it immediately, reimagining memories of playing around the building, worshipping there as a child and seeing the German soldiers arrive outside of it. All of a sudden, she began recounting stories of growing up in the town as young as five years old, told so vividly they could have been yesterday.
Stories that told of the escalation of such a terrible war from a perspective I had never heard before, an innocent young German girl, caught in the turmoil whether she wanted to or not. Throughout subsequent meetings with my grandmother, encouraging her to tell more of her life, I became entrusted with this beautiful story of resilience, coming of age and finding love amidst the 20th century's most horrible years. It upset me that my grandfather had passed away earlier in my life without a listening ear to write down everything he might have had to say, so when the opportunity came to write Anna's stories I felt a certain responsibility to do so.

What was the process of interviewing your Grandmother, and turning her stories into chapters of the book?

In the first conversation we had, when I showed her the photos, she had only given me the stories of growing up then and there, until just before the war commenced. I knew there was so much more to be told, but I didn't want to push it and already had more than enough stories written down and floating around my head. So I returned home and set about plotting Annas childhood stories onto a timeline, next to a parallel timeline of the world events happening simultaneously leading up to the war.
Combining these two perspectives, I crafted a short story which went on to become chapter 1 of Anna und Gunther. Returning to visit her a few months later, I gave her a copy of the short story as a gift. She was absolutely thrilled to read her own stories told back to her and, after taking note of a few corrections she made, I was able to ask the question 'tell me about what happened next?'. That question became the catalyst to many more conversations over three years, each new chapter written and given to her as a gift, inspiring more stories about the years that followed. Chapter by chapter the book was written, sometimes not knowing where the next one would lead.

Similarly, how did you go about piecing together your late-Grandfather's history?

Ultimately Gunther's side of the story was more difficult to gather stories from, all of which came from what he'd confided in Anna during their fifty years of marriage. The book itself is divided into three parts, Anna's childhood, Gunther's childhood, and their life in love together. For this reason you'll notice Gunther's is slightly shorter, but the stories in there of his time at war were certainly no less powerful and inspiring. If I could have my time again, I would have connected with him and wrote these stories down at a much younger age, however it's a credit to Anna that she could still recall so much about his life that he had divulged to her over the years.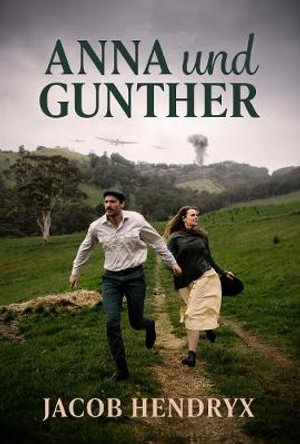 Aside from personal history, Anna und Gunther offers a lot of important history as well. How did you go about researching this aspect of the book?

That's right, at the time I was writing, learning the history of World War II and modern Europe was a passion project of mine which intertwined perfectly with Anna and Gunther's story. Fortunately for me, we're talking about probably the most well-researched several years of the past century. Historians such as Sir Martin Gilbert and Churchill greatly influenced my understanding of that period, whilst I leaned on archival photographs and descriptions from both Australian and European libraries to gain an understanding of how places looked during the time and the attitudes of civilians in the book. Finally some family members still living in Germany and my own first-hand knowledge of the Australian locations helped to validate that my interpretation of key locations and people were correct.

Anna und Gunther is your debut novel – how was the experience of writing it, and what challenges did you run into?

I found the writing experience extremely enjoyable. Firstly, the process through which the book was written bought me so much closer to my grandmother and became a really special project we both had such a huge part in creating together.
Secondly, the hours that went into turning our conversations into the final book became the most enjoyable pastime. I wrote Anna und Gunther over three years while juggling a full-time workload outside of writing and consider the experience in a similar vein to how most readers enjoy spending an hour or two on their couch or in bed reading before going to sleep – but instead of reading another book I was investing time to write my own. For that same reason I haven't read as many books over the past few years as I'd like and am looking forward to getting through a very long reading list later this year, but it was the same relaxing, therapeutic escape, something to transport my mind away from the normal and into another world at the end of each day.

Being my debut novel, I probably struggled with the confidence to actually see it to fruition quite often. I famously never told anyone besides Anna and my best friend that I'd been working on the book until it was finished and with my editor – not even my own parents. Having never finished a personal project as big as this one, I was nervous to tell everyone about it, only to never finish it or become unable to do so. I'd certainly approach a second novel with a lot more confidence having been able to conquer it once before, although there was a certain sense of authenticity that came from working on such a special project all those years that the world knew nothing about.

Anna und Gunther by Jacob Hendryx is published by Osmond Press.