Madeleine Ryan - A Room with a View

MADELEINE RYAN's debut novel, A Room Called Earth, presents the thoughts of a woman remarkably attuned to the world around her and how she fits into it. As MAX LEWIS writes, it's a much-needed insight into a neurodiverse mind.

If you're neurotypical (that is, not neurodiverse by way of autism, ADHD or other cognitive differences) you probably take for granted the fact that most books come from people who think like you. It's not your fault. Unfortunately, that's just how the world is. But things are changing for the better. More neurodiverse authors are getting platforms to show the world how they think, free of stereotypes and misconceptions. And those platforms not only allow people to understand issues like autism better, but also help neurodiverse people like me better understand themselves and how they fit into the world. Madeleine Ryan's debut A Room Called Earth is one such book. In the middle of writing it, the author was diagnosed with autism, and much about her life fell into place – as did the book she was writing. However, the story and its unnamed narrator came to Madeleine well before that.
'The protagonist just started talking to me,' Madeleine says. 'I'd made a lot of changes in my life and created a lot of space for her to come through. By the time I got the official piece of paper saying, "You are autistic", I was probably about six months into writing the story. But it had been floating around in my psyche, not entirely consciously until it was forced into awakening.'
In the first person, stream-of-consciousness style, A Room Called Earth follows a young woman as she attends a party. Thoughts spin around like a tumble dryer - she muses on getting ready; thinks about the sandwich she'll eat after the party; about how she fits into so-called Australia as a white woman; about the different cliques of people at this party and how she doesn't quite fit into any of them; about how she misread a conversation and said something odd.
'The book takes place over 24 hours, and is a blow-by-blow encounter with her thoughts, feelings and impressions. The structure almost gave birth to itself, and I let it kind of guide me.'
Although much of the narrator's character is inspired by the author and how she sees the world, the two are quite separate. That being said, being inside her character's headspace helped Madeleine come to terms with her own thoughts and place in the world.
'Her responses are generally my own, amplified maybe 10 or 20 times. I'm chatty and that can lead me into all sorts of spaces, but she doesn't do that. Her mind is very talkative but she herself isn't as much – when it comes to articulating things she's much more cautious. I think she's helped me feel more confident because of these differences.'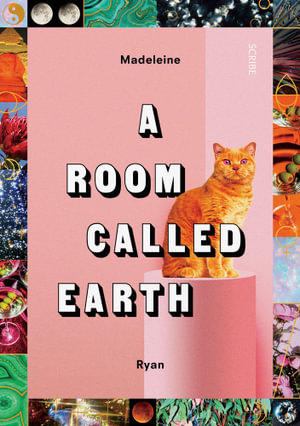 What little dialogue there is in the book comes across as stunted lines of dialogue separated by double spaces. There's no he said, or she said, no descriptors of laughing, sighing, yelling. It's just words, leaving the meaning, if there is any, entirely up to the reader.
'I guess I was running with the idea of taking people at face value very literally, to a logical extreme. To process someone's facial expressions or their body can become overwhelming for an autistic person because, sometimes their body says this, but their words say that. How do I process each section individually and process what's going on? Having the dialogue laid out in that way gently makes you think, "If you just go by what's said, where are you?"'
Despite sometimes having trouble reading people or relating to them, the narrator of A Room Called Earth exhibits the desire to do so; a need to connect with others and be understood. It gently deconstructs the misconception of autistic people as shut-ins who eschew human interaction for particular interests or activities. Sure, some are like that, but just as many want to be seen and heard and loved, like you.
After all, it's a spectrum. Above all, the protagonist exudes love and understanding for herself. Its a book everyone, whether they be neurodiverse or not, could take a leaf or two out of. Madeleine hopes the narrator's own self-love will help readers undertake an 'exorcism' in their own lives.
'I hoped the book would exorcise a lot of the stereotypes around autism. But there's also so much in the way of being able to cultivate a loving relationship with ourselves. It's so easy to have pain and not know where it's coming from, but if you encounter something difficult and can find an aspect of relief or joy, that's a kind of exorcism that's important to me.'
A Room Called Earth by Madeleine Ryan is published by Scribe